Ambarella's (NASDAQ:AMBA) shares are poised to launch skyward as the company prepares an optimistic outlook regarding its earnings report due after the closing bell on March 6. Interest in the chip manufacturer has been heightened due to recent news regarding a partnership to produce a wearable "pendant" camera for Google (NASDAQ:GOOG), and the announcement on Feb. 7 that the fastest growing camera company, GoPro, plans to file with the SEC for a confidential IPO.
GoPro is the world's best selling HD camera selling more than 2.3 million units and grossing more than $520 million in 2012. (source: Forbes) The company has doubled its sales every year since its inception in 2004. Although GoPro has not yet disclosed sales figures for 2013 there is every reason to believe it has doubled sales of the sports cameras yet again.
Ambarella is the sole provider of GoPro's A7 H.264 codec video encoding chip.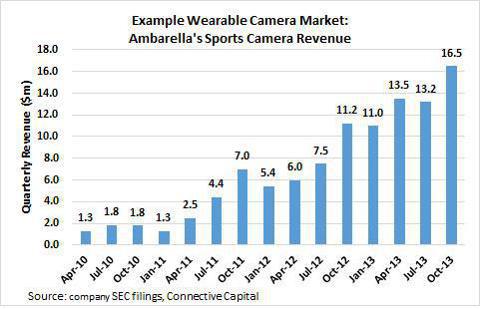 Personally, I'm confident in nearly every aspect of Ambarella's business model and performance and see the company as a strong BUY for both short term and long term investors.
Trailing P/E (ttm, intraday) is 37.10 while forward P/E (fye Jan 31, 2015) is 26.00. Price/Sales is 5.47. Yet the numbers that speak volumes to me are Ambarella's profit margin which is a healthy 15.93% and its total debt which is, wait for it, 0.00. (Oh how AMD would love that statistic next to their name.)
Ambarella makes products in five very diverse camera catagories: Security Cameras, Wearable Cameras (Google), Sports Cameras (GoPro), Automotive Cameras, and Broadcast Infrastructure Solutions. The company has done well in all these markets chiefly because the processors delivers high quality HD video while consuming very little power. In fact, in 2008 Ambarella delivered the very first 1080p60-capable encoder, years ahead of the competition. It also produces very high performance still image processing under the most challenging of lighting conditions. Another reason GoPro sticks with Ambarella - the highly programmable multi-core architecture, efficient noise reduction and broadcast class H.264 codec deliver stunningly high quality HD video at very low bit rates, making it ideal for social media outlets or other areas where streaming and bandwidth are factors to be considered. The compression algorithms alone are something to be excited about as more and more people post short videos on YouTube, Facebook, Twitter, Vimeo and the dozens of other platforms now available to anyone with an internet connection.
"We are very pleased with our execution across major markets as demonstrated by the strong Q3 year-over-year growth of 29%, said Fermi Wang, President and CEO of Ambarella. Our penetration into the fast growing, professional and consumer IP security markets continued in the quarter, reflecting our strong competitive position, as well as our broad product roadmap. In sports cameras, market leader GoPro introduced 2 new models based on Ambarella technology that deliver industry leading features at both 1080p60 and 4K resolutions.

This is an exciting time for our company as we continue to develop products on leading edge technology that we believe will enable us to continue to offer our customers the best resolutions and exceptional compression technology without compromising power efficiency," he said.
The simple fact that the tech firm has interested Google in a partnership should be music to the investor's ear. Ambarella is providing the technology for a new wearable pendant camera known as the A7LW which will be implemented in Google Helpouts. The Helpouts are basically video tutorials, or live lessons on a myriad of hobbies, subjects and interests. From cooking tutorials to chess lessons, the A7LW will be capturing and delivering hour upon hour of digital content between teachers and students in Google Hangouts. (source: Ambarella)
So when we factor in a new product for Google this year and double sales of chips every year to GoPro with an IPO looming in the near future, I am forcasting record highs for Ambarella shares in 2014 and beyond. The majority of Ambarella's current business comes from products used in Asia; the fact that the tech firm has made such deep inroads into the Americas and Europe is also cause to be bullish for the foreseeable future.
Wearable cameras are the next big technological must-have and Ambarella seems to be grabbing a big piece of that pie, again far ahead of the competition. I'm encouraged that the company continues to get early footholds into emerging markets. It's a sign of innovation and continued growth and development.
Ambarella is due to report fourth-quarter earnings on March 6, with guidance for revenue of $37million-$39 million and non-GAAP profit of $5 million-$6.5 million. It did $149 million in revenue over the last 12 months. The key to remember here: Ambarella has beaten consensus every year since becoming public and has year-over-year growth of 29%. It's my firm belief that the days of seeing Ambarella shares in the $20-$30 range are soon going to be in the past.
Analysts at Stifel reiterated their "buy" rating on the stock, raising its price target to $34 a share this week. Of all the other major analysts, none have recommended selling Ambarella. The worst rating I saw simply classified it as a "hold." The detractors feel that company is "overhyped and overbought" and that one misstep on the chip-maker's part will cause a strong correction in its price, I do not believe that misstep is imminent. Some bearish-types have even recommended shorting Ambarella shares--a position I deem as short-sighted and possibly very costly. I have found that the best investment strategy is to buy and hold shares long term in solid companies that produce a physical product. (Apple, for instance). Ambarella is just such a company.
At the first submission of this article Ambarella was priced at $27.30. This second draft places the stock just under the $30 mark and we are still three weeks from the earnings report. Obviously, this author is recommending a buy, preferably as soon as possible to all interested investors.
Disclosure: I am long AMBA. I wrote this article myself, and it expresses my own opinions. I am not receiving compensation for it (other than from Seeking Alpha). I have no business relationship with any company whose stock is mentioned in this article.