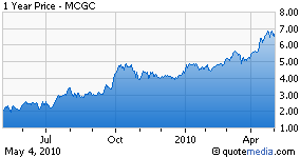 MCG Capital Corporation (NASDAQ:MCGC) is back in the distribution paying business after a two year hiatus. Today, the Company announced (along with its earnings for the first quarter of 2010) a dividend of 11 cents a share, with a record date of June 2.
That's only a fourth of what the Company was paying in the good old days before a series of big bets on Control Investments failed to pay off. Nonetheless it's a big step forward and one that management has been telegraphing for months without making any formal commitments.
The dividend is just shy of the Distributable Net Operating Income (or DNOI, the Company's metric for measuring recurring income available for distribution) of 13 cents for the quarter. What taxable income might be is not reported on the Earnings release but could be significantly different, so it's not clear what the likely tax treatment of this distribution will look like.
Looking forward, there appears to be a good chance MCGC will raise its dividend in future quarters. The Company's press release repeatedly points to its lending capacity:
MCG also had $56.3 million of unrestricted cash as of April 29, 2010 and $93.7 million of cash in securitization and restricted accounts, which may be deployed for suitable new investment opportunities and distributions of dividends… subject to the SBA's approval, Solutions Capital I, L.P. may also borrow up to an additional $26.3 million to originate investments based on its current funded capital.
In fact, MCGC CEO Tunney is very explicit:
As our origination pace increases, we expect to grow our net operating income which will support future increases in our level of distributions to our stockholders.
We estimate that MCGC has over $100 million to spend between its securitization facility, SBIC and that portion of cash which it feels able to part with. If all of that goes into yield instruments averaging 13%, we estimate about $6mn in incremental DNOI will eventually show up, which translates into 2 cents a quarter in additional earnings, and presumably distribution. That would take the annual divvy to $0.52.
However, the Company could end up using that excess cash for other purposes that might be more accretive for shareholders such as debt buy-backs (a stock repurchase seems less likely). For more growth, MCGC will have to continue the slow, and uneven progress of monetizing its non-income producing assets (of which it has more than an average amount due to its boom days strategy) and re-investing the funds into yield instruments (which is the current strategy).
What impact will today's dividend announcement have on the proxy battle getting underway that we discussed a few days ago? We have no idea. However, MCGC is not out of the woods yet. Asset coverage is improving, but the 224% assets: debt ratio is still only OK. NAV has stabilized, but the Company still had Realized Losses in the first quarter of 2010, and has ($170 million) in Unrealized Depreciation sitting on the balance sheet.
As with many BDCs, we may see the absolute number decrease in the quarters ahead, but there will probably be more write-offs ahead. We'll have to look at the 10-Q to determine if there is much risk of investments that were previously performing getting into trouble.
Also, MCGC has been keeping costs down because of its troubles. There's a generic risk that as the Company renews new business activity we may see an increase in operating costs which could eat away at some of the incremental earnings from new lending.
All of that is in the future. Today, though, it's encouraging to see a BDC which almost went BK, and has not paid a distribution since 2008, begin paying a regular distribution again. It underscores how the BDC industry's weakest performers have been able to remake themselves since the Great Recession.
A few months ago, there were 5 BDCs not paying a regular distribution (including MCGC). Shortly there may be none. Allied Capital and Patriot Capital were absorbed by other competitors, GSC Investment (GNV) recently received the promise of an equity infusion which will allow its debt to be paid off and its distribution to resume shortly, and American Capital (NASDAQ:ACAS) is in the throes of the longest and most complicated restructuring in BDC history but seems close to resuming normal operations.
Disclosure: Author long MCGC