Executive summary:
ARCP is a highly attractive, strongly growing net-lease REIT.
Cole acquisition should provide substantial scale advantages and attractive cash flow growth prospects.
ARCP is a high-yield REIT suitable for long-term oriented investors looking for a reliable retirement investment.
_________________________________
American Realty Capital Properties (ARCP) is making big strides in becoming my favorite real estate investment trust. As part of my retirement strategy, I still largely focus on Realty Income (NYSE:O) to deliver recurring dividends for my income portfolio. ARCP, however, makes an increasingly attractive value proposition after the company announced a series of ambitious transactions. On February 7, 2014, the real estate investment trust announced the completion of its Cole acquisition, which is a transformational move for the company.
Background
American Realty Capital Properties is a publicly-traded net-lease real estate investment trust investing in commercial real estate properties across the United States. ARCP leases its commercial properties to corporate clients in a variety of sectors. 49% of ARCP's revenues originate from tenants that are investment grade rated -- one of the highest ratios in the industry. The commercial REIT just closed its transaction of Cole Companies making the combined company a major player in the REIT space: With more than 3,700 properties I expect American Realty Capital Properties to become a dominant player in the industry.
(Source: Revised ARCP/Merger Presentation)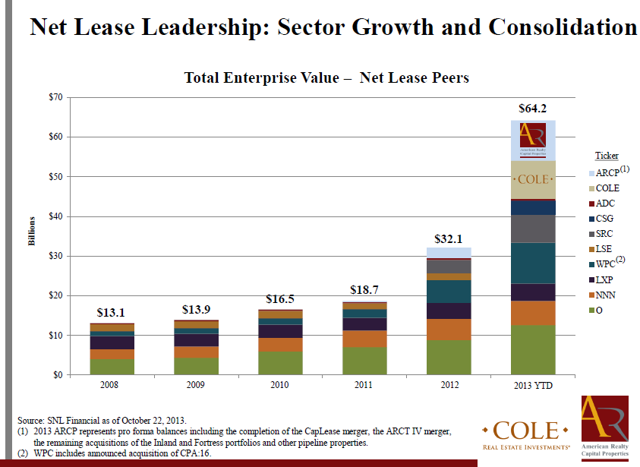 With an enterprise value of nearly $22 billion, American Realty Capital Properties positions itself at the forefront of the REIT industry. The Cole acquisition should lead to substantial scale advantages, a better ability to integrate further acquisitions, access to better financing deals and potential portfolio transactions and, of course, a meaningful expansion of its cash flow base to ensure future dividend payments to shareholders.
The following graph depicts just how much bigger the REIT has become compared to its closest peers in the REIT sector. American Realty Capital Properties fetches a total enterprise value of $22 billion compared to $13.6 billion for Realty Income and $6.5 billion for W.P. Carey (NYSE:WPC). American Realty Capital Properties commands a higher total equity value, a higher total enterprise value and the company also has the highest dividend yield (7.1% as of February 7, 2014) in the peer group. At the same time, its adjusted funds from operations multiple of 12.1 is the lowest in the peer group making the company even more of a bargain.
(Source: ARCP Completes Acquisition of Cole Presentation)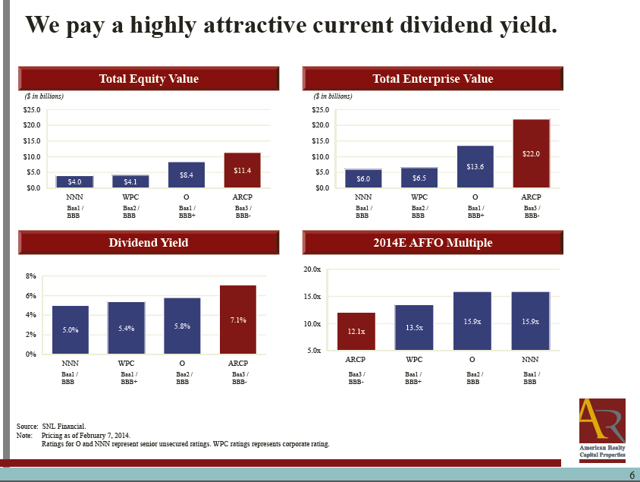 Cole acquisition dividend accretive
American Realty Capital Properties' Cole acquisition is also positive for investors given its dividend accretion: Post-transaction, ARCP's annual dividend is expected to increase to $1.00 per share representing an outstanding dividend yield of 7.23% (ARCP paid an annual dividend of $0.94 per share before the acquisition). In any case, the new yield of 7.23% is substantially higher than the current 5.23% dividend yield that shareholders of Realty Income get to enjoy.
ARCP has been on an acquisition spree in the last couple of years and I would find it comforting if the company now takes time to integrate the acquired properties before it continues to pursue further scaling opportunities. The Cole acquisition surely was the right thing for shareholders: The merger is dividend accretive, delivers estimated cost synergies of $70 million in the first year and significantly diversifies the company.
REIT sell-off still offering buying opportunity
I always encourage long-term investors to make selective purchases in periods of market consolidations. While this surely could lead to short-term book losses, I found the dollar-cost-averaging strategy to be quite promising when applied to quality business that are on temporary sale. The REIT sell-off in May and June, which happened mainly because the market freaked about higher interest rates going forward and feared an adverse impact on REIT valuations, offers such buying opportunity. Shares of American Realty Capital Properties are currently quoting at $13.83 -- significantly below their 52-week High of $18.05 (representing a decline of 23%).
(Source: Yahoo Finance)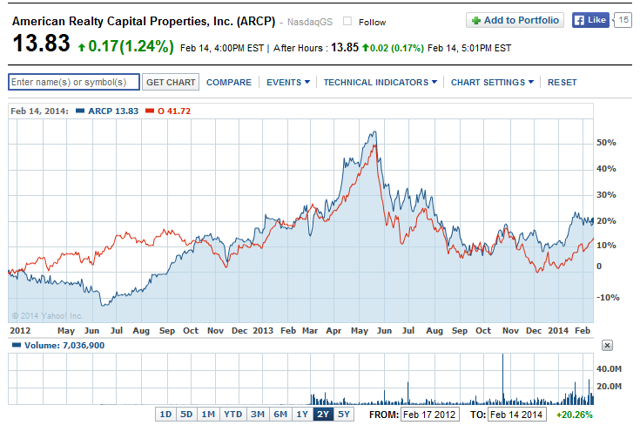 Conclusion
American Realty Capital Properties is an aggressively growing real estate investment trust with a top tenant mix, a diversified property footprint and substantial potential to grow funds from operations. In addition, the REIT just has an outstanding dividend yield of 7.23% while posting an investment grade balance sheet. The Cole merger was a savvy move to grow ARCP's recurring cash flow- and dividend stream. Being a much bigger company now, ARCP could also become a dominant force in industry consolidation, which usually favors the largest companies in the sector. Investors looking for real estate exposure, high recurring cash flows in the form of dividends and attractive FFO growth prospects should consider American Realty Capital Properties. Strong long-term BUY.
Disclosure: I am long O, ARCP. I wrote this article myself, and it expresses my own opinions. I am not receiving compensation for it (other than from Seeking Alpha). I have no business relationship with any company whose stock is mentioned in this article.