During our drive back from the mountains in western North Carolina yesterday we saw many utility trucks heading back north. It was an impressive fleet and highlights the massive manpower required to repair storm damage. There are still some without power, but we have to believe that based on what is happening in the Midwest and Northeast right now that demand for energy shall remain high this week. This should be especially true when one also considers that temperatures in the South will reach 80 degrees.
So although many, including us, are expecting a pullback in natural gas prices, the fact that current prices of natural gas are once again moving higher should come as no surprise. This is a momentum trade that bears just need to get out of the way of and simply wait on the sidelines. Playing in the futures market is not our idea of fun or investing for that matter, so if someone did want to play this on the short side, we would look to the US Natural Gas Fund (UNG), which is an ETF that holds contracts and rolls them over.
Chart of the Day:
As soon as near-term pricing breaks down, expect the ETF to retreat as well. We think that a 25% correction could occur as winter ends, which is why we have avoided this latest move higher. The equities provide more opportunity and value at this time.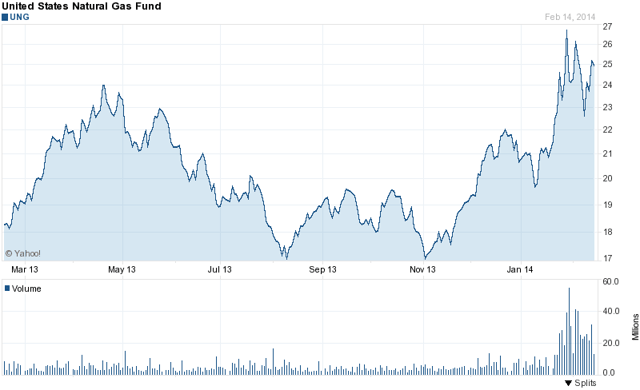 Source: Yahoo Finance
Commodity prices this morning are as follows:
Gold: $1,321.80/ounce, up by $3.20/ounce
Silver: $21.77/ounce, up by $0.349/ounce
Oil: $101.49/barrel, up by $1.19/barrel
RBOB Gas: $2.8381/gallon, up by $0.0328/gallon
Natural Gas: $5.521/MMbtu, up by $0.307/MMbtu
Copper: $3.2855/pound, up by $0.021/pound
Platinum: $1,426.90/ounce, down by $3.20/ounce
BHP Making Strides
Even with the commodity business under pressure across the board, especially in the metals business, we continue to see large miners find ways to reduce costs and boost profits. The latest name to add to that list is BHP Billiton (NYSE:BHP) which reported a 31% boost to its bottom line after spending considerable effort to cut capital outlays and other costs. Unlike its rival Rio Tinto (NYSE:RIO), BHP did not raise its dividend after the solid results but did signal that it would revisit the idea in six months.
We remember from our days of covering the uranium market just how conservative the management team is at BHP Billiton. With that knowledge we would guess that the company will trail Rio Tinto in raising its dividend until the rebound in commodity pricing is confirmed. We would venture to guess that there will be a dividend raise in August so long as current market pricing holds steady, but readers should not expect any leapfrogging of Rio's moves until we see pricing power return and steady demand growth.
Oil Names Rebounding
Sometimes we have to scratch our heads at how the market can misprice certain names over and over and over again. There are always trends investors can find in the market, but the larger a company gets, the less you would think that certain market imbalances would occur.
Look for Rosetta Resources to run into some resistance at $45/share but to head higher after breaking through. We see this as one of our top long-term ideas.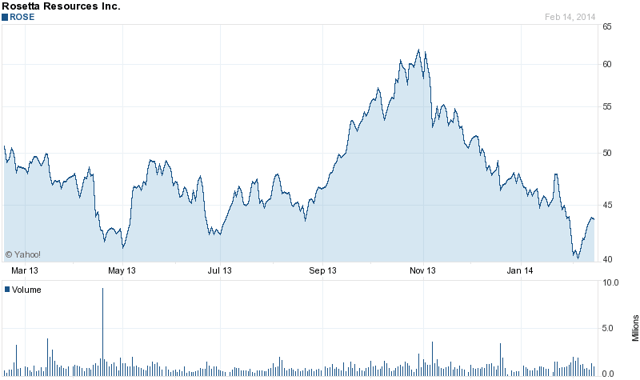 Source: Yahoo Finance
This brings us to Rosetta Resources (ROSE), which is a name we highlighted as it retreated lower and discussed as a buy in the $40/share area. The value at that level was tremendous, especially when one looks at the assets the company is developing in the Delaware/Permian Basins and its Eagle Ford Shale holdings. The stock is up about 10% from its low, but we still think the name has further room to run here. We also think that at these levels it remains an attractive takeover target for the larger names, which have stated they are looking for oil and liquid plays to invest in.
Concerns for Brent Pricing
From time to time there are concerns about how certain commodities are priced and the markets at which these transactions take place. We read a story (located here) about the world's largest oil trading firm calling for reform in pricing oil in Brent terms as production has fallen and growth lags demand.
Oil priced in WTI terms, tracked by the ETF United States Oil Fund (NYSEARCA:USO), has trailed that of Brent but is currently seeing a lot of production growth as the US is experiencing a production boom from horizontal drilling and frac technology. The argument for why Brent has traded higher makes sense, as does the idea that adding similar crude production from other geographic regions could help the market better price oil on the international stage. We find this all very interesting and think that readers might want to follow this moving forward. Nothing will happen in the short term, but it is always best to keep an eye out for market changes, especially when it has to do with the way prices are arrived at.
Disclosure: I have no positions in any stocks mentioned, but may initiate a long position in ROSE over the next 72 hours. I wrote this article myself, and it expresses my own opinions. I am not receiving compensation for it (other than from Seeking Alpha). I have no business relationship with any company whose stock is mentioned in this article.