There's no doubt about it - the focus on driving growth at Intel (NASDAQ:INTC) is all about getting into the mobile and tablet niche.
The last Intel rumor that people like me and Ashraf Eassa had written about revolved around whether or not the company was going to be delaying its new Broadwell chip - which the company itself doesn't really even seem to know when they want to release.
Last year the company came out and announced they were going to push back the ship date of their Broadwell 14nm chip. Then, rumors started to go around that the company was going to push the date back yet again. The company has basically been mum on this issue, but we may have some clarity soon.
Similar to BlackBerry (NASDAQ:BBRY) which missed out on the trend of touch screen phones back in the day, Intel has missed the initial boat with mobile and tablet chip-making and its something that longs in the company, like myself, are betting they can execute on in the coming years to help turn our Intel investments into profit centers.
But, again, investors seem to be giving the company the benefit of the doubt as it sticks around the high $24 level heading into the meat of the first quarter 2014.
This morning, while watching my Intel investment stagnate for yet another day, I did find a nice piece of news on the company and what could potentially be a good sized step in the right direction. There's a chance it could be launching new mobile processors in Barcelona next week.
NDTV Gadgets reported just this morning:
Intel is reportedly preparing to launch two new lines of mobile processors at the 2014 Mobile World Congress, to be held in Barcelona next week. According to a leaked roadplan, Intel will launch a new Atom series for smartphones, codenamed Merrifield, and an update to the Bay Trail tablet platform codenamed Bay Trail-T.

Bay Trail was Intel's first out-of-order architecture for low-powered devices. Now, Bay Trail-T will mark the introduction of a 64-bit architecture to Intel's tablet offerings. Integrated system-on-a-chip processors based on Bay Trail-T will feature four cores running at up to 2.1GHz, with DirectX 11-class integrated graphics and support for dual-channel DDR3 RAM. Initial SoC products, codenamed Valleyview, will be aimed at Android tablets and will enter the market as Intel Atom Z3xxx parts. Valleyview will feature improved HD video encoding and decoding, and will support display resolutions of up to 2560x1600.

Bay Trail-T is projected to offer performance gains of up to 60 percent compared to the previous generation Clover Trail. Typical devices with Bay Trail-T CPUs should be able to stay on standby for 20 days or play video for 11 hours between charges.

Merrifield will be the followup to Medfield, and will be known publicly as the Intel Atom Z34xx series. Two Merrifield SoCs are reportedly in the pipeline, but no further details are known yet. Intel will presumably detail the features and specifications of these processors at MWC.

Although Intel processors have started showing up in tablets running Android as well as Windows, the smartphone market has repeatedly eluded it. Merrifield will be a crucial product for the world's largest chipmaker.
This news comes from a VR-Zone article which published an Intel roadmap for releases by the chipmaker. Judging by this map, the company sure seems to have its work cut out for it in the coming months. The article claims that since these dates have come from an official Intel roadmap, that they're "as close as it comes to being set in stone".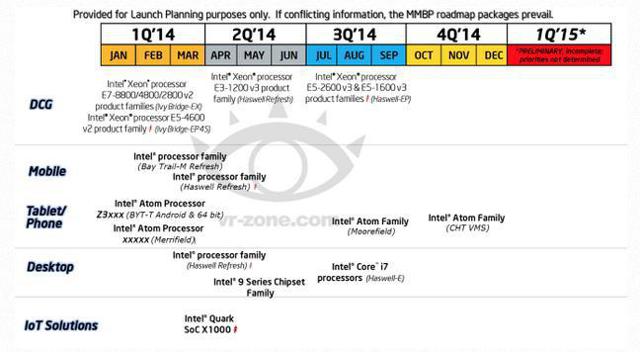 Those that were bullish on Intel heading into this year post-earnings were people generally of the mindset that I was - yes, Intel has a lot of work to do, but they're capable of getting it done in the coming years. This roadmap would certainly allude to the company having a busy "rebuilding" year, which is what bulls like me are counting on. I was happy to read this news this morning and remain bullish on Intel.
The company has the knowhow, staff, logistics, and tools necessary to get themselves caught up in the mobile and tablet race. I could add on dips at any time.
Best of luck and here's to Intel's 2014.
Disclosure: I am long INTC, BBRY. I wrote this article myself, and it expresses my own opinions. I am not receiving compensation for it (other than from Seeking Alpha). I have no business relationship with any company whose stock is mentioned in this article.