In the past several weeks, the subject of margin debt, which recently hit another new record high in America, and its implications with regards to the stock market (NYSEARCA:SPY), has been a hot topic. While the majority of articles suggest that the high levels of margin debt reflect an overleveraged America and warn of a major market top developing in the future, some other articles, such as "Why Margin Debt Matters", recognize margin debt's historically poor track record of pinpointing major market tops, but still successfully explain leverage's destabilizing effects on global markets.
The issue is with the traditional way of analyzing margin debt. That is, if total margin debt reaches a level which previously coincided with a major market top, investors should begin liquidating positions, as investors are overleveraged and will likely run out of money to push stock prices higher soon. Well, the track record of this methodology can be compared to the old "a broken clock is right twice a day" analogy. See the chart below of margin debt from 1975 to 2013. While I have the data back to 1959 (you will see that in the next chart), I shortened the scale to make reading the chart easier.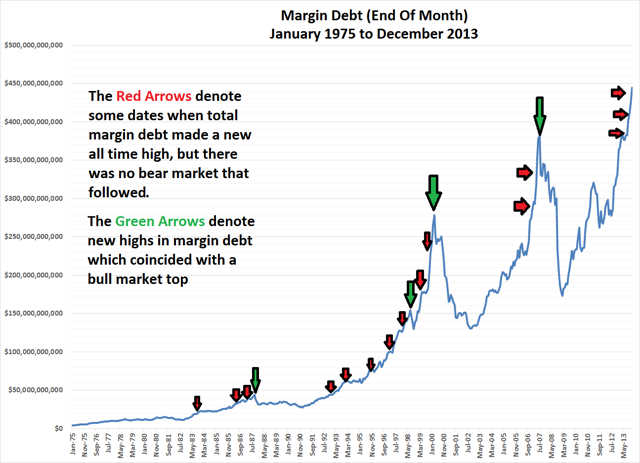 My goal of this article is to debunk the myth that new highs in margin debt automatically reflect a new high in overall financial leverage. In my opinion, there is a lurking variable in the analysis of margin debt, with the importance of this variable so staggering, that without considering it, the margin debt indicator is useless. Margin debt is a monetary indicator, so we need to consider the trend of money when analyzing this indicator. And, if you take a look at the trends in both margin debt and the money supply (I'll use the M2 Money Supply), it is relatively clear that there is some degree of causation, or at the very least, a large degree of correlation.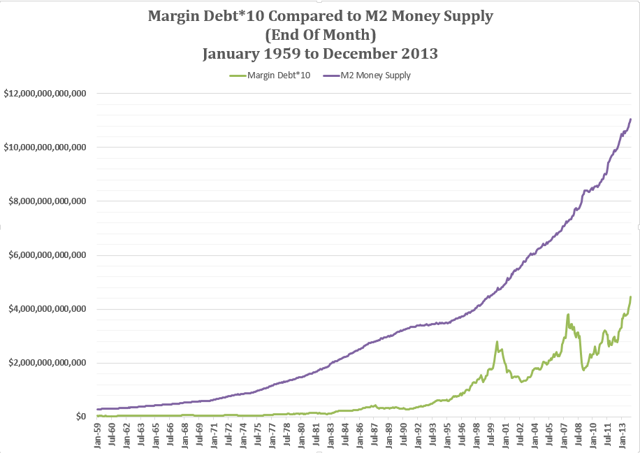 The correlation between the two series is 0.94, or a very significant positive correlation, considering that the maximum positive correlation can be no higher than 1.00.
So let's see the actual leverage of US investors. Divide margin debt by the M2 money supply to get the percent of margin debt there is relative to the overall money supply. Now, instead of dealing with nominal terms of money, we are dealing with a percentage. This percentage will climb when investors become more leveraged and not because the money supply is simply climbing.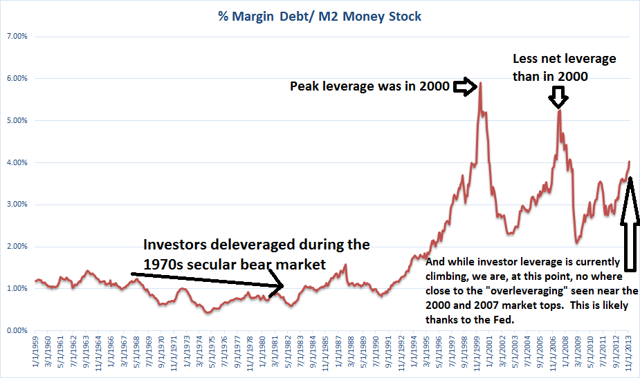 So, while many financial pundits and bloggers alike may chant that the US investor has never been so leveraged in history, this chart begs to differ. Largely thanks to Federal Reserve policy, investors are, compared to previous mature bull markets, actually not that leveraged. And even if this indicator continues to climb, it likely does not imply a major bear market is around the corner. Rather, with an increasing degree of financial leverage among US investors, general volatility will likely increase. Not until investors start deleveraging and selling en masse (driving all margin debt indicators into new downtrends), should we become concerned.
Disclosure: I have no positions in any stocks mentioned, and no plans to initiate any positions within the next 72 hours. I wrote this article myself, and it expresses my own opinions. I am not receiving compensation for it (other than from Seeking Alpha). I have no business relationship with any company whose stock is mentioned in this article.