Introduction
Primero Mining (NYSE:PPP) is one of my favorite gold and silver mining companies in the world, although the buyout offer to acquire Brigus Gold (BRD) has caused me to have second thoughts on Primero's status in my portfolio. In this article I'll provide my opinion on the financial results of 2013 and the company's balance sheet. Thereafter I will discuss the outlook for 2014 and this will result in my conclusion at the end of this article.
All images in this article were taken from the quoted press releases.
My view on the financial results
In 2013, Primero Mining has produced almost 112,000 ounces of gold and in excess of 6 million ounces of silver for a total revenue of $200.3M which is a 10% increase compared to the revenue in 2012. This is remarkable as the average gold price in 2013 was approximately 16% lower than the year before. Unfortunately the total cost of sales increased by 20% which narrowed down the earnings from operations to $51.1M which is still higher than in 2012, due to a saving of $6M on general and administrative costs. However, Primero recorded a net loss as it incurred a tax bill of just over $45M.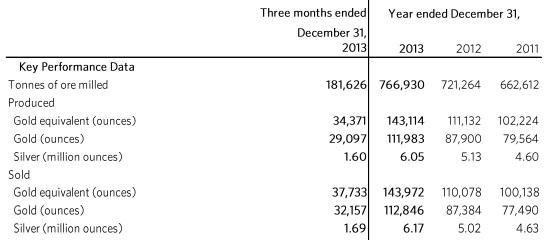 As this net loss obviously doesn't give a good indication about the underlying business, I think it's important to have a look at the cash flow statements as well. In the cash flow statements you clearly see the company generated almost $73M in operating cash flow which was almost entirely spent on capital expenditures. As such, on a recurring free cash flow basis (excluding the non-recurring events such as buying out the remaining part of Cerro del Gallo), Primero Mining was barely free cash flow positive. Is this negative? Not necessarily. As in excess of 100,000 meters were drilled for exploration in 2013 and almost 2000 meters of drifting was completed, we can definitely say Primero has spent the cash wisely.
My view on the balance sheet
Moving over to the balance sheet, Primero still had a working capital position of approximately $100M, despite having a net cash outflow in 2013. As the current ratio is approximately 3.2, Primero Mining should have no difficulties at all to meet its short term obligations, as a ratio higher than one indicates the current assets are sufficient to cover the current liabilities of a company.
The book value per share of Primero increased to $5.71, which means the company is currently trading at a premium of 18% on its book value. This certainly isn't excessive, as I'm expecting an exponential production growth at Primero in the next few years when the Brigus acquisition will be completed and the Cerro del Gallo project will be in production.
Outlook for 2014
For 2014, Primero Mining expects to increase the output at San Dimas once again. In its official guidance (see the aforementioned press release), the company is guiding for a total production of 115-125,000 ounces of gold at an all-in sustaining cash cost of $950-1050/oz. This results in a very nice operating margin based on the current gold price of $1300/oz.

I'm mainly looking forward to see how Primero Mining will digest the acquisition of Brigus Gold. In December of last year, Primero made an offer to acquire all outstanding shares of Brigus in an all-stock deal. The market is anticipating this deal will go through as Brigus is trading close to the offered price. As the share exchange ratio is 0.175 Primero shares per share of Brigus Gold, the offer values a share of Brigus at $1.18. This excludes the shares of the SpinCo which will hold all of Brigus' other assets (except the both Fox projects). I will be watching this spread closely as there might be an opportunity for an arbitrage play. The closing of the arrangement is expected to occur in the first week of March, according to the press release.
As Brigus produced close to 100,000 ounces of gold in 2013, a combined entity of Primero and Brigus will very likely produce in excess of 200,000 ounces of gold per year. On top of that, this transaction allows Primero Mining to diversify the country risk, as Canada is generally being held in high regard as a destination for mining activities.
Conclusion
2013 was once again a good year for Primero, and I expect the company to surprise its investors positively in 2014 as the further mill expansion at San Dimas should increase the gold and silver output in 2014. On top of that, the acquisition of Brigus Gold -which is producing approximately 100,000 ounces of gold per year from its Black Fox project in Ontario- should transform Primero into a mid-tier producer of gold and silver; I expect the total gold output in 2014 to be approximately 210,000 ounces of gold and 6.5 million ounces of silver, on the condition the Brigus deal effectively closes within the next few weeks.
Disclosure: I am long PPP. I wrote this article myself, and it expresses my own opinions. I am not receiving compensation for it (other than from Seeking Alpha). I have no business relationship with any company whose stock is mentioned in this article.
Additional disclosure: I have a long position in Primero Mining, but no position in Brigus Gold.