Michael Kors Holdings Ltd (NYSE:KORS) is a hot brand in the luxury retail sector. Since its listing, the company has posed a threat to its competitors by stealing their market share. Earlier this month, the company reported outstanding results for its third quarter of fiscal year 2014 and demonstrated why it is considered one of the best retail companies. In this article, I will explore why investors should remain optimistic about the stock.
Staggering Q3Performance
For the third quarter of fiscal year 2014, Michael Kors managed to blow past analysts' expectations as usual. Revenues for the quarter jumped up 59% and stood at $1 billion up from $636.8 million in the comparable quarter last year. Diluted earnings per share for the quarter demonstrated an impressive growth of 73.4% and stood at $1.11, easily smashing the analysts' consensus of $0.86 per share. Moreover, the company successfully earned a 61% gross profit margin as is the norm for successful luxury brands.

Source: Financial News Release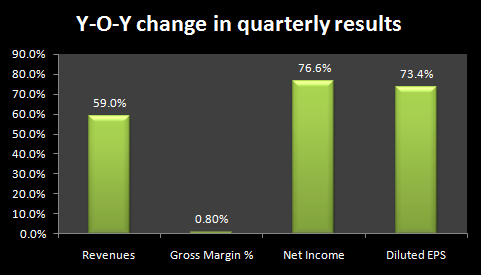 Source: Financial News release
Michael Kors operates in 3 business segments: retail, wholesale, and licensing. The retail sector is the major revenue contributor for the brand since it generates almost half of the company's revenue. Retail's net sales grew by 50% with a comparable store sales increase of 26.2%. This level of growth in same store sales is a massive figure for any retailer. Retail stores in the latest quarter vs. the previous year increased by 20.6%. This is indicative of the fact that the company is leveraging on its successful retail stores format because it has successfully opened 385 new stores since fiscal year 2007. This total was achieved by fully penetrating into North America through 274 stores and internationally by 111 stores. Other than revenues, the net income was also bolstered by the retail sector operations of the company as shown in the figure below.

The wholesale and licensing segments of the company also grew by 51.7% and 56.1% respectively. All three of the business segments are working hard to bolster the company's top and bottom lines. Moreover, it is the company's compelling product line offered at attractive prices that attracts demand from worldwide consumers. This results in massive store traffic and adds more and more revenues to the company's top line.
Shareholders' Returns
Michael Kors does not pay any dividends, so investors' return relies solely on share price appreciation. Investors in the stock have been very well rewarded since their investments have been tripled in just 2 years. During the previous year, this stock experienced an upward movement of 65%, whereas Coach (NYSE:COH) experienced a 2.80% decline in share price. Michael Kors climbed up to $57.10 a year ago and is currently at $94.22. The stock recorded a 22.89% rise in share price after the company reported spectacular performance during the quarter that ended December 28, 2013. In pre-market trading Michael Kors' shares crossed the $90 level reaching an all-time high share price at open.

Source: Y-Charts
Michael Kors is the high flying momentum stock that secures the potential for big gains in the future. Moreover, the global expansion opportunities, especially in Europe, that Michael Kors can avail leveraging on its brand recognition will bode well for the company's future. Eventually this will enhance shareholder's returns via price appreciation.
Apart from the luster Michael Kors' stock offers its investors, it is a de-facto risk investment because the investors' expectations of growing revenues and income uphold the stock price. The Michael Kors brand is continuously endorsed with great faith by investors, season after season as shown by the company's forward P/E of 25.02 that is far greater than that of its competitor Coach's forward P/E of 12.26. It is anticipated that Michael Kors will grow its revenues by 39% this fiscal year and by 25% by March 2015. Michael Kors needs to maintain its popularity and pervasiveness in order to meet market expectations and remain resilient even during weak consumer demand.
Bright Future Due to Brand Strength
Michael Kors is forecasted to continue its strong performance in the fourth quarter of fiscal year 2014. According to the company, total revenue will fall in the range of $790 million to $800 million leveraged by the expected 15% to 20% increase in comparable store sales. Assuming 206.8 million outstanding shares, diluted EPS will be in the range of $0.63 to $0.65 for the last quarter of fiscal year 2014. It is evident from the company's historic performance that it will achieve its set targets and forecasts leveraging on its brand power. Historically many retail brands like Coach suffered due to severe weather conditions during the holiday season in 2013, but these excuses took a backseat in the case of Michael Kors Holdings - a brand that remained a hot favorite of consumers this winter. Luxury accompanied with affordability is what best describes the brand. Moreover, the consumer confidence interval is also forecasted to up, rising from 81.20 to 81.47, reflecting strong consumer sentiment that is positively correlated to their spending and demand for luxury brands. This indicates opportunities for the company to grow its sales in 2014.
However, the company has more penetration in North America, and it is striving to expand in Europe. Europe seems to be the company's next target, and the goal is to grab the market share from European luxury giants such as Louis Vuitton. After the sales of luxury goods fell during the recession, Western consumers have begun taking small steps back into the luxury sector generating new and enthusiastic buyers of luxury brands. During the latest quarter of fiscal year 2014, Michael Kors generated 143.5% revenue growth in Europe, reflecting the enormous growth opportunities the region has to offer the company. It is the company's incredible brand strength that will enable it to grow there by leaps and bounds.
Revenue by region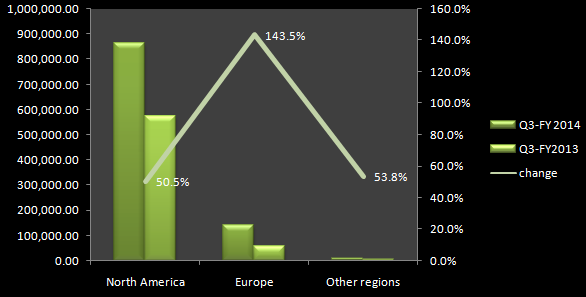 Source: 10-Q
Looking at the size of the company compared to its European rivals, it is obvious that Michael Kors still has opportunities to expand its product range and diversify itself across the globe. Rebounding economic optimism and a roaring tourist trade may act as a catalyst for the company. The company's management simply needs to continue its effective command and allow the brand to be enjoyed by worldwide consumers
DuPont Analysis
Michael Kors Holdings is currently offering a return on equity of 47.21, and the industry benchmark stands at 17.64. In order to determine the reason hidden behind the numbers, I will be using the DuPont analysis. The DuPont analysis is an analytical tool that gives investors insight into a company's income statement and balance sheet leveraged by key financial ratios. It sheds light on three critical areas: operating management, asset management, and the capital structure.

Source: Morning Star
The DuPont analysis leads us to conclude that the ROE the company generates is mainly driven by its net profit margins. The company's net profit margins show an upward trend, as the recent quarter experienced a 3% uptake Y-O-Y and Q-o-Q. The asset turnover ratio for the company has remained at almost the same level throughout the period under analysis. However with an asset turnover of 0.5 times, there is much more room for the company's management to improve its asset management. On the other hand, company's financial leverage has been declining over the period, and it is evident that the company is financing almost all of its assets via equity rather than lodging debt to the company's balance sheet. This places the company in a secure position with a total debt to equity ratio of 0 compared to the industry benchmark of 68.14, indicating that the company does not carry financial risk on its balance sheet.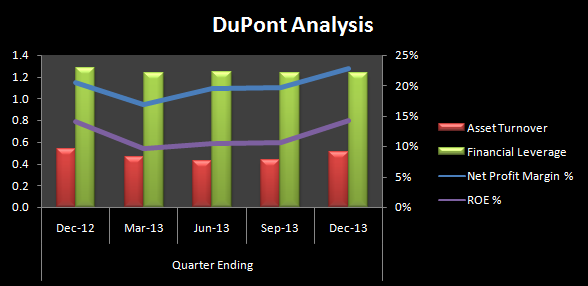 Final Thoughts
Michael Kors Holdings Ltd is the real king of the retail sector and has leveraged on its continued innovation in terms of fashion and style. It has managed to beat market expectations ever since its listing back in 2011, and this quarter's sizzling earnings were proof of that. However, the stock is trading at an expensive P/E of 32.13, whereas the industry is trading at 30.22. The company reflects its strengths on various grounds ranging from its robust revenue growth and impressive EPS growth to record profit margins, notable ROE and minor debt levels. These positive qualities of the stock are enough to outweigh the current premium valuation of the company by various measures. Moreover, there is a lot room for the company to grow internationally in Europe and the emerging markets that will create future price appreciation for the stock. Therefore, in my opinion, with its growth momentum, Michael Kors is well positioned to become part of the growth-loving investors' portfolios and is definitely a stock worth buying.
Disclosure: I have no positions in any stocks mentioned, and no plans to initiate any positions within the next 72 hours.
Business relationship disclosure: The article has been written by a Blackstone Equity Research research analyst. Blackstone Equity Research is not receiving compensation for it (other than from Seeking Alpha). Blackstone Equity Research has no business relationship with any company whose stock is mentioned in this article