I've decided to write a two-part article about mobile payments. Although, from an investment point of view, this trend seems to have been stuck for the past two years, the potential of mobile payments is huge. The first article will be about the current state of the industry. The second will introduce what I think to be the future infrastructure to a mobile payment eco-system and which emerging players will benefit from it.
The Payment Market Size
The big credit card companies have controlled the payment world since the inception of the modern credit card in 1950. Sixty-four years later, we have the big four credit card companies:
| | | | |
| --- | --- | --- | --- |
| Company | Revenues | Net Income | Market Cap |
| Visa (NYSE:V) | $12.08B | $5.08B | $139.74B |
| MasterCard (NYSE:MA) | $8.34B | $3.12B | $91.87B |
| American Express (NYSE:AXP) | $32.97B | $5.26B | $94.00B |
| Discover Financial Services (NYSE:DFS) | $8.24B | $2.47B | $26.26B |
The combined net income of these four companies was $15.8B in 2013. Although revenues include other items, in addition to card payment processing fees, this number gives us a good feel for the market size for which the rising players in the mobile payment arena are competing.
According to Boston Consulting Group, in 2020, the total revenues of all payment services (which, in addition to the cards, also includes account maintenance fees, etc.) will reach $1.57 trillion, up from $589 billion in 2010. According to the Capgemini World Payment Report 2013, in 2011 there were 181 billion credit and debit card transactions around the world. Zooming in on mobile payment transactions, Gartner estimates that in 2013, the total mobile transaction value was $235.4B. This number is "peanuts" in comparison to the total payment market. Gartner expects that the global mobile transaction volume and value will average 35% of annual growth up until 2017, when it is expected to reach $781.8B.
To understand the dynamics of the payment business, let's take a look at Visa.
Visa Study Case
According to its last annual report, Visa processed 58.5 billion transactions on its network. The value of those transactions was $4.3 trillion. There were 2.2B Visa branded cards around the world. On average, each card was used 26.5 times during that year. An average transaction carried a value of $73. Visa made about $5.3B in revenues associated directly with those transactions. That means that Visa made revenues of approximately 0.12% out of the total transaction value. If any other player is to step into the market, I assume he is going to earn the same 0.12% in revenues that Visa makes.
What Are Mobile Payments?
At this point, there are several different mobile payment categories:
Money Transfers
Product/Service Purchasing
Proximity Purchases
Bill Payments
I'll define a true mobile payment world as one in which credit/debit cards are obsolete, and all of your non-cash payments are made through your mobile wallet. You pay for your bills with it, you transfer money through it, and all of your non-cash goods/services purchases are made using it. Your mobile wallet is linked to your bank account. For that world to become reality, a few things need to happen. Before that though, I want to let you in on a surprising story.
The fact that the major engine fueling the growth of mobile payments around the world is actually in Africa is fascinating. More and more countries in Africa are encouraging the widespread use of mobile money. What the Google Wallet and Isis consortium couldn't achieve with the millions they spent on marketing their mobile wallets in the past two years, Africa is doing with impressive efficiency. Let's take a look at Kenya.
The Kenya Mobile Money Story
Kenya launched the M-Pesa (mobile money in Swahili) back in 2007. It was meant to be a service to enable people to repay micro-loans with ease. The service is provided through Safaricom, a mobile network operator controlled by Vodafone. The M-Pesa service was adopted quickly, and many men used it to send money from urban centers to their families, who live in rural villages. For example, with just a few taps on his phone, a man could send money, and his loved ones hundreds of miles away could go to one of the 65,000 M-Pesa agents around the country and get the cash. Even better, they could purchase goods and pay for them with M-Pesa, thus making cash obsolete. Nineteen million out of the 44M population of Kenya is registered to the service. If you apply the same ratio to the U.S., you're talking about 135.5M users. The same penetration rate in Europe would yield 315M users. To understand how wide-spread M-Pesa is in Kenya, you need to understand that only 4M people in the country have a bank account. Access to financial services is extremely limited for the majority of Africans, so M-Pesa stepped up to answer a dire need in the country. Many Kenyans were traveling tens or even hundreds of miles to deliver money to their families, but now they can do it with a few clicks on their phone. It is no wonder that with that wide of a spread, merchants started to accept M-Pesa for goods through a service called LIPA NA M-PESA. Therefore, with about 25% of their GDP currently flowing through M-PESA, the vision of a widespread mobile payment system is real in Kenya. Now, the system is starting to spread to other countries as well, including Tanzania, Afghanistan, South Africa and India.
So why did M-PESA work so well in Africa?
Remittance. Domestic immigration in Kenya fueled the need for a system to easily transfer money around the country. In other words, this was the killer app.
No Access To Financial Services. With only 4M people that had a bank account, other uses started to "ride" on the M-PESA infrastructure.
Cash Only Environment. Before M-PESA, one could only use cash for transactions; however, when money started to accumulate in the M-PESA system, it became more convenient to start using it for goods/services rather than withdrawing cash.
Meanwhile In The U.S.
Google is struggling to get any meaningful adoption of its Google Wallet. The Isis Wallet couldn't get much traction either. Although PayPal looks promising, it is far from reaching the mobile payment vision. Apple (NASDAQ:AAPL) is just starting to move in the mobile payment direction. What are the forces pushing toward a true mobile payment environment?
Google Wallet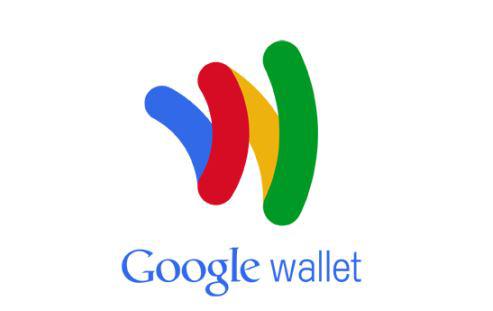 Google started its mobile money venture back in September of 2011. The Google Wallet app works with MasterCard PayPass merchant locations and Visa PayWave. The wallet is supported mostly by Sprint, and just on certain models: iPhone, HTC, LG, Motorola and Samsung. Verizon (NYSE:VZ), AT&T (NYSE:T) and T-Mobile block the Google Wallet on their devices, for a reason that I'll explain shortly.
Google Wallet uses the NFC technology for proximity payments, and some say this is the reason for the slow adoption of the Wallet. As of June 2013, according to Bloomberg, there were less than 10 million downloads of the Google Wallet app.
The Google business model for the wallet is bizarre. They don't plan to generate fee revenues like credit card companies, but to collect consumer data and then target specific ads to its users. I suspect that privacy issues are preventing Google Wallet from gaining any meaningful market share.
However, an interesting move that Google made recently might change the picture a bit. Google has added a money-transfer feature to Gmail. With so many Gmail accounts, Google could have a huge installed base for transferring money in the U.S.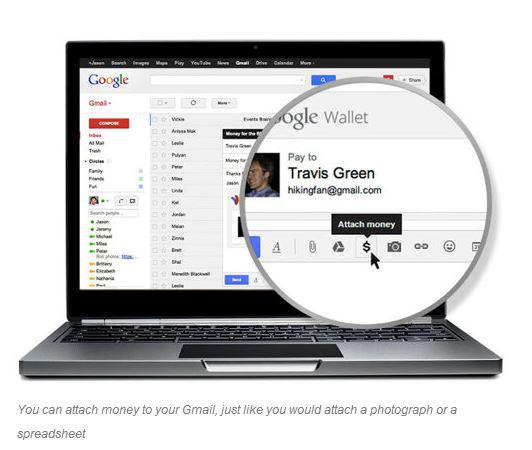 The Isis Wallet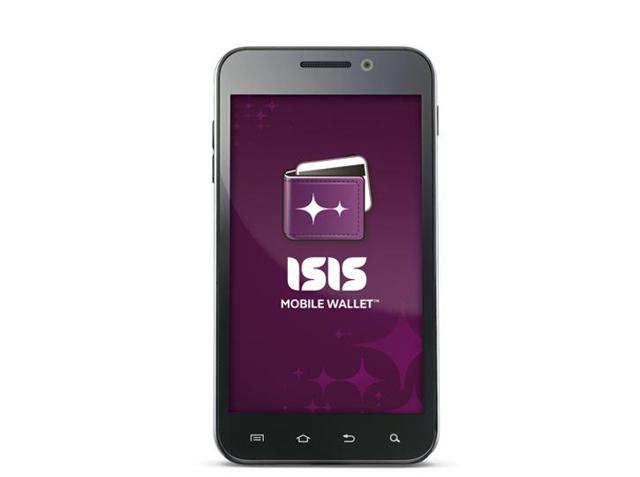 Click to enlarge
Isis is another mobile wallet that uses NFC. It is a joint venture between AT&T, Verizon and T-Mobile. The three companies launched a pilot of the wallet in Salt Lake City, Utah, in 2012. To encourage users to adopt the Isis Wallet, the Isis consortium blocked the Google Wallet app on the phones that they sell. The Isis Wallet was launched across the U.S. in November 2013. Isis partnered with American Express, Chase and Wells Fargo; so credit cards for those brands can be linked to the wallet. The wallet is PIN protected. Now, we are three months after its nationwide launch and the app is available only for Android; so let's take a look at the Google Play download data:
| | |
| --- | --- |
| Company | Number Of Downloads |
| AT&T | 50,000-100,000 |
| Verizon | 100,000-500,000 |
| T-Mobile | 100,000-500,000 |
Data is from the Google Play Store.
At the most optimistic scenario, the Isis Wallet was downloaded by just over 1M users, about 0.3% of the U.S. population. We can see that these adoption rates are very slow as well.
PayPal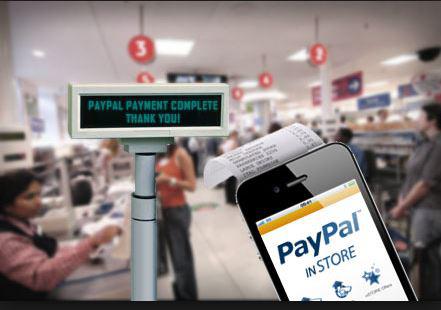 The PayPal mobile wallet takes a different approach from the previous two wallets. A PayPal user downloads the app (iOS/Android) and then he can pay, no matter what device he has. That makes it easy on the consumer, as he doesn't have to own an NFC enabled device. As for the merchants, they need to become PayPal compatible, which means they are listed on the PayPal app and that they accept PayPal as a payment method in their point of sale terminal. For example, if a customer wants to pay for his check in a restaurant, he simply goes to his PayPal app, enters the code written on his check-and he is done. With the PayPal app, you can even order ahead (while you are on your way to a restaurant, at about 9000 restaurants in the U.S.). You can also pay without your phone at a regular POS terminal, by using your PayPal PIN number. For now, the PayPal mobile payment solution is the clear leader in the U.S. According to PayPal, about 23 retailers at more than 18,000 locations accept PayPal. Furthermore, according to the Google Play Store, the PayPal app was downloaded 10M-50M times. PayPal, with its 126M user base worldwide and its simpler non-hardware related payment methods, is the clear leader so far.
MasterCard PayPass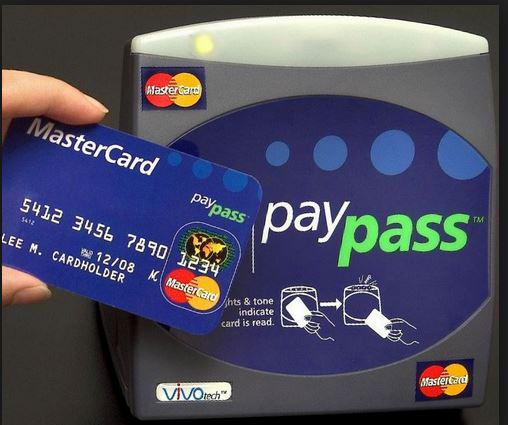 MasterCard is trying their luck with PayPass, which is an NFC based solution. Either a contactless card or an NFC based device is swiped at an NFC enabled point of sale. As with the Google Wallet and the Isis Wallet, I expect this NFC based solution will have a hard time getting traction.
Visa V.me
This service is trying to convert Visa cardholders to more of a PayPal type payment method, where you use an account ID and a password to pay online, instead of entering your credit card details each time. This doesn't get us any closer to the true mobile payment environment.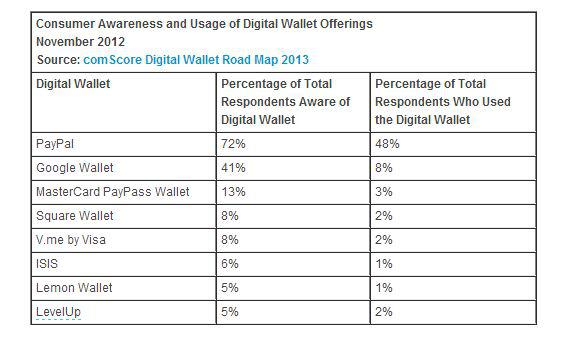 To Be Continued...
Now that we know the current state of mobile payments, we could go one step further. In part II, I'll explain the recent development in the area of mobile payments in the U.S., as well as what might be the "killer app," the trigger that can cause massive adoption of mobile payments in the Western world.
Disclosure: I have no positions in any stocks mentioned, and no plans to initiate any positions within the next 72 hours. I wrote this article myself, and it expresses my own opinions. I am not receiving compensation for it (other than from Seeking Alpha). I have no business relationship with any company whose stock is mentioned in this article.