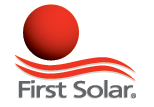 Shares of First Solar Inc. (FSLR) are off more than 4.5% today as the broad market takes on water and growth investors are punished. The stock has had a very strong run over the past few months, rising 50% from the low set on February 25th. The company recently announced earnings of $2.00 per share for the first quarter on revenue of $568 million. Revenue was up 36% which impressed analysts and management increased guidance for the full year due to strong European demand for its cells.
However, despite the positive outlook and strong execution, I'm concerned that FSLR could find itself in a trading range – or worse, in a negative trend as investors shy away from growth companies which rely on European customers.
With the financial world's attention focused on the problems in Greece, and the growing concern that contagion could quickly spread to Spain, Italy, Ireland and Portugal, European commerce could quickly come under pressure. Germany has been one of the few stalwarts of strength, but even the fiscally conservative country could find itself with serious losses as the government is faced with the task of bailing its neighbors out.
To be sure, the crisis in Europe is nowhere near contained, and it is difficult to handicap the potential danger, and the ways that mounting sovereign debt could affect the broad global economy.
Germany has had one of the most liberal solar stimulus programs, encouraging the use of alternative energy and helping to boost the profits of solar companies that operate across Europe. My understanding is that stimulus programs were already in the process of being wound down before the crisis truly became big news in Europe.
Now that Germany is more likely to be on the hook for a huge bailout, the stimulus programs are even more likely to be curbed – which could have a material effect on sales levels for solar manufacturers across the board.
As you can see in the chart below, Germany makes up a significant amount of projected demand for solar energy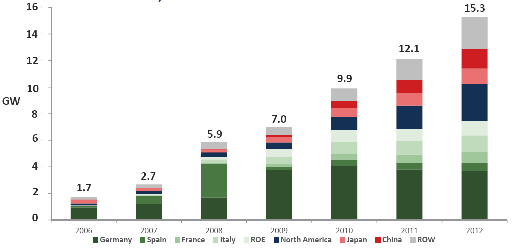 First Solar is not particularly expensive given its strong profits and past record of growth. But at 22 times current estimates for 2010 earnings, investors are pricing in robust growth which may be much more of a challenge as the European crisis evolves. On top of that, FSLR appears to be on the acquisition trail as it announced a purchase of NextLight Renewable Power and could make additional purchases with its leveraged balance sheet.
There are a few positive issues that could help support the price of FSLR. For starters, the company has little debt which will likely give the firm a competitive advantage if we enter another difficult period for solar. In this case, acquisitions might be a strong benefit to the long-term value of the company as cash-starved competitors could sell out for attractive discounts as they would be unable to remain solvent under heavy debt loads.
Also, there is the BP oil spill which may add to pressure for more "safe" energy sources. If oil drilling comes under tougher sanctions, we may see higher demand for solar energy as a result. Such a move would benefit the entire industry and with FSLR as one of the leaders, it could receive higher levels of new orders.
But today, it appears the safest bet on FSLR is for a lower price. Speculation is being punished and the solar industry is certainly one with high risks and cloudy visibility. Investors are likely to bail out of these growth positions until the environment becomes clearer and until that happens FSLR shares could easily lose a third of their value to trade back down to the lows from February.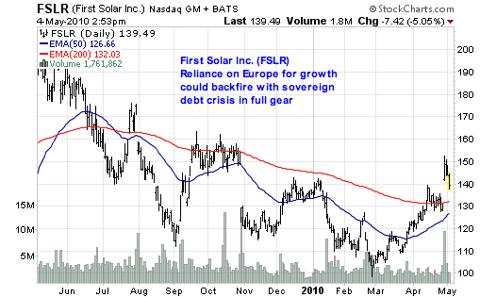 Full Disclosure: Author does not have a position in FSLR