Toyota Prius Recall
The Prius safety recall announced last week by Toyota Motor Co. (NYSE:TM) calls into question the Japanese automaker's reputation for quality. Toyota's latest announcement comes after a well-publicized incident five years ago, in which millions of Toyota vehicles were recalled over the risk of sudden acceleration.
Toyota is recalling all newest-generation Priuses, totaling 1.9 million cars around the world. The Prius recall is due to software glitches that could cause transistors in the hybrid car to malfunction. As a result, warning lights could go off, and the vehicle could power down to a stop.
The voluntary recall by Toyota contrasts with its combative stance five years ago, where the company resisted regulatory probes into the safety of its vehicles and litigated aggressively in the court system. Toyota is one of the world's largest automakers; however, it has recently been weighed down by billion-dollar legal bills, stemming from recall litigation costs. See TM chart below, with a short dip in mid-February, chronologically following the news of the recall.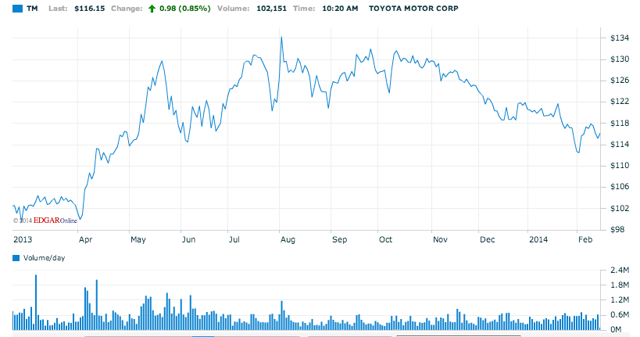 Click to enlarge
Source: Nasdaq.com
Changing Consumer Perceptions
For decades, domestic automobiles suffered from the perception of low quality, compared to foreign cars. In the past, Toyota's manufacturing process was legendary, and its quality was beyond question. Toyota's Prius model launched in the U.S. over a decade ago. The gas-electric hybrid helped to position Toyota as a progressive, environmentally friendly automaker.
Negative publicity is changing consumer perceptions. Toyota and other foreign brands are facing increased pressure from domestic automakers. The American car industry is improving its image when it comes to quality and value. U.S. automakers, ranging from old hands like Ford (NYSE:F) to new entrants like Tesla (NASDAQ:TSLA), are likely to benefit from these changing perceptions.
Tesla Is Gaining Traction
While Prius has been the most popular alternative-engine car so far, Toyota's recall is an opportunity for other alternative-engine cars to gain market share. Tesla has a strong brand and is associated with high quality in the United States. Tesla is also beginning to make progress in Europe and Asia.
In January, we wrote about Tesla. In our view, Tesla is poised for growth opportunities as the company develops the viability of its products and gains consumer acceptance. Tesla is an innovator. The company is leading an all-electric car movement, and sales have been increasing. See chart below, illustrating TSLA's steady volume of trades, reflecting continued interest in the stock.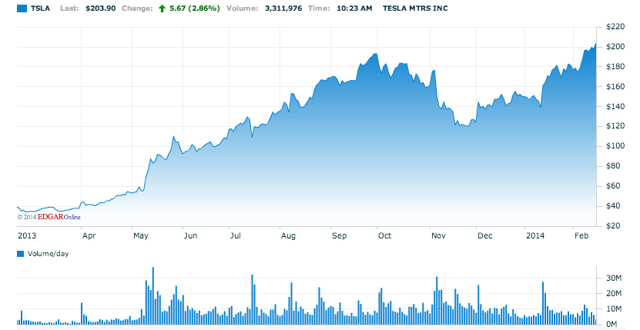 Click to enlarge
Still Growing
Tesla still faces growing pains and risk while building out its dealer network. The company will need to make significant capital investments to complete development of its Supercharger Network. But we remain upbeat on Tesla's future prospects. The company is seeking to expand beyond the ultra-luxury segment, making its brand more accessible to common motorists.
The Model S has been on the market since 2012. It is designed to appeal to car buyers in the upper end of the mass market. The Model X is a crossover SUV scheduled for market introduction in the next few years. Finally, the Model E is under development for more price-sensitive car buyers in the mass market.
Investors Should Consider TSLA A Buy
The expansion of the company's Supercharger Network across the country bodes well for the stock. Tesla plans to let its motorists use the network for free. Tesla drivers will be able to obtain a full charge much faster than if they used standard chargers in parking garages or gas stations. While it will be expensive to finish and operate, the Supercharger Network could prove to be a game changer for Tesla -- particularly if the Prius model continues to struggle.
Disclosure: I have no positions in any stocks mentioned, and no plans to initiate any positions within the next 72 hours. I wrote this article myself, and it expresses my own opinions. I am not receiving compensation for it (other than from Seeking Alpha). I have no business relationship with any company whose stock is mentioned in this article.