Compared to Visa (NYSE:V), MasterCard (NYSE:MA) and American Express (NYSE:AXP), Capital One (NYSE:COF) has the weakest per-share earnings growth story for the past few years: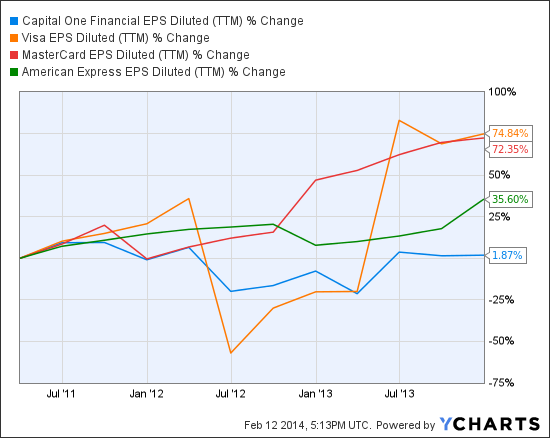 COF EPS Diluted (TTM) data by YCharts
But that is increasingly becoming an apples to oranges comparison, as Capital One has built (through acquisition) a full-fledged banking operation. In the fourth quarter Capital One's consumer and commercial banking units generated more than 40% of the company net interest income and revenue.
While the credit card business is still doing much of the heavy lifting, Capital One merits a fresh look as a hybrid of a credit-services company and a good old-fashioned bank. In a recent presentation to institutional investors, Capital One tossed up a PowerPoint slide noting it is now the sixth largest bank in the U.S. with the caption, "Scale without the size or complexity", a clear reference to the likes of JP Morgan Chase (NYSE:JPM), Bank of America (NYSE:BAC) and Citigroup (NYSE:C).
Stacked up against the banks, Capital One looks a bit more competitive, using return on assets as a gauge: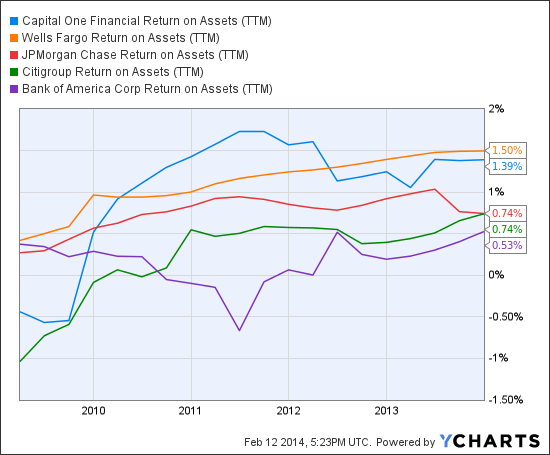 COF Return on Assets (TTM) data by YCharts
It's the banking prospects of Capital One that interests the management team at the $52 billion Dodge & Cox Stock fund. The Dodge and Cox approach is not just value, but very patient value; the team focuses on the three to five year investment horizon. That's years, not quarters. Over the long-term that's delivered for shareholders, as the fund's 9%+ annualized return over the past 15 years is more than 4% ahead of the S&P 500.
At 4% of assets, Capital One is the largest position in Dodge & Cox Stock fund. And Wells Fargo (NYSE:WFC) is the third largest holding at 3.7% of assets (Hewlett-Packard (NYSE:HPQ) is wedged in between Capital One and Wells Fargo.)
The Dodge & Cox managers have been invested in Capital One for more than a decade. Though they didn't add to the position in the fourth quarter, they did devote a chunk of their shareholder letter to explaining why they continue to own Capital One, despite its somewhat sluggish performance over the past few years.
"Although U.S. consumer banks are trading broadly in-line with their historical discount to the market, we believe that the quality of bank earnings today is superior to the quality of earnings 10 years ago. After several years of intense regulatory scrutiny, most banks now have higher capital, better liquidity, fewer competitors, and the ability to improve profitability. In our opinion, banks could enter a period of loan growth, expanding margins, and positive operating leverage, while maintaining charge-offs below historical levels."
At the time of the shareholder letter Capital One was trading at a forward PE ratio of 11. While giving a nod to the possibility that more reform out of Washington could hurt the sector, the Dodge & Cox team concluded that at 11x forward earnings, Capital One remains "an attractive long-term investment opportunity." And that letter came out before Capital One's January 16 earnings release that disappointed with a 7% earnings drop for 2013 over the previous year.
Now it's forward PE is even cheaper.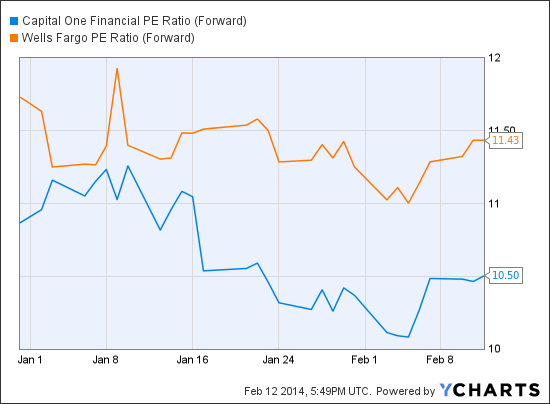 COF PE Ratio (Forward) data by YCharts
Dodge & Cox hasn't significantly added to its Capital One position since the stock was trading around $20 a share in the first half of 2009. Oakmark Select, another standout value fund has 6% of assets invested in Capital One. It has not added to its stake since early in 2013. But Oakmark Global Select increased its share count in Capital One by 17% in the fourth quarter; the stock now accounts for 4.5% of the concentrated portfolio's assets. With their long-term focus, it will be interesting to see if Capital One's stock slide of more than 10% in the wake of its disappointing Q4 release in mid- January spurred the managers to add more.
Carla Fried, a senior contributing editor at ycharts.com, has covered investing for more than 25 years. Her work appears in The New York Times, Bloomberg.com and Money Magazine.
Disclosure: None