The 25 day SEC-enforced quiet period on underwriter research, following Ultragenyx Pharmaceutical Inc (NASDAQ:RARE)'s January 31 IPO, will come to an end on Monday, February 25. The conclusion of the quiet period will permit the IPO underwriters to publish positive research on RARE, likely causing at least a temporary improvement in the price of RARE shares.
RARE priced above its upwardly-revised range of $19-$20 at $21 per share, and followed up the strong result with an explosive first day that was amongst the best of a series of successful biotech IPOs, gaining 101.2%. After cooling over the next week, RARE again made significant gains to exceed its first-day close, closing at $44.00 on February 14. See chart below, illustrating RARE's early success.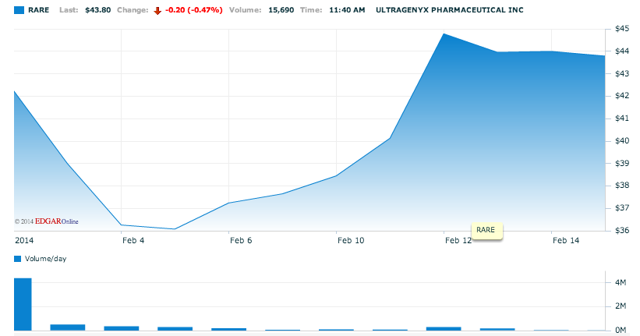 Source: Nasdaq.com
The firm's underwriters, including J.P. Morgan Securities LLC, Morgan Stanley & Co LLC, Canaccord Genuity Inc, and Cowen and Company LLC, will attempt to push the stock even higher with a triumphant release of positive reports on RARE beginning on the 25th. See chart below, illustrating RARE's early success.
Our research over the course of the past two years, along with the conclusions of recent academic studies, have provided empirical indications of a correlation between the quantity and reputations of a firm's IPO underwriters and a temporary rise in the price of shares at the expiration of the quiet period.
This rise usually begins several days before the quiet period has expired, as savvy investors make early buys to take advantage of the upcoming underwriter research reports. These initial buys generate a perception of increasing demand, leading to an increased share price.
Business Summary
RARE is a clinical-stage biotech company, focused on treatments for rare diseases, especially metabolic genetic diseases. The firm targets diseases with high unmet medical need and a dearth of FDA-approved therapies, along with well-defined biology for treatment.
RARE's product pipeline consists of two product categories: small-molecule substrate replacement therapies and monoclonal antibody and enzyme replacement therapies. Enzymes are the proteins the body uses to process materials for cellular function, while substrates are the materials processed by enzymes. RARE's product candidates are designed to treat deficiencies of both substrates and enzymes. The firm has in-licensed possible treatments for five different diseases that have entered Phase 1/2 or Phase 2 or are expected to do so by early 2014. Since only a relative few specialists handle the treatment of these diseases, RARE will not require a large sales force to market its products, and therefore plans to retain commercial rights to its treatments whenever possible.
RARE's development of treatments for diseases that currently lack sufficient medical recourse somewhat decreases the dangers of competition, but other biotech and biopharm firms, some of which have far superior financial resources, may attempt to bring alternative treatments to market before RARE can gain approval for its own treatments. Possible competitors include BioMarin (NASDAQ:BMRN), Shire (NASDAQ:SHPG), Alexion (NASDAQ:ALXN), Sanofi (NYSE:SNY), and Roche.
Management
Emil D. Kakkis, M.D., Ph.D., has served as President and CEO of RARE since founding the firm in 2010. He previously worked as Biomarin Pharmaceutical Inc's Chief Medical Officer. Dr. Kakkis currently serves as President of the EveryLife Foundation for Rare Diseases. He has a BA in Biology from Pomona College and received combined M.D. and Ph.D. degrees from the UCLA School of Medicine's Medical Scientist Training Program.
Conclusion
Though RARE scarcely needs a boost from underwriter research reports, given its exceptional debut on the market, the reports may attract additional market attention to the firm, and many investors may be enticed by the stock's strong start.
The success of the upsized IPO should allow RARE to continue to fund its work effectively. While there is always risk to purchasing development-stage biotech firms (RARE's candidates could ultimately fail to receive approval, or fail to gain commercial traction), we believe that the firm has done well to mitigate these concerns by pushing multiple product candidates and focusing on diseases with minimal current treatment options.
Disclosure: I am long RARE. I wrote this article myself, and it expresses my own opinions. I am not receiving compensation for it (other than from Seeking Alpha). I have no business relationship with any company whose stock is mentioned in this article.