The 25 day quiet period on underwriter research, related to The New Home Company Inc. (NYSE:NWHM)'s January 31 IPO, will expire on Monday, February 25.
The firm's shares will likely see a temporary rise in price in the few days preceding and following the 24th as the IPO underwriters release positive research information on NWHM. Since an extremely disappointing IPO at $11 per share-well short of the expected range of $15-$17 per share-the stock has seen some limited improvement, rising as high as $13.26 per share. NWHM closed at $12.66 per share on February 14. See chart below.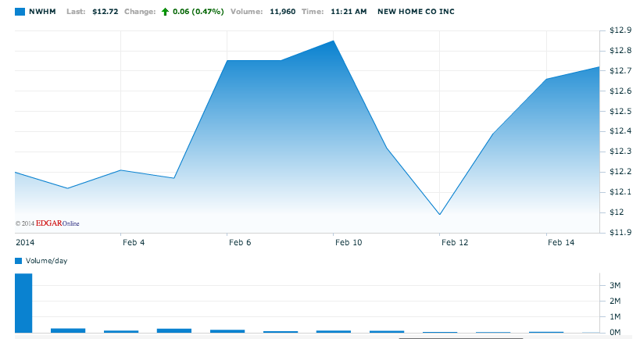 Source: Nasdaq.com
The firm's underwriters, including Citigroup Global Markets Inc, Credit Suisse Securities LLC, J.P. Morgan Securities LLC, and Zelman Partners LLC, will attempt to kick-start the stock's thus-far unimpressive results with a rush of positive reports at the conclusion of the quiet period.
Both our research work and the results of recent academic publications have empirically confirmed a correlation between the quantity and visibility of IPO underwriters and an increased stock price with the expiration of the quiet period.
The rise in price will typically emerge a few days before the actual end of the quiet period as experienced investors round up shares in the hopes of benefiting from the soon-to-be-released underwriter research. These investors expect to see positive releases from the underwriters, since there would be little reason for the underwriters to publish negative information on a firm that they recently backed. These early buys place upward pressure on the price of shares before the positive reports make it to press.
Business Summary
NWHM focuses on designing, constructing, and selling new homes in major Californian metro areas, including the San Francisco Bay Area, coastal Southern California, and metro Sacramento. The firm is involved in the creation of both master-planned and stand-alone communities. See examples below.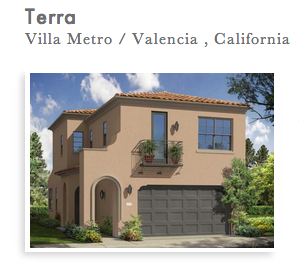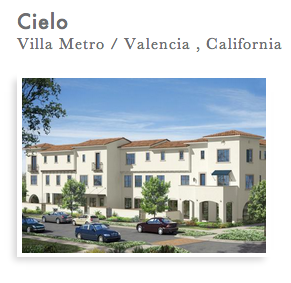 Source: thenewhomecompany.com/
NWHM builds homes to target a wide range of customers, and the prices of its homes vary from about $300,000 to $3.2 million. NWHM places strong emphasis on its "high-touch" customer service practices, utilizing on-site design studios and offering its customers numerous design and structural options. The firm has mainly operated through a joint venture strategy, through which NWHM contributes a minority percentage of capital and ultimately receives distributions that exceed its percentage capital interest, along with management fees.
NWHM competes with other builders, some of which are more established and have access to superior financial resources. These competitors include KB Home (NYSE:KBH), PulteGroup (NYSEARCA:PGM), and Lennar (NYSE:LEN).
Management Summary
NWHM's four founders, who now have decades of experience working on numerous projects together, serve as the firm's top executives. CEO Larry Webb, COO Tom Redwitz, CIO Joseph Davis, and CFO Wayne Stelmar comprise a highly synthetic team with diverse experiences in home building.
The executive team also maintains vital relationships with land sellers in NWHM's markets. Mr. Stelmar previously worked with Mr. Webb in capacities similar to their current positions at John Laing Homes, where they oversaw that business's skyrocketing growth and eventual sale. Mr. Redwitz served as President of Laing Luxury Homes and also worked as a Division President with Taylor Woodrow. Mr. Davis previously worked as the President of Irvine Community Development Company, and has served in senior management positions with Watt Group Inc, Amfac Inc, and Chevron Land and Development.
The Opportunity For Investors To Consider
Despite NWHM's profitability and the evident success of its joint venture approach, the market has thus far been less than receptive to the home-builder. This may be the result of a continued hesitancy to invest in home construction, resulting from the persistent specter of the recent housing market collapse. However, we believe that the experience of the firm's management, as well as its customer service-oriented philosophy, will serve it well as the market continues to recover, and investors should consider the current low price and the upcoming quiet period expiration as an opportunity to buy into NWHM.
Disclosure: I am long NWHM. I wrote this article myself, and it expresses my own opinions. I am not receiving compensation for it (other than from Seeking Alpha). I have no business relationship with any company whose stock is mentioned in this article.