Oversold Tupperware Presents Buying Opportunity
TUP has been suffering from a brutal beat down in price collapsing the stock from $97 to $77, this is a current loss of -20.60%. We are going to delve into the annual report along with news publications to discover if the sell off, caused by missing analyst forecast targets, was justified.
Company Information
Tupperware Brands Corporation (NYSE:TUP) is a global direct seller of innovative, premium products across multiple brands and categories through an independent sales force of over 2 million. Product brands and categories include design-centric preparation, storage and serving solutions, beauty and personal care products.
2013 Annual Report
Information taken from the 2013 annual report shows record revenue sales of $2671 million compared to $2584 million for the previous year. The final Q4 revenue sales also increased by $6 million, which is just under 1% growth.
TBC's strong grasp on emerging markets accounted for 63% of total sales compared to a decrease of 5% in established markets. The best performing region, Asia Pacific, increased its sales by double digits due to strong growth in China, Indonesia and Malaysia Singapore, which were up 20%, 33% and 17% respectively.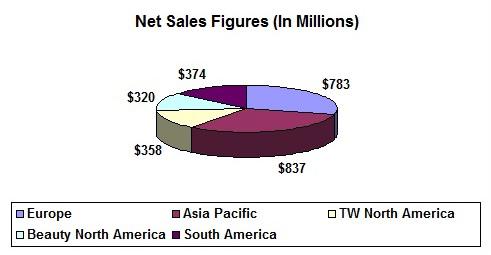 The Party Continues
According to CEO Rick Goings during an interview in Davos, a Tupperware Party happens every 1.4 seconds. For those who don't know, an employee is trained by Tupperware to become a sales person, who then hosts a party for her friends so she can advertise and sell TBC's products.
Rick Goings explains that Tupperware is positioned for a "turbo boost" in growth, due to appealing to women who don't have many opportunities in career choice. These people can help sell to the middle class in Asia who are expected to grow from 500 million to 1.7 billion in 7 years.
He also understands the importance of having a business model that is open for the world to see. Being a direct seller, TBC's products are sold directly to the end-user, so it can distance itself from companies such as Herbalife, which have been accused of operating a pyramid scheme.
Valuation
Price / Earnings - 14.86
Price / Book - 15.64
Price / Sales - 1.50
Peter Lynch Fair Value: $50.10
Image below was created using YCharts.com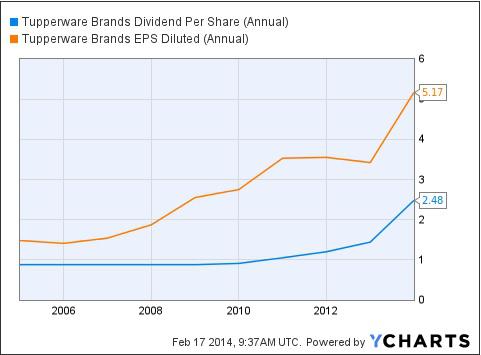 Five Year Average Revenue Growth Rate: 8.40%
Five Year Average EPS Growth Rate: 15.10%
Five Year Average Dividend Growth Rate: 23.03%
Consecutive Dividend Increases: 5
Current Dividend Yield: 3.50%
Five Year Yield On Cost: 6.03%
Dividend Payout Ratio: 46%
Balance Sheet Strength: Strong
This stock doubles as an alpha and dividend growth play, here's how: Tupperware is a market leader in the industry with great exposure in emerging markets. Though TBC had to revise down its yearly revenue target, this was caused due to the recent turmoil in emerging markets. Currency fluctuations meant the difference between 1% and the 5% revenue growth that could have materialized.
Conclusion
With quantitative easing being reduced a further $10 billion to $65 billion bond purchases a month, money is starting to flow out of emerging markets and back into USA as bond yields will start to improve. This has caused a chain reaction seeing many emerging market economies suffer huge corrections, devaluing their currency as they try to regain the investment they desperately need.
TBC has strong fundamentals, and is committed to create value for its shareholders. Share repurchases reached $75 million for 2013, creating equity for shareholders with improved EPS. The Board of Directors also approved a 10% raise to the quarterly dividend to $0.68 cents a share, giving $2.72 per annum.
Providing some technical analysis $67 will provide some support from the previous resistance back in June 2011. If that somehow managed to break, $50 has some great volume and has been a support level since 2011 as well.
Offering a 20.60% discount from the 52-week high, Tupperware Brands Corporation has presented you with a great opportunity. A company committed to shareholders by increasing dividends, buying back shares and offering a generous yield deserves your attention.
Try to "contain" your excitement!
Disclosure: I have no positions in any stocks mentioned, but may initiate a long position in TUP over the next 72 hours. I wrote this article myself, and it expresses my own opinions. I am not receiving compensation for it (other than from Seeking Alpha). I have no business relationship with any company whose stock is mentioned in this article.