Executive summary:
A unique REIT with a focus on the technology sector.
A recent increase of 40% in this

quarter's dividend.

A unique business model that could potentially grow exponentially with the future of high technology.
_________________________________
It is not often that an investor can find a stock that has REIT status, that is also heavily involved in the technology sector. We all seem to know about the REITs that lease space to retailers, healthcare facilities, and senior living companies, but we never hear that much about a REIT that focuses on owning, operating, and leasing business space out specifically designed for the hi-tech field.
DuPont Fabros Technology (NYSE:DFT) is one such company that is impressive on many levels. I believe that owning shares of this company, dividend investors could see a steady stream of income growing forward, and as the company expands there could be a potential for capital appreciation as well.
What Is DuPont Fabros Technology?
It is always prudent for an investor to seek out as much information as possible. Please take a look at the company website. What better way of explaining what the company actually does than by simply reading about it from the company itself.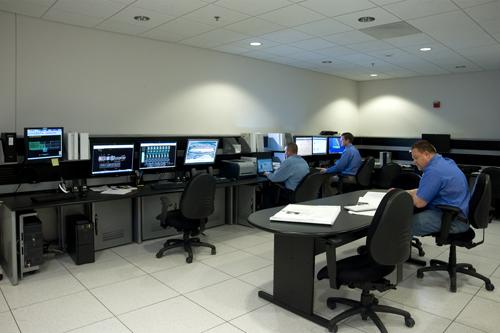 DFT Operations comprises a multi-disciplined team with vast experience in data center design and operation. Operations personnel are versed in all aspects of managing and operating large scale, state-of-the-art data center facilities, including electrical, mechanical, security, fire protection and controls.
The prime objective is to accomplish operation excellence by:

Possessing an in-depth knowledge of our building systems and through the subsequent safe operation and execution of maintenance

Constant diligence and extensive monitoring to protect the tenant's critical load

Maintaining comprehensive and precise documentation

Eliminating human error through education, training and adherence to proven processes

Providing superior customer service
Operating as a REIT, while also maintaining high level of requirements for the technology sector, offers a very unique business model for future revenues and earnings. Just as important are the existing tech companies that require specific space to maintain a safer, more secure location for its technology related business equipment.
As far as I am concerned, that spells opportunity for growth on many levels, while also offering a high yield for dividend investors.
2013 Showed Significant Progress For The Company Fundamentals
Here is the 10k for 2013, which I urge you to review. As for me, I will highlight what appears to be significant improvements that has drawn me to focus on holding shares of this company.
(click to enlarge) Table is from the 10k

As you can see, the company nearly doubled its cash reserves from $19 million to over $34 million. Giving more flexibility to funding the operations, and growing the business.
At the same time the total assets of the company also increased handsomely by roughly $150 million. A growing REIT in the current environment is a very positive sign for me.
(click to enlarge) Table is from the 10k

FFO remained stable, in the face of all of the interest rate fluctuations, and the company goes on to state:
1)Net income for the year ended December 31, 2013 includes a loss on early extinguishment of debt of $41.0 million.

2) As of December 31, 2013 , we leased approximately 9,337 square feet of office space in Washington, D.C., an office building owned by an entity affiliated with DFT's Chairman of the Board and President and Chief Executive Officer. This lease expires in September 2016. We believe that the terms of this lease are fair and reasonable and reflect the terms we could expect to obtain in an arm's length transaction for comparable space elsewhere in Washington, D.C. Rent expense under this lease was $0.4 million for the year ended December 31, 2013 .
The latest results from the company 8k shows some very key growth areas just in the last quarter:
Quarterly Highlights:

• Normalized Funds from Operations ("Normalized FFO") of $0.57 per share representing a 50% increase over the prior year quarter and a 12% increase sequentially.

• Commenced one lease totaling 1.14 megawatts ("MW") and 5,500 computer room square feet.

• Renewed two leases scheduled to expire in 2014, each for five years, totaling 1.17 MW and 9,760 computer room square feet.

• Repaid the remaining 24% of the $550 million 8.5% Senior Notes due 2017.

• Exercised the accordion on the unsecured term loan, increasing its total capacity from $195 million to $250 million.

*Adjusted Funds from Operations ("AFFO") per share of $0.56 representing a 51% increase over the prior year quarter and an 8% increase sequentially.
Let's not forget that the company also announced a 40% increase in its dividend, which will be payable to shareholders of record as of 4/4/2014, payable on 4/15/2014.
Some Key Fundamentals To Take Note Of
The company has an enterprise value of roughly $2.3 billion and a market cap of just $1.7 billion.
A price to book ratio of 1.83.
A low forward PE, for a REIT, of 19.96.
YOY quarterly revenue growth of 12.50%
Operating margins in excess of 38%.
A current dividend yield of 5.45% or $.35/share quarterly.
As a matter of fact ,the dividend growth history over the last 5 years has been quite strong, as has the overall increase in capital appreciation, which has coincided with the dividends.
(Click to enlarge)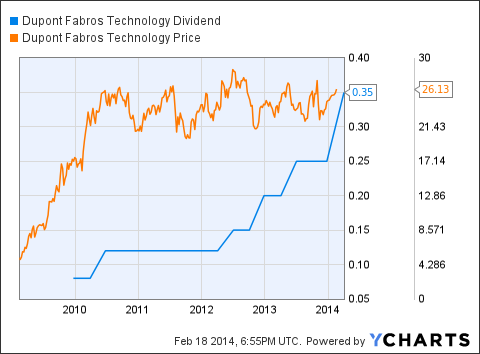 A nice growth path, then stability, and a very nice dividend increase record over the last 5 years. As you can see by the fundamentals and the financials I have noted above, this company could just be getting started!
The company has also just announced successful completion of its 2013 SSAE 16 audits.
Statement on Standards for Attestation Engagements no. 16 (SSAE 16) is the new "attest" standard put forth by the Auditing Standards Board (NYSE:ASB) of the American Institute of Certified Public Accountants (AICPA)...... SSAE 16 represents an adoption towards more globally accepted accounting principles, which clearly can be seen when comparing the new U.S. standard from the AICPA to that of its international equivalent, ISAE 3402, put forth by the International Auditing and Assurance Standards Board (IAASB), a standard-setting board of the International Federation of Accountants (IFAC).
SSAE 16 also brings about a number of requirements for which service organizations will need to be well aware, most importantly that management of the service organization must provide a description of its "system" along with a written statement of assertion.
What this means to me is a very clear and transparent company when it comes to the key operating fundamentals of the company. I like this step for any investor who has any questions about a company's accounting procedures.
A Path Towards Growth
Considering the fact that DFT has just 10 locations nationwide right now, there is significant room for growth. Not just with locations, but with specific locations for existing tenants.
DFT selects it locations based on thorough research of local power rates, significant fiber optic networks, accessibility and customer growth. Currently we have operating properties in four top tier data center markets and we believe these markets will provide significant opportunities for current and future clients to benefit and grow within our data centers. Click below to view our operating and development properties.
Several of the largest tech companies in the world are currently using all of the services that DFT offers. Here are a few and what they have had to say:
"After reviewing several options in the Chicago market, DuPont Fabros was the obvious choice for ServerCentral. The DFT model allows tenants to enjoy the efficiencies of a large data center and the management of critical systems, while we focus on scalability, infrastructure and managed services for our customers." ~ServerCentral


"After touring multiple sites in and around northern Virginia, Net2EZ selected DFT because they have a superior product and a growth plan that plays well with Net2EZ's business model. DFT is a clear leader when it comes to data center efficiency, redundancy, and high density site design. We have been extremely pleased with our selection and look forward to expanding our partnership with DFT." ~Net2EZ Managed Data Centers


"DFT has always proven to be a great customer-focused partner with a fantastic mission-critical product!" ~Microsoft


"We consider DFT one of our most trusted partners. They have yet to miss a committed delivery date and their operational expertise is second to none." ~Yahoo!


"DuPont Fabros offers some of the leading data center facilities in the country with world-class operational and management practices. We chose to work with them for their unique ability to design a data center infrastructure that increases operational efficiencies and ultimate reliability for our customers." ~Rackspace
There are new locations currently under construction in which not only these existing customers can lease and utilize, but newer companies can be targeted.
A 7th location in Ashburn, Virginia.
Phase 2 of the first location in Santa Clara, California.
Future undisclosed locations are in the planning stages.
Keep in mind that the current space under lease right now is at 94%, and the remaining 6% is actively being marketed for lease as well.
If the company develops new locations at a 20% per year rate, which is what is has been doing, then at the current lease rate of 94% would translate into a growth rate of roughly 18% per year. In addition, the way DFT operates will also lend itself to continued growth:
As a Real Estate Investment Trust (REIT), DFT understands the benefits of transparent and fair pricing. That is why our clients' leases are based upon a triple net structure. Base rent is charged on a cost per kilowatt reserved basis, allowing for a denser computing environment. Power is metered at the PDU level and is directly passed through utilizing our wholesale power rates with no markup. Additionally, clients pay for their pro rata share of the building's operating expenses which are passed through without markup. By leveraging the data center size, our clients are able to realize economies of scale and operational expertise across all platforms.
My opinion is that the company can reach its expansion goals and return shareholder value in the form of an increased share price, as well as continued dividend increases in the near, intermediate, and longer term time horizons. This chart reflects my own opinions as well: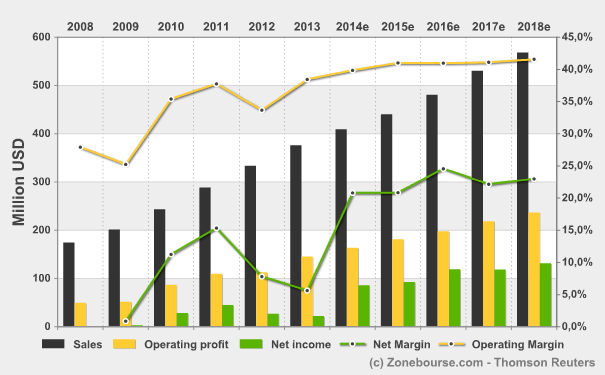 Note the growth within each metric, regularly and consistently. As for dividends, this chart shows the direction potential quite clearly: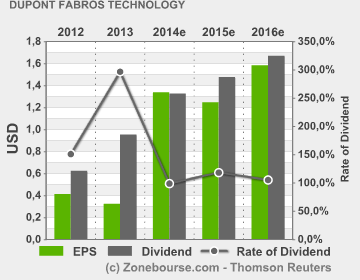 EPS and dividend should head in the right direction for the foreseeable future.
The top end of my share price projection is $45-$50 per share over the next 24-36 months based on an overall company growth rate of 15-20% per year in revenues and earnings. With a current yield of 5.45%, it makes for a very compelling investment.
My Bottom Line
A dividend yield of 5.45% with a very stable company, in a business that is unique as far as a REIT goes, leads me to believe that holding shares of DFT will offer significant shareholder value in both increased dividends, as well as the potential for capital appreciation.
If you are a dividend seeking investor, this REIT could be a nice fit in any income portfolio.
Disclaimer: The opinions of this author are not recommendations to either buy or sell any security. Please remember to do your own research prior to making any investment decision.
Disclosure: I am long DFT. I wrote this article myself, and it expresses my own opinions. I am not receiving compensation for it (other than from Seeking Alpha). I have no business relationship with any company whose stock is mentioned in this article.