Executive summary:
There is sell side enthusiasm toward FTI stock.
The company's revenues, operating income, and backlog are mostly attributed to subsea technologies, a sub sector believed to be in secular growth.
There has been modest buyback activity and is a remaining authorization.
Possibility of over-reliance on subsea.
_________________________________
A February 10th article available at 24/7 Wall St. discusses overall caution toward oil services businesses expressed by Switzerland's largest bank, UBS; FMC Technologies Inc. (NYSE:FTI) is mentioned as "…on the list of top stocks to buy..." The Swiss firm is not alone in viewing the technological systems and products company favorably. With shares of FMC closing at $51.24, Thomson/First Call shows a consensus recommendation based on the input of 11 analysts. While the company is so deep in the subsea sector that it might require a giraffe's esophageal muscles to regurgitate any contaminant, those with a stake in it probably are not so worried.
FMC is clearly focused on subsea technologies for revenues and operating income (It can cost-effectively increases production). In its current February 7th report, UBS specifies in its thesis that there is:
secular growth in the subsea equipment market, given increasing complexity of wells and the expected ~50% increase in the ultra deepwater rig fleet through 2015.
Surface Technologies is a distant second in terms of revenue and operating income as shown in the following graphics: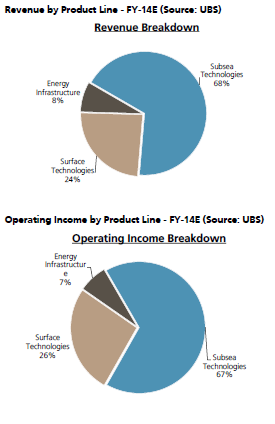 As such, it seems that any slowdown affecting the underwater segment, such as if exploration and production capital expenditures decline, could test the patience of investors. Anyone who puts his or her capital at risk investing in FMC is probably comfortable that its status as the industry leader in the sub sector will be maintained in the future. Everyone else might be concerned that a mishap, competitive entrance, or unforeseen consideration could have serious implications.
Subsea is also over 85.7% of the total backlog. Sterne, Agee and Leach includes a helpful graphic in its February 9th Company Report showing YoY growth in future business:

Upon reiterating a $58 price target, UBS says it does:
…not expect the subsea sector to dominate in 2014, however we believe over the long-term, it remains a compelling sub sector.
Of the five "Takeaways" listed, the two that do not specifically pertain to subsea follow:
(1) Workforce reductions and other initiatives in Eastern Hemisphere starting to drive margin gains, another round of workforce reductions in 1Q-14 (total ~10% of E. Hemisphere workforce, support personnel only).

(2) Surface Tech outlook remain solid, strong operational performance to continue in 2014, margin guidance for 2014 maintained in mid-teens (higher y/y).
Free Cash Flow is projected to allow for future repurchasing and 14 million shares can still be retired under the company's authorization. While capital has been returned to investors in the form of buybacks, the company does not have a prodigal record of lowering its share count as shown by YCharts: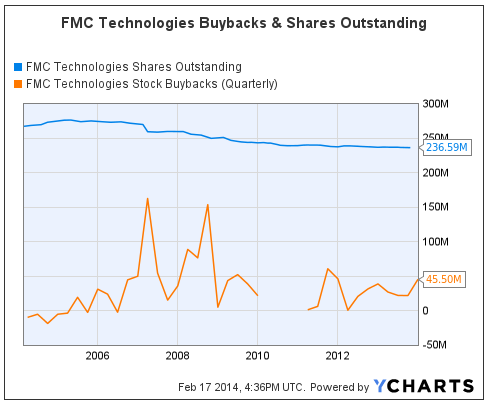 Sterne Agee records that the company received three awards during Q3:
Tullow Ghana's subsea $340 million Tweneboa-Enyenra-Ntomme Development Project;
Tidewater Subsea's $30 million for subsea operations
Statoil's $114 million for manufacture and supply of a Workover System.
In a February 13th Flash Note, the firm reiterates its Buy rating and price target of $62. Recent news has been favorable. FMC has just obtained a new contract worth $720 million to supply subsea systems to ENI Muara Bakau BV's deepwater Jangkrik Complex offshore Indonesia. It is described:
…As a positive for FTI as it continues to secure solid awards and create visibility for 2014-15.
There is enough positive news and analysis pertaining to FMC's stock to merit serious consideration. Also, in light of consensus earnings estimates and long term projections, there may be a bargain based on growth at a reasonable price methodology (19.19x 2014E earnings, 19.23% five year growth rate), especially if a 2015 consensus of $3.28 is used. There is also a chance of shares selling off in the months before the company next reports; and effects of new awards are known. If it happens, management might be more likely to repurchase.
The corporation has a growing backlog and is in analysts' favor. There is no guarantee that it is not overly reliant upon subsea systems, though. It appears to be worth it to watch for a future buying opportunity of FMC Technologies.
Disclosure: I have no positions in any stocks mentioned, but may initiate a long position in FTI, WFT over the next 72 hours. I wrote this article myself, and it expresses my own opinions. I am not receiving compensation for it (other than from Seeking Alpha). I have no business relationship with any company whose stock is mentioned in this article.