Questcor (QCOR) is now well above the breakeven point that it needed to surpass when I recomended it as an options straddle some weeks ago - claiming it was going to be anywhere but $50 when Q3 2014 starts. It was part of a series of articles on stocks that show significant volatility and/or are heading into a binary event that is likely to move the stock price significantly. The point is to be able to recognize stocks with significant volatility and benefit from it through both short-term and long-term trades. While my sentiment on the company long-term was, and still is, to avoid simply holding Questcor long - the straddle trade would be starting to see profits.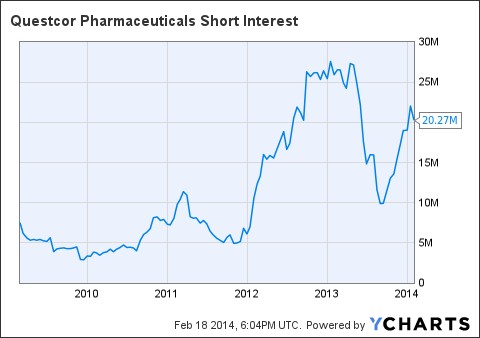 QCOR Short Interest data by YCharts
The massive short interest started to pile up when Citron research released a bearish report on the company, which was followed by news of regulatory investigations into how the company was promoting its sole product, all while CEO Don Bailey was cashing in his stock for millions.
The company remains a battleground stock and it has a massive short position that it's starting to squeeze out - it's currently up 10% today currently after having a strong finish to last week.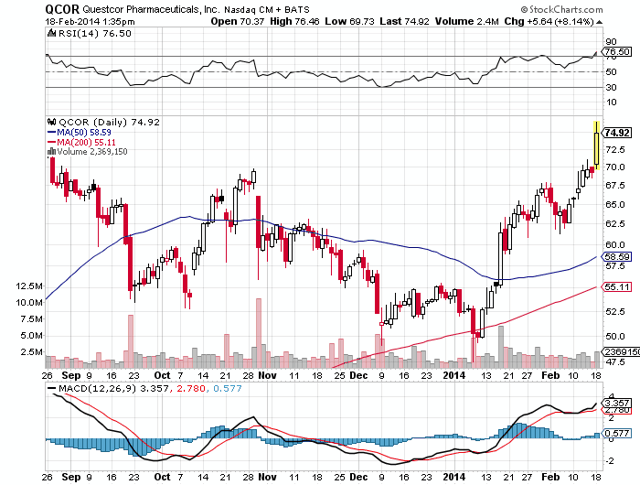 Earlier this year, the stock had jumped on management's comments about all options "being on the table" for strategic business moves. Whether or not this meant M&A or privatization, Questcor didn't say. CEO Don Bailey claimed the company had a very strong Q4 and the company had little to no change in Acthar prescriptions - not that big of a headline since the indication for the drug is limited to a select group.
The bullish momentum on the company heading into 2014 was backed by the following key points:
Longs generally seem to think that the price being charged for Acthar Gel is a bona fide result of simple supply and demand.
The sales of Acthar skyrocketed by over 60% YOY from the third quarter of 2013, bolstering Questcor's revenue to $227 million.
The company has an operating margin of roughly 55%.
The company trades far below the multiples that comps in the same sector trade, with a P/E of under 15.
The company continues to seek other indications for Acthar.
Analysts are predicting annualized growth of 31% for the next 5 years, which should command a significantly higher valuation, if it weren't for the bear arguments.
The bears basically continue singing the same song - the whole damn story is too good to be true.
While its true that the company certainly would be massively undervalued from a forward looking perspective if cleared of scrutiny regarding its promotional practices and the Chronic Disease Fund, that's no reason to risk your money on Questcor yet. If Acthar continues as its been for the company, the future growth looks amazing.
However, it's still a major "but" - because in the midst of QCOR investigations by 4 different government groups, Acthar's efficacy continues to be put under a microscope by competitors and insurance companies - both of whom have close eyes on QCOR in addition to the government.
You have to remember, there's risk in every situation - especially this one. How can investors be so confident when people that exclusively follow biotech, like Adam Feuerstein, make insanely bold predictions that the company could potentially face civil and criminal indictments?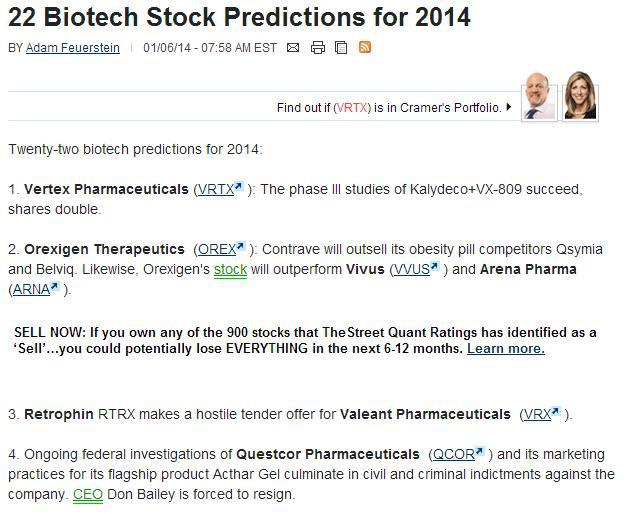 Do bears like myself, Adam, Whitney Tilson and Citron research all have this one wrong? Possible. But, could we be proven right through time by the Acthar fairy tale ending abruptly and as unexpectedly as it started? Also possible.
And it's also possible that today's run up could be a potential news leak - we'll have to see if anything comes to light on QCOR over the coming days. I'm betting that it's just a short squeeze, however.
Yes, today has been a very good day for Questcor longs, no doubt. I don't want to take away from a 10% upswing on the share's price, but I do continue to urge investors to take caution with this company - there continues to remain massive risk and once the shorts are carried out, there could be a whole new wave of shorts that pile in as the stock rockets upwards.
I continue to think the QCOR story is just too good to be true. I added puts today.
Best of luck to all investors.
Disclosure: I am short QCOR. I wrote this article myself, and it expresses my own opinions. I am not receiving compensation for it (other than from Seeking Alpha). I have no business relationship with any company whose stock is mentioned in this article.
Additional disclosure: I hold vanilla puts.