Windstream Communications (NASDAQ:WIN) is a mid-sized telecommunications operator in the U.S. offering one of the highest-dividend yields within its sector. However, as usual with high-dividend yielders, it may be a good opportunity for income investors or a dividend trap. Currently, it has a dividend yield above 12%, which is above some of its closest peers like Frontier Communications (NYSE:FTR) or CenturyLink (NYSE:CTL). Windstream has a market capitalization of about $4.7 billion and is traded on the NASDAQ.
Windstream is a provider of voice and data network communications (broadband, VoIP, MPLS), and managed services (virtual servers, managed firewall, data storage, cloud-based voice, etc.), to businesses nationwide.. The company also offers residential broadband, phone and digital TV services to consumers within its coverage area.. It is the ninth-largest residential telephone provider in the country, with a service area covering more than 8.1 million people in 21 states. It also offers consumer video services through a relationship with DISH Networks (NASDAQ:DISH). Windstream was formed in 2006, in July 2006 through the spin-off of Alltel Corporation's landline division and merger with VALOR Communications. The company has currently around 14,000 employees and 4 million customers.
Over the past few years, the company has transitioned its revenue stream away from traditional consumer voice services to areas of business services and broadband, through organic growth and acquisitions. Namely, in 2010 Windstream bought three companies which added a broad portfolio of Internet protocol based services, fiber network and infrastructure. Revenues from these segments represent currently about 72% of the company's group revenues, much higher than just 42% in 2008. This helps the company to offset declining revenues from customer losses from wireline services and provide a better growth outlook over the long-term.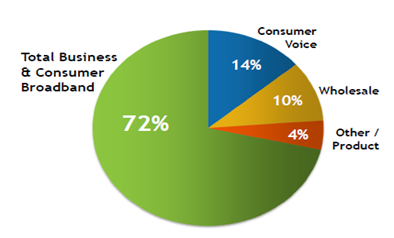 Windstream faces fierce competition across its operating businesses, from other telecoms companies and cable television companies. Windstream has been losing customers both in its consumer and business segments, despite its high investments on its networks and service offerings. During 2012, the company lost nearly 25,000 business customers (3.7% of business customers), while it has lost 86,000 consumer voice line, or 4.5% of its total. This trend is not expected to reverse soon, as the telecom market has matured, leading to strong competition, and consumers should continue to disconnect residential voice services in favor of wireless services.
Unsurprisingly, Windstream has reported relatively weak financial figures over the past few quarters. The company's top-line growth continues to be negatively affected by lower revenues on consumer service and wholesale service, which is not offset by slightly higher revenues on business service.

Overall, during the first nine months of 2013, Windstream's revenues declined by 2.3% year-on-year to $4.5 billion. For the full year, the company's guidance is for a decline of -1% to-3% from the previous year. Its profitability remains strong due to good cost management, leading to a stable EBITDA margin of 38%. Going forward, according to analysts' estimates its revenues should continue to decline, and are expected to drop 1.1% in 2014 and 0.9% in 2015. Its profitability should remain stable, at close to 38%.
Windstream's dividend history is good since its inception in 2006. The company has paid dividends for 30 consecutive quarters. Its current dividend is $0.25 per share quarterly, or $1 per share annually. At its current share price, Windstream has a dividend yield of 12.6%, which is clearly a high-yield and very attractive for income investors. However, its dividend has been unchanged since its inception, which represents a warning sign concerning its sustainability.
Based on earnings, its dividend seems to be too much high. Over the past twelve months, the company's earnings-per-share were only $0.29, leading to a dividend payout ratio of 350%. On the other hand, Windstream's cash flow generation is quite good, enabling it to finance its investments and dividend payments. Its annual cash flow from operations is above $1.7 billion.
As part of Windstream's transition from consumer services to business and broadband, it has invested heavily over the past few years to expand and improve its network. This has begun to normalize in 2013, and going forward, the company's capital expenditures should be lower than in its recent past. Therefore, its free cash flow should be higher in the coming years, which is good for its dividend sustainability. Windstream's capex was $1.1 billion in 2012, an investment that should have declined to about $815 million during 2013, representing a 27% annual decrease. Over the next couple of years, its capex should be below $800 million per year, which should be fully financed by the company's cash flow from operations.

Windstream's free cash flow should amount to more than $900 million annually, which is way above the company's dividend outflows that should not pass $600 million if its dividend remains the same. Its payout ratio based on cash flows, which may the best measure to assess its dividend sustainability, is about 65%, which is still acceptable, but higher than for CenturyLink or Frontier. Regarding its balance sheet, Windstream has a substantial amount of debt given that its net debt was about $8.8 billion at the end of the third quarter of 2013. This represents a net debt-to-EBITDA ratio of 3.8x which is quite high and also above its two peers. The company wants to deleverage its balance sheet to about 3.2x EBITDA, but this goal seems challenging in the short-term.
Conclusion
Windstream has a very high-dividend yield, which has been unchanged for several years, leading to a false sense of safety. The company's growth profile is weak despite its good profitability and cash flow generation, leading to a potential unsustainable dividend over the long-term. However, over the next few quarters its dividend seems safe, so income investors should consider Windstream as long it reports relatively stable operating trends.
Disclosure: I have no positions in any stocks mentioned, and no plans to initiate any positions within the next 72 hours. I wrote this article myself, and it expresses my own opinions. I am not receiving compensation for it (other than from Seeking Alpha). I have no business relationship with any company whose stock is mentioned in this article.