Shares of Vipshop (NYSE:VIPS) had a strong rally over the past two weeks, providing an excellent opportunity to cash out or sell short ahead of looming uncertainty over its business momentum. The current share price level is mainly supported by the company's bright future prospects projected by analysts. The management team is under enormous pressure to deliver strong growth and has made a huge investment in advertisements recently. Despite the large amount of spending on advertising, Vipshop hasn't been able to sustain strong growth momentum in website traffic in 2014 so far. The recent announcement of an acquisition is unlikely to significantly alter the fate of the company.
Overvaluation
Vipshop was trading above $120 on Feb. 14, 2014 -- a more than 170x rolling P/E multiple. It is unclear how long this high valuation can be sustained given past situations with other Chinese-listed players, such as Mecox Lane (NASDAQ:MCOX) and Dangdang (NYSE:DANG). As of now, Mecox Lane has lost 95% since its historic high, whereas Dangdang, a closer comparable, has lost 70% since its historic high. The websites and business models of both companies stayed more or less the same over the years. One might wonder how the market got these two companies wrong in the past.
One of the reasons behind such "misvaluation" is that sell-side analysts are shaping people's expectations over-optimistically. Most sell-side analysts covering Asian Internet stocks aren't specialized enough to fully understand every businesses, and often just build their financial models based on management projections fed by the company. Many analysts are also "herding" their earnings forecasts and share price recommendations with the big brokers, who also happen to be underwriters for these covered companies. It is well-documented that these underwriter analysts have an incentive to boost their share prices. In addition, shorting such potentially "high-growth" Internet stocks is risky and costly, preventing share prices to fully reflect negative views. That's why we may observe some "bubbles" in some of these stocks.
In China's Internet space there are a few long-term winners, but most will gradually decline and vanish over time due to strong network effects in the industry. These long-term winners are the dominant players with a large, sticky user base. Clearly, Vipshop does not belong to this group. I had a business visit to Beijing in late December 2013 and talked to a couple of folks in the tech space. Almost everyone thinks that Vipshop was overvalued at the price of $80 at that time (I referenced a $4-$5 billion market capitalization during the conversation). We also talked about some other companies such as Qihoo (NYSE:QIHU) and YY (NASDAQ:YY), and people had quite divergent views on these two players.
Currently, the share price of Vipshop is trading at five times compared to one year ago, supported by better-than-expected management execution. For the past two weeks, the stock price has risen ~20% despite initial weakness in the overall market.

Source: Seeking Alpha.
The generally optimistic sell-side analysts are putting a median target price of $102 on Vipshop (according to Thomson One consensus as of Feb. 14, 2014). There is a limited upside to the share price as even the most optimistic analyst is only giving a target price of $134. Downside risks are considerably larger as the lowest target price of generally optimistic sell-side analysts is $73 currently. Even more amusing is that the long-term growth rate used by analysts to arrive at the target price is 55%, as shown by Thomson One. This is a ridiculous assumption as no companies in the world will ever achieve a long-term growth rate of 55%. The recent rally is likely the last push by long speculators before they cash out, as Vipshop is currently facing more uncertainty with its growth momentum.

Source: Thomson One as of Feb. 14, 2014.
Recent Traffic Signal on Losing Momentum Despite Huge Advertising Efforts
On Dec. 23, 2013, several media reports in China reported a strategic agreement between Vipshop, with LeTV on naming rights and advertisements with the popular TV show "I Am A Singer" (season 2) in China. From my understanding, this has not been mentioned on the IR website of Vipshop yet. According to the Chinese news article, it seems that Vipshop is spending around $50 million RMB for advertising on this TV show. How material is this figure? This is roughly the operating income of Vipshop in Q3 2013 (according to Google Finance) and twice the operating income of Vipshop in Q2 2013 (according to figure in Google Finance). In other words, this is a highly significant expenditure with regard to the profitability of Vipshop.
I have to admit that I am a huge fan of "I Am A Singer," especially season one. For those who don't know much about this show, it is basically like an "American Idol" show, featuring famous professional singers from the Greater China region as participants. While people are not as crazy about season two as season one, it is still a wildly popular show among the Chinese. The advantage of such a move is potentially to help increase the brand awareness of Vipshop among a wider TV audience nationwide (although the agreement seems to be mostly regarding online broadcasting). The only question is how effective and efficient this $50 million RMB advertising expenditure is. When I watched the shows online, I was not able to sense much in the way of synergy/relatedness between the show and the business of Vipshop. However, it is not easy to judge the effectiveness of this huge advertisement campaign without much hard data to support it.
Then I turned to Alexa for some hard data to understand more about the situation. To my huge surprise, the chart shows that Vipshop.com has been suffering from an enormous decline in traffic since late December. You can see the sharp decline from the graph below, and the trend is extremely alarming to investors.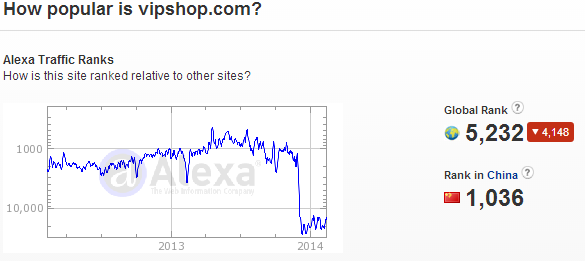 Source: Alexa as of Feb. 14, 2014.
While the gap is puzzling, that doesn't seem to be true. After further probing, it seems that Vipshop has changed its domain name registration from Vipshop.com to Vip.com. When a user enters the old domain, it is automatically directed to the new domain since late December 2013. So it makes more sense to examine Vip.com after this domain name change. However, even combining the two charts, it seems that Vipshop has not made much improvement after the advertisement campaign. Its site visit rank once peaked in the middle of 2013 (even being among the top 1,000 global sites in traffic), but lost its growth momentum and even slightly decreased in recent periods. Even with the advertisement campaign on the popular TV show, which started broadcasting on Jan. 3, 2014, Vipshop hasn't been able to revert this slowing momentum in the first 45 days of 2014 (as shown on Alexa).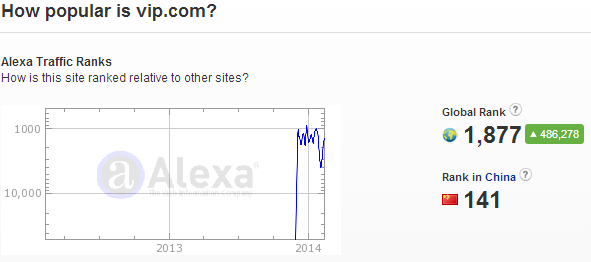 Source: Alexa as of Feb. 14, 2014.
A current website rank of 141 in China should be the right number to use for Vipshop as it uses the past one-month statistics to calculate (which is past the date of domain name change). To give you a sense of concurrent ranks by other website, Dangdang ranks 168 with only 1/7 of Vipshop's market capitalization whereas Amazon.cn ranks 40. Among other recently listed companies, 58.com (NYSE:WUBA) ranks 91.
To make sure that Alexa is not capturing a systematic decline in site visits within China or among e-commerce sites China in the concurrent period. Here is the chart for TMall.com, the leading website in Chinese e-commerce, showing a strong growth momentum from late 2013. This pattern is up to your interpretations as to what has happened.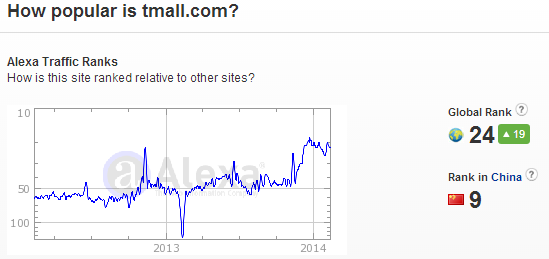 Source: Alexa as of Feb. 14, 2014.
While Vipshop may want to turn itself into a platform player, website statistics show that Vipshop still has a long way to go. The $50 million RMB advertisement has not helped. On the other hand, the Alexa charts above show that Vipshop may have already ended its rapid growth phase in the middle of 2013, as evidenced by the leveling or even slightly declining visiting trend relative to other website. In a likely scenario, Vipshop is reaching into a "mature" phase in a firm's life cycle starting in 2014. Its growth rate will likely gradually converge to the industry growth rate of e-commerce in China (which is not bad in the coming few years).
Thoughts on Recent Acquisition of Lefeng
Vipshop announced an acquisition agreement regarding the purchase of a 75% stake in Lefeng.com on Feb. 14, 2014. The "good" news is that the price paid is not exorbitantly high, unlike many other Internet deals.
I think that Vipshop has been lucky for the last two years because there has been an excess inventory problem in the Chinese apparel industry. As the apparel industry slowly recovers and the de-stocking process is done, Vipshop may face problems securing stable supplies of discounted goods to implement its growth initiatives in the future. I see the deal as a reactive play by the management to secure merchandising sources ahead of future difficulties in sourcing items for flash sales. Nevertheless, the announcement furthers my conviction that Vipshop may lose its bargaining power over its margins as the excess inventory issues are relieved in the Chinese apparel industry in the coming few years.
Regarding the deal itself, it may be regarded as both a horizontal and a backward vertical acquisition. Just like Vipshop, Lefeng also operates an online sales platform. The deal also involves some supply agreements from the parent holding company of Lefeng. However, the quality of the goods from the parent company of Lefeng.com is still a big question mark. It is a proprietary brand from China with mediocre brand awareness and reputation. The items involved in the supply agreements are also in a highly competitive and fragmented market in China.
Unfortunately, the acquisition announcement lacks sufficient details to assess the profitability of the target and the accretive/dilutive impact of the transaction on Vipshop. Given that managers usually have an incentive to release good news, I would assume that Lefeng may be still in the money-losing mode, potentially putting a drag on Vipshop's near-term financial performance.
Conclusion
At such a high valuation level, the future growth potential of Vipshop has been more or less priced in, leaving investors with few upside risks. On the other hand, any mistakes in execution may cause the share price to plummet, exposing investors to enormous downside risks. The recent slowing traffic trend (despite huge advertising expenditure) provides an alarming signal that its explosive growth era is probably over by now.
While I would still expect the company to report decent Q4 2013 results and great FY 2013 results, I am not that optimistic about its 2014 performance as well as future business prospects. I am sure the smart investor community will figure this out soon. Analysts and institutional investors will slowly adjust their growth expectations for Vipshop over time.
I believe that, at a share price ranging between $115-$120 currently, it is a good time for long investors to cash out and perhaps for "risk-loving" short-sellers to profit from the subsequent revisions in growth expectations.
Disclosure: I am short VIPS. I wrote this article myself, and it expresses my own opinions. I am not receiving compensation for it (other than from Seeking Alpha). I have no business relationship with any company whose stock is mentioned in this article.