Executive summary:
E&P firms in U.S. shale oil plays continue to impress with increasing production.
Pioneer Natural Resources' production efforts continue to show ways to use capital more efficiently.
Current oil price stability, supply/demand balances and the U.S. economic recovery offer tailwinds to business.
_________________________________
Exploration and production firms just keep getting better at finding economies of scale and efficiencies in the shale oil plays of the Bakken, Eagle Ford and Permian Basin. Production among the plays is forecast to rise from 4.123 million barrels/day to 4.193 million, a 70,000 increase over February, as noted in the Energy Information Administration report (below). Permian bellwether Pioneer Natural Resources (NYSE:PXD) notes that completion optimization in its horizontal drilling program in the Eagle Ford is increasing estimated ultimate recoveries (EURS) by 20-30% with minimal increases in drilling and completion capital.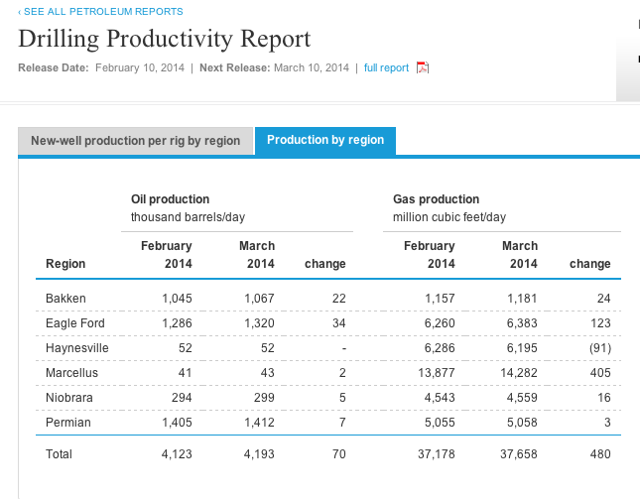 In fourth quarter 2013 reporting, Pioneer upped its reserves - the largest Permian-focused reserves in the Midland/Permian-wide area wherein 900,000 acres will provide 9.6 billion boe of net recoverable resource potential in 2014, up 2.3 billion from 2013. Noteworthy is the evolution from 65% liquids in the fourth quarter 2013 to an approximate 75% liquids cut estimated in 2016 - this adds to profitability for Pioneer. New wells in the Lower Spraberry intervals in Andrews, Glasscock, Martin and Midland counties indicate 575,000 to 800,000 EURs boe, with an average oil content of 84%, which is high in comparison with other intervals across the three Basins in the Permian, Midland, Delaware and Central Platform.
According to the company, over the next three years, they expect 16% to 21% growth rates and a doubling of its current production from 2013 to 2018. Also note that proved reserves plus net recoverable potential is greater than 11 billion when including the Eagle Ford and other assets. But clearly the main reserves will come from the Spraberry/Wolfcamp. They have not even tested several other intervals such as Clearfork, the Middle Spraberry shale, the Atoka, the Woodford, and other zones.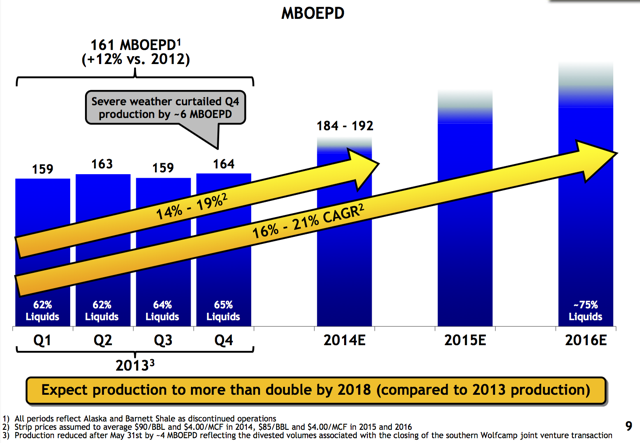 (Source: PXD, 4Q 2013 earnings call presentation)
Presciently, Sheffield cautions against putting the pedal to the metal:
"Well, I think there's obviously a few governors. We don't want to put [it] out there so fast we're going to have diminishing returns, i.e. costs go up. We think there's a way to do this on a stepwise basis that makes sense that doesn't tax all of the different service providers; it doesn't tax our needs for things like water and electricity and people, and throughput and off take and so on. We're going to get there as fast as we can. I can't tell you the exact date we're going to be there but we're definitely moving smartly in that direction having gone from one rig this time a year ago to 16 here in about three months.
Pioneer rightly notes the need to produce in a measured pace. While Wall Street likes tales of go-go growth, this does not serve shareholders (or employees) in the longer term. Sustainable growth is more desirable than a manic pace that increases production costs and raises the specter of risks like water resource and infrastructure challenges that support the efforts. Even Pioneer's EURs put forth are conservative estimates, which offers room to maneuver, and hedge against risks seen or unforeseen. The shale gas gale that blew out for many producers is not so far away from memory.
Oil Market Forces
Oil market forces are not offering any resistance to prices continuing around the $100 range. Shell's executive in charge of global business believes global oil prices will stay stable with some volatility that comes with the commodity business. And WTI (US) prices will likely not decouple from its relation to Brent crude prices.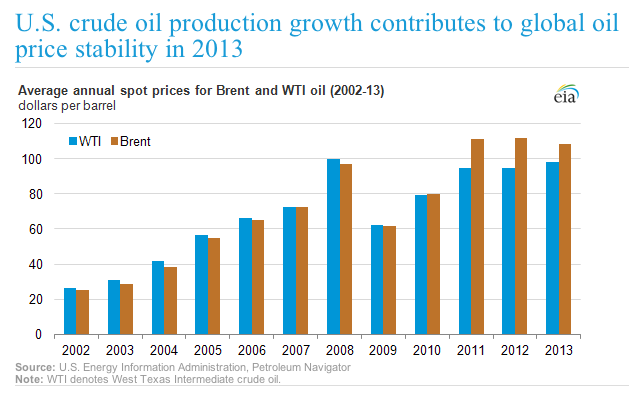 Importantly, demand growth in Asia and the MENA region will continue to pick up the slack in demand of advanced economies. Libya has begun to pick up production again. OPEC said that world oil consumption this year is forecast to increase by 1.09 million barrels a day, or 1.2 percent, to 90.98 million, an upward revision of 45,000 barrels. The talks with Iran are looking increasingly unpredictable, as of reports of the day.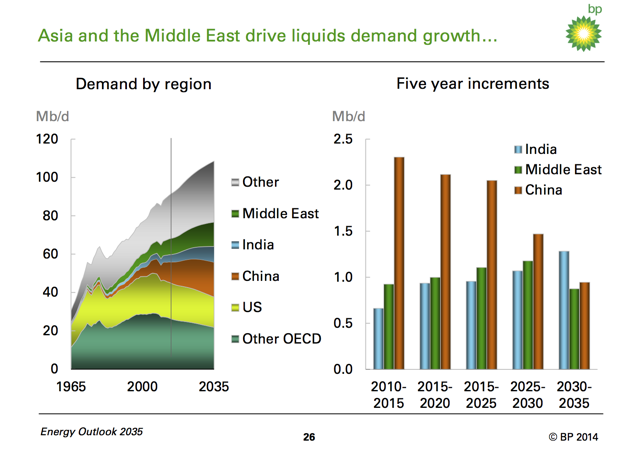 For the U.S., the shale oil additions will continue to reduce oil imports for some years ahead, but never really lead to outright independence from oil, at least in this generation. Thus the steady run of U.S. production that is expected offers room for businesses to develop their best-laid plans. E&P firms' focus on economies of scale, manufacturing efficiencies and steady growth, such as Pioneer, Occidental Petroleum (NYSE:OXY) and Apache (NYSE:APA), may complement an economic recovery in need of tailwinds. Smaller E&P firms that have been known to innovate like Concho (NYSE:CXO) and Laredo Petroleum (NYSE:LPI) also contribute to the growing knowledge required to produce in the various intervals of shale plays.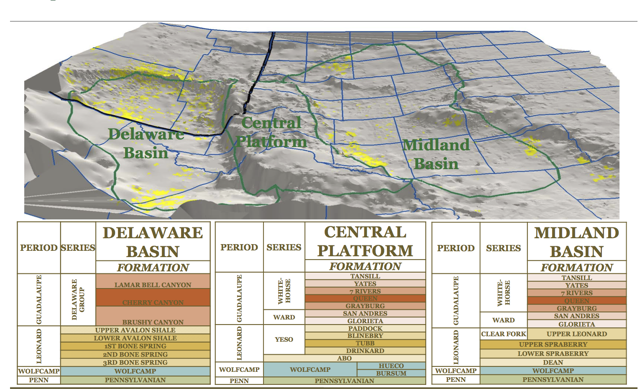 (Map of Permian Basin's three basins sourced from Concho Resources.)
Disclosure: I am long CXO. I wrote this article myself, and it expresses my own opinions. I am not receiving compensation for it (other than from Seeking Alpha). I have no business relationship with any company whose stock is mentioned in this article.