The Fool believes that Amazon's (NASDAQ:AMZN) gross margin figures are improving because of the cloud, and not because of the retail operations. The Fool also believes that it's highly unlikely that Amazon raised its prices or will raise prices on its physical products. It asserts these claims, without having any idea on how costs could be allocated, and without representing comparison gross margin figures from both retail and pure-play cloud services.
According to the Fool:
Amazon's business model has dramatically changed over the past few years. Prior to 2010, almost all of its revenue was generated from the sale of physical products discounted to the lowest possible price. Since then, however, a quickly growing share has come from online services -- namely, cloud computing.

When you take all of this into consideration, in turn, it seems unlikely that Amazon is in the process of secretly raising prices in order to boost its bottom line.
So I'm going to give you guys a basic overview of what went wrong with the author's assessment here. First, Amazon does need to increase margins from its retail operations in order to drive net income growth in the foreseeable future. It can do this without damaging its core retail operation. Second, the difference between the cloud and retail is that the cloud is a high margin business. Almost none of the costs of operating a cloud services company are represented in the form of cost of goods sold. When combined the impact is so negligible investors might as well ignore it, and should really consider the possibility of Amazon's gross margin improvements also coming from price hikes on online products, or from higher fees to third-party sellers attempting to sell products through the Amazon store.
Understanding the marginal difference of retail and cloud
As you can tell there has been consistent improvement from Amazon's gross margins. No debating with that fact.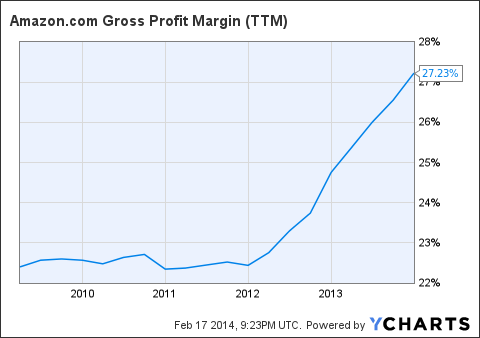 Source: Ycharts
Amazon's gross margin figure has improved by 5% over the past five years. That's not a whole lot, and if you're hoping for this figure to improve, it really won't improve as much as the total value of retail sales is likely to dwarf that of sales generated from the cloud.
To get a basic idea on where I'm going with this, look at the gross margins of CostCo (NASDAQ:COST); they're at about 12.6%. Costco operates at significant economies of scale per retail location, and sells products at prices lower than Amazon. Admittedly Amazon's gross margin figure is higher than this, because it needs to earn enough gross profit per unit to cover administrative, and fulfillment costs. So we'll use the figure provided by Amazon, prior to it ever launching any cloud based services (which would imply that Amazon's retail/media operation has gross margins of 22%).
Now, let's look at the average gross margin figure of a pure cloud player like VMWare (NYSE:VMW). VMWare has a gross margin of about 87.93%. The gross margin figure from VMWare should put Amazon's Web Services in a position of having gross margin figures at about 90%.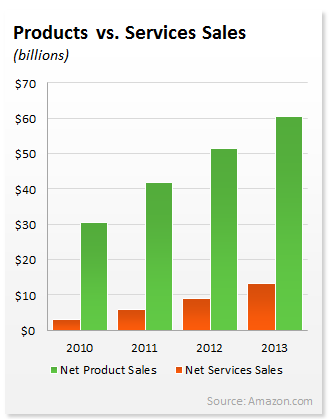 Source: Amazon
In the article, written by the Fool.com, it lumped together Amazon Web Services with the other services that are also sold by Amazon (fees to third party distributors, third-party fulfillment services, Amazon Prime). Here's the problem; Amazon sells way too many different services, so the comparison is weak at best.
So I'm going to look at the consolidated GAAP financial statements from Amazon to determine the amount of sales that Amazon Web Services by itself generated.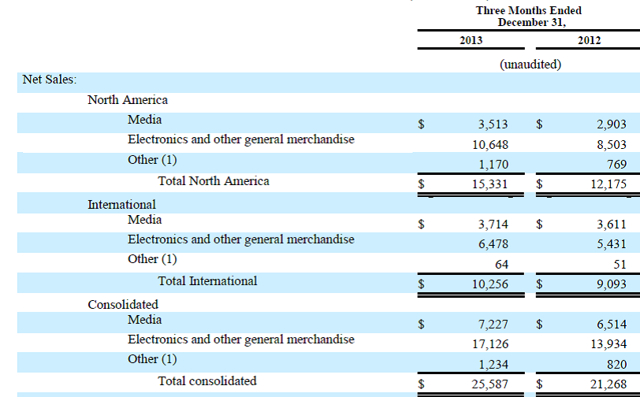 Click to enlarge
Source: Amazon
Look very closely at that other category. That's the sales revenue that comes primarily from Amazon Web Services, which is about $1.234 billion for the quarter, and grew by around 52% year-over-year. The company generated $24.353 billion from retail sales and media services for the quarter. Amazon Web Services represents about 5% of total revenues for the quarter. So….. 5% of Amazon's total revenues did all the heavy lifting when it came to gross margin improvements? Somehow, I'm extremely doubtful of this.
Five year forecast on sales and revenue from the current quarter
In the below figure, I project 20% CAGR for Amazon's retail business, 10% CAGR for media, and 40% for AWS.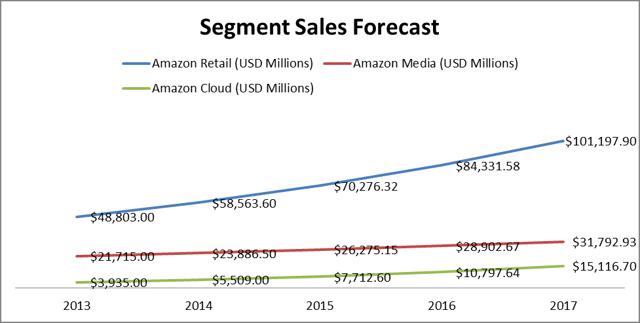 Click to enlarge
As you can tell, based on current run-rates, the retail business will continue to outpace the growth of Amazon Web Services. I base my growth assumptions for Amazon Retail from eMarketer, and Amazon Web Services from Gartner.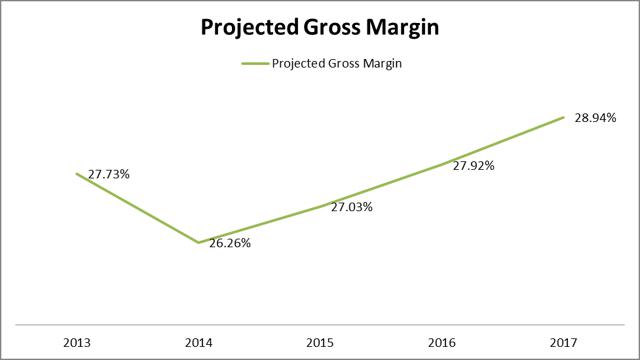 Click to enlarge
Therefore, the gross margin from the business should actually decline and modestly improve assuming Amazon Web Services has a 90% gross profit margin, and the remaining segments have a 22% gross profit margin. I came up with the 90% margin based on comparisons, and since I can't find where the cost of sales is applied to each individual segment, I gave Amazon's cloud business a massive gross margin to drive the point home.

Click to enlarge
So based on these assumptions, it's likely that gross margins from Amazon are likely to remain flat unless Amazon were to increase the prices on media or physical products. I'm doubtful that Amazon will increase the price on Amazon Web Services in the foreseeable future, as it's one of the faster growing segments. Also, I calculated the impact of having a high gross margin on the part of Amazon Web Services into the mix, and it still ends up being the fact that Amazon has to increase prices on retail products to move the needle on gross margin.
However, on the bright side, the contribution to gross margin from Amazon Web Services at current run rates will be about 1% over the course of five years. So where did the gross margin improvement come from over the past five years, when Amazon Web Services didn't even exist? Your best bet is that Amazon increased the prices on some of its products with the rest coming from media.
Conclusion
I doubt Amazon will grow net income in the immediate future as the company is extremely aggressive about using cash to fund expansion. This leaves little or no income for Amazon, and leads investors to price the stock as if it were going to convert some of its revenues into profits, without the company actually converting those future revenues into profits.
Furthermore, the gross margin figure may not have improved that much as a result of Amazon Web Services. The impact from the segment is low at the present moment, and only when the segment grows to $15 billion in sales (calendar year 2017) I see any meaningful change on the actual gross profit percentage.
Therefore, investors should ignore gross profit margins. They're not going to change by much, and if they do change by more than a percent, it's not the gross margins from the cloud that's driving the change, but price hikes on services/products relating to its retail operations.
Therefore you can safely ignore the points that were made by the Fool on gross margins.
Disclosure: I have no positions in any stocks mentioned, and no plans to initiate any positions within the next 72 hours. I wrote this article myself, and it expresses my own opinions. I am not receiving compensation for it (other than from Seeking Alpha). I have no business relationship with any company whose stock is mentioned in this article.