In this article I identify General Motors (NYSE:GM) as a worthwhile investment opportunity and give 16 reasons why I believe the company is excellent value at current market prices.
Financial Strength
The method of stock selection I use is based on a number of rules which I follow in order to identify medium to long term investment opportunities.
The rules I use have been shown to produce returns significantly above benchmark indexes. (I have written about these rules in more detail in previous articles).
As of 18 Feb 2014, GM passes several of these rules, indicating that the company has considerable financial strength.
PE, for example, should be between 5 and 25 and in GM's case, PE is 15.11.
PEG is also low, at 0.85, a factor that I have found to be extremely predictive of future market returns, and past 5 year EPS growth is strong, at 15.40%.
As well as this, ROE is high at 14.60%, and net profit margin is reasonable, at close to 5%.
Dividend yield is within reasonable boundaries, at 3.34%, thanks in part to a healthy cash-rich balance sheet. Accordingly, GM currently holds $27.92 billion in cash, giving it a decent current ratio of 1.31.
The stock has dropped sharply
While the numbers may indicate opportunity, the price chart tells a different story for GM and the stock is down around 17% from it's December 2013 high.
Weak EPS guidance and a declining market is largely to blame and this has helped GM fall to much more attractive levels for investors. Furthermore, the stock appears to have found support around the $34 mark. It now appears to be on its way back up.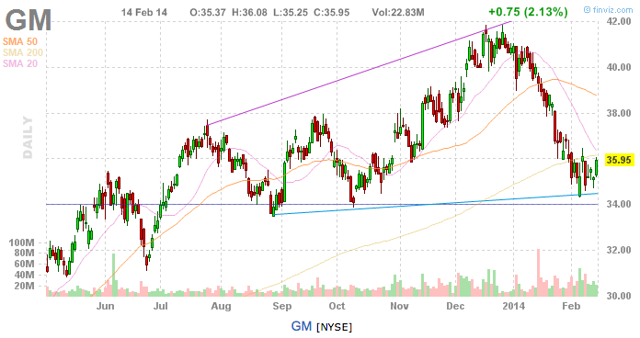 No more 'Government Motors'
Also in December, came news that GM had finally cut loose from government ownership and this is surely one of the most compelling arguments for owning GM.
No government control should foster greater entrepreneurial spirit and efficiency, and allow the company to drive growth through its own vision. Disbanding from government ties should also help the company's brand image no end.
15 straight profitable quarters indicate the renewed popularity of GM products. According to Bloomberg,
"GM has been able to increase US sales faster than the total market has grown".
Directors see GM in upward trend
Also of note, GM directors are still resolutely bullish on the company's chances. Executive Director Randy Arickx sees no change to GM's timeline for growth and recently stated that he expects to see an ''upward trend in margins from '13 through mid-decade''.
Improvements in GM Europe
One of the main things that has held back GM over recent years, is it's performance in Europe, and the company's Chevrolet cars have failed to win over European buyers.
Europeans have never been quick to take up on American automobiles and GM's plan to stop mainstream distribution of the Chevrolet brand in Western and Central Europe by 2015 is a sound one.
Reducing investment in this area will help repair GM margins and allow better deployment of capital elsewhere.
More growth in China
In contrast to Europe, Chinese growth should continue for GM and management sees Cadillac sales "tripling" in China before 2015. Management also see Chinese margins sticking at 9%.
Margins were down in China last quarter, but that is attributed to "incremental costs" associated with bringing in two new clients, according to CFO Chuck Stevens.
Japanese yen to stop falling
The depreciation of the Japanese yen was a big hindrance for General Motors last year and caused GM to lose some competitiveness - particularly in Australasia. Despite this, GM stock still managed to gain over 40% in 2013.
While the Japanese yen is unlikely to reverse it's 20% drop this year, the pace by which it falls is likely to slow. Most analysts have a period of consolidation in mind for the yen this year which means GM will find it slightly easier to compete with Japanese makers in 2014.
Tax cuts in India
Also from overseas, comes news that Indian finance ministers are to reduce excise taxes in their 14/15 budget. As a result, GM will be able to cut prices and further grow market share in this part of the world.
Hedge funds are buying GM
Thanks to the recent drop, the current market price of $35.95 has attracted interest from several large hedge funds and investors.
SEC filings indicate big positions being bought by Soros, Cooperman and others, and it's unlikely that those positions will not be added to at some point.
Those hedge funds likely see the value in GM as mentioned above, and there is plenty of room ahead for GM to drive towards an initial price target of $50.
The vast majority of analysts are equally bullish on the company:

GM analyst ratings courtesy of finviz.com
Conclusion
General Motors is a company that has managed to turn itself around thanks to government help. The financial conditions indicate that the stock is extremely well positioned in terms of valuation, balance sheet health, and prospects for growth.
Now the company is free from government ties, GM can really start to spread it's wings.
Disclosure: I have no positions in any stocks mentioned, and no plans to initiate any positions within the next 72 hours. I wrote this article myself, and it expresses my own opinions. I am not receiving compensation for it (other than from Seeking Alpha). I have no business relationship with any company whose stock is mentioned in this article.