Last week Phillips 66 Partners (NYSE:PSXP) announced its first asset acquisition. Since the day of the announcement, shares are up 8%. Is the move justified or is PSXP overextended here?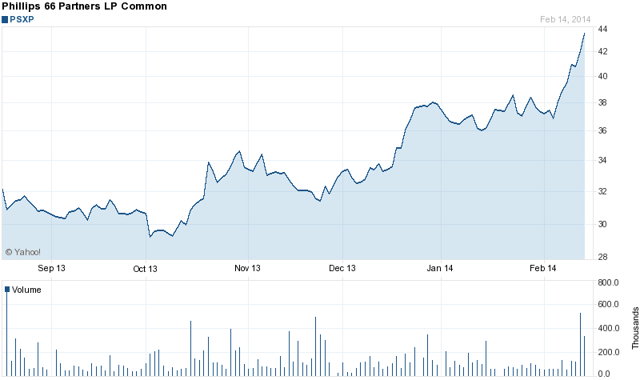 Before the acquisition, PSXP had three main assets:
Hartford Connector Products System - a pipeline system between Phillips 66's (NYSE:PSX) Wood River refinery and a pipeline connecting the Hartford terminal and the Explorer pipeline.
Sweeny to Pasadena Products System - 12" and 18" pipelines connecting PSX's Sweeny production to Pasadena, TX.
Clifton Ridge Crude System - pipelines and crude storage tanks connecting the Pecan Grove terminal to PSX's Lake Charles refinery.
These assets are shown graphically below: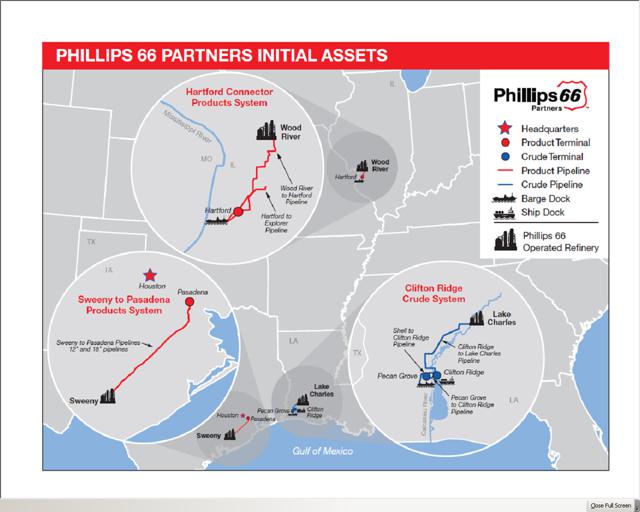 In PSXP's Q4 earnings report, the company reported earnings of $17.0 million, resulting in $0.24 per limited partner unit. EBITDA was $18.8 million and distributable cash flow was $17.8 million. From the closing of its IPO on July 26, 2013, through December 31, 2013, the partnership's earnings were $28.9 million, or $0.40 per limited partner unit. During this period, EBITDA was $32.0 million and distributable cash flow was $30.4 million.
On an annualized basis, we can estimate the initial assets have the potential for ~$64 million in EBITDA and distributable cash flow of ~$60 million.
Distribution Increase
On January 22, 2014, PSX's board of directors declared a quarterly cash distribution of $0.2248 per PSXP unit. At the current price ($44.29), this equates to a yield of 2.0%.
At 2013 year-end, PSXP had $425 million in cash and cash equivalents (~$5.88/LP unit).
New Assets
The new drop-down assets from PSX are described in this factsheet and consists of two primary assets:
The Gold Product Pipeline System
The Medford Spheres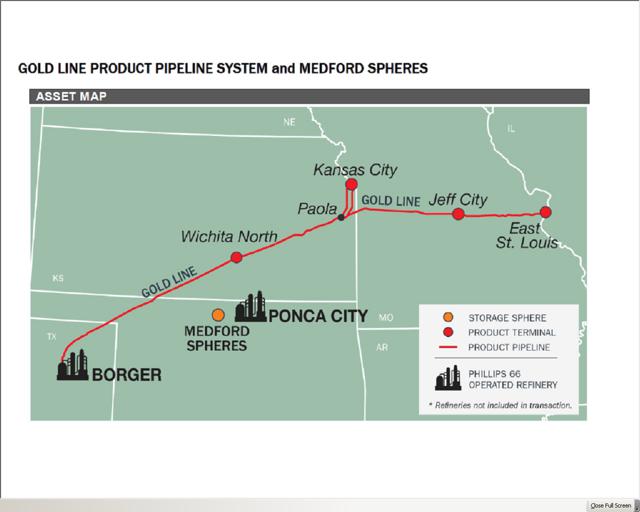 The Gold Line System is a 681-mile refined products pipeline that runs from PSX's refinery in Borger, TX to Cahokia, IL with access to the PSX refinery in Ponca City, OK as well as two parallel 54-mile lateral lines from Paola, KS to Kansas City. The system has a maximum throughput capacity of 132,000 bpd and includes four terminals located at Wichita, Kansas City, Jefferson City, and Cahokia with 172,000 bpd of aggregate throughput capacity and 4.3 million barrels of storage capacity.
The Medford Spheres have a total working storage capacity of 70,000 barrels and are scheduled to commence operation on March 1. They will provide an outlet for delivery of refinery-grade propylene from PSX's Ponca City refinery through interconnections with third-party pipelines to Mont Belvieu, Texas.
Financial Impact Of New Assets
The partnership said it expects these assets to contribute ~$65-70 million of EBITDA in their first full year of operation. This roughly doubles my estimate for PSXP's full-year 2013 EBITDA.
The partnership will finance the $700 million acquisition with cash on hand of $400 million, the issuance of additional units valued at $140 million, and a 5-year, $160 million note payable to a subsidiary of Phillips 66.
The number of additional units will be based on the average daily closing price of the partnership's common units for the 10 trading days prior to February 13, 2014 or $38.86 per unit. So I get about 3.6 million new additional units for a total of ~7.6 million units outstanding. The number of new units represents a dilution of approximately 5%.
Since EBITDA will roughly double, and the number of new units issued is quite small as an overall percentage, it is not a stretch that at this time next year PSXP's quarterly distributions could be double the current Q1 distribution of $0.2248, or ~$0.44/unit. Based on today's closing price ($44.29), and annualizing the projected quarterly distribution one year from now, I get an estimated forward yield of $1.76/$44.29=4%.
Summary & Conclusion
Despite the recent run-up in PSXP, the MLP does not appear to be overvalued. The new drop-downs will roughly double PSXP's annual EBITDA. As a result, it is not a stretch to assume the distribution this time next year will be 2x the current distribution. This would result in an estimated yield of ~4%. Considering the MLP's cash on hand, deal financing, and stability of the new mid-stream assets, this drop-down deal is rock solid.
I obviously believed PSX would drop-down either the Sand Hills or Southern Hills pipelines in 2014. And it still could. But who knew pr could predict the Gold Line Product Pipeline or the Medford Spheres? Not me. And that's the bigger upside here: PSX has a plethora of midstream assets that are potential future drop-downs. As such, PSXP will be viewed as a growth vehicle for years to come.
What might be lost in the shuffle is that PSX is going to receive $700 million bucks in this transaction. That's money the company can plow back into growing its midstream and chemicals businesses. And being the shareholder friendly company it is, as dividends and buybacks. While PSX is sometimes lumped into the pure refiners category a recent Barron's article highlighted PSX's growing chemicals business. And this is what I have been saying for quite some time now: what makes PSX so attractive is the growth potential in its non-refining operations. That said, PSX is a top-tier refiner with some of the best feedstock logistics in the business.
I rate PSXP as very attractive. PSX is a BUY and long-term hold. At the risk of repeating myself - PSX may be the best single long-term investment in "Shale USA":
| | |
| --- | --- |
| Market Cap: | 44.47B |
| P/E (ttm): | 12.52 |
| EPS (ttm): | 6.02 |
| Div & Yield: | 1.56 (2.10%) |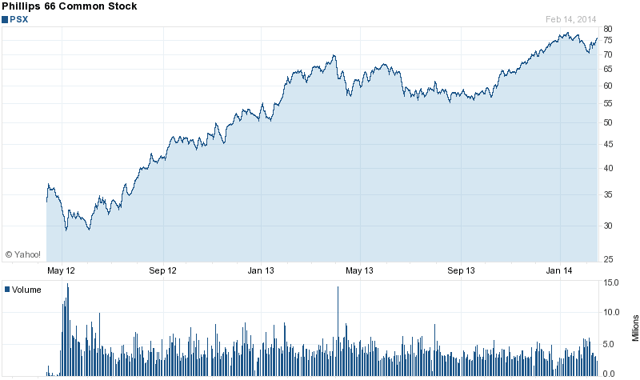 Disclosure: I am long PSX. I wrote this article myself, and it expresses my own opinions. I am not receiving compensation for it (other than from Seeking Alpha). I have no business relationship with any company whose stock is mentioned in this article.
Additional disclosure: I am an engineer, not a CFA. The information and data presented in this article was obtained from company documents and/or sources believed to be reliable, but has not been independently verified. Therefore, the author cannot guarantee its accuracy. Please do your own research and contact a qualified investment advisor. I am not responsible for investment decisions you make. Thanks for reading and good luck!