Regular readers of my work know that I believe investing, like life, is all about balance. If you go too far to any extreme, other parts of your life suffer. Many investors struggle to balance idealism and financial analysis when selecting investments. Are there companies you just won't invest in because they have wronged you or your community? Tobacco companies for example. Liquor companies maybe? There isn't a right or wrong answer, this is very much an individual decision.
I live down along the Gulf of Mexico and many of my fellow investors refuse to consider investing in BP Plc (NYSE:BP). The former British Petroleum gained notoriety, some would say infamy, when their Macondo oil well suffered a massive blowout in April of 2010. Over the months that followed millions of gallons of oil billowed into the Gulf. The locals were devastated to watch their coastal shoreline congeal with oil residue. The politicians didn't let this "crisis go to waste", and did their best to look good for their constituents. As usual though, the politicians made a lot of noise and accomplished nothing. The oil spill was more than a public relations issue for BP however, it was a massive economic and environmental disaster. As BP's stock price tanked, many investors swore they would never own BP.
Despite plummeting by more than 50% in the months following the oil spill, BP's stock price has climbed back to nearly $50 per share ($48.81 as of 2/14/2014). Obviously, I don't like to buy stocks once their price has climbed dramatically, but with so much negativity BP might just represent a good value. Let's compare it to its US competition. BP's primary US competitors are Exxon Mobil (NYSE:XOM), Chevron (NYSE:CVX), and ConocoPhillips (NYSE:COP). I will explore BP's valuation below. To start take a look at the following chart, which I put together with data from Morningstar.

You can see that Mr. Market is paying a lot less for BP's current and future earnings than he is willing to pay for the competitor's earnings. I don't know if this relative differential is justified, but it sure looks significant. One of the first metrics I like to look at when evaluating a company is it's return-on-equity (ROE). I like to see a strong long term ROE above 20%.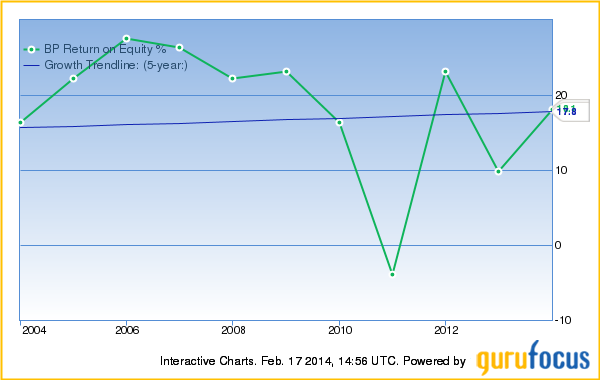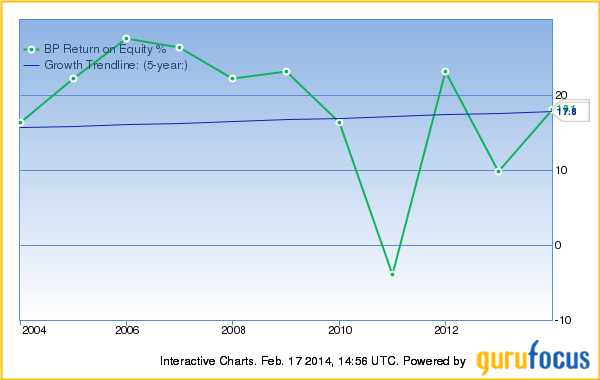 BP's ROE looks like it has begun to recover from the 2010 oil spill, but I wouldn't consider it either high or consistent. Next, let's take a look at BP's operating margins.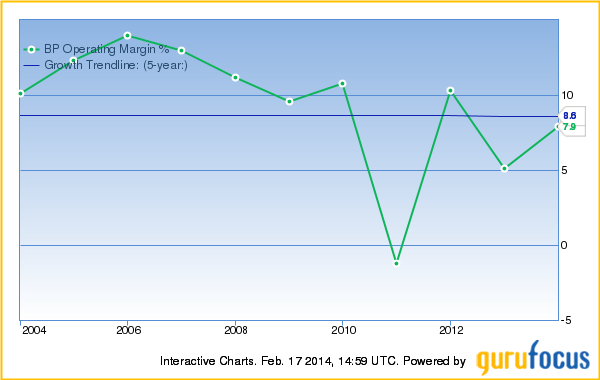 BP's operating margins have also had a rough time ever since the 2010 oil spill. They are not high or consistent either. I am willing to give BP a little leeway on their operating margins however. As a large integrated oil company, BP's margins and earnings tend to fluctuate somewhat with the price of oil. BP's competitors also face margin fluctuation resulting from variations in the price of crude oil.
Finally, I always take a look at a company's free cash flow. It is much easier for a company to play accounting games with its reported earnings, than it is to skew its free cash flow numbers. Below is a chart from GuruFocus on BP's free cash flow. It shows a negative value for 2013, which I have confirmed with Marketwatch.com. I am guessing that Morningstar did not use full year 2013 numbers for BP's free cash flow, as reported in the chart above.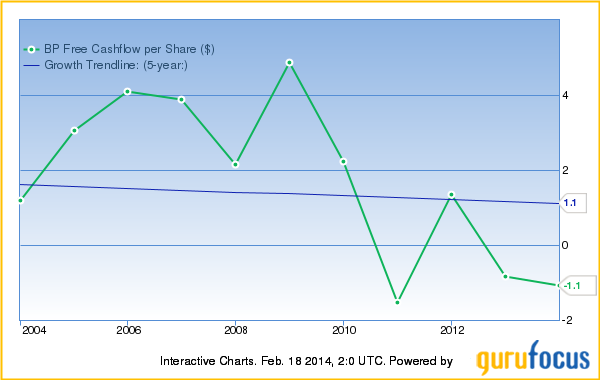 Conclusion
Given all of the figures and metrics analyzed above, I don't think I will be investing in BP in the near term. I like BP's price to earnings multiple (6.4) and dividend yield (4.6%), but not enough to invest my hard earned dollars in this company. It is still possible, though unlikely, that BP could be forced to pay out substantially more money than anticipated to resolve the lingering oil spill complaints. BP might make a reasonable speculative stock play or a pure dividend play at this point. I own both Chevron and ConocoPhillips , and continue to find them more appealing in this sector. As a whole, I am somewhat downbeat on oil side of the energy sector. With the glut of new oil capacity coming online and the slow growth of the world economy, I don't see how oil prices will stay at these elevated prices.
Disclosure
I am currently long CVX and COP. I have no plans to invest in any of the companies mentioned in the next 72 hours. This article is for informational purposes only and should not be considered a recommendation for anyone to buy, sell, or hold any equities. I am not a financial professional. The information above is provided by Gurufocus.com, Marketwatch.com and Yahoo Finance.
Disclosure: I am long CVX, COP. I wrote this article myself, and it expresses my own opinions. I am not receiving compensation for it (other than from Seeking Alpha). I have no business relationship with any company whose stock is mentioned in this article.