Executive summary:
Boeing's rally from the last year was recently reversed and this presents new opportunities.
The company is improving its operating efficiencies while increasing its revenues.
Looking at the historical figures, the company looks fundamentally cheap.
The current backlog guarantees many years of growth that is not already baked in the company's share price.
_________________________________
When the market is low, it is easy to find value plays; however, when the market has been pumped for the last 2 years, it becomes increasingly difficult to find stocks with good value. As we are experiencing a market near its all-time high, Boeing (NYSE:BA) continues to be one of the few stocks to present a good value for the investors.
Even though Boeing had a great year in 2013, many investors sold their shares off in the beginning of 2014, causing the rally to come to a halt for the time being.
As you can see in the chart below, Boeing has a long and strong history of increasing its annual revenues in the last 30 years. During the last 30 years, the company was able to increase its revenues from a little north of $10 billion to $86 billion and the company's growth story is not even anywhere near finished. In fact, if you look at the chart below, there is no s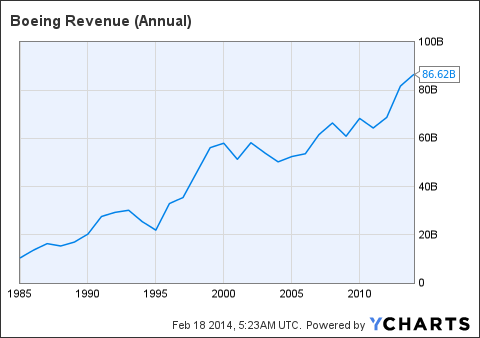 Of course the growth was not all about the revenues either. The company actually saw a profitable growth. The chart below displays Boeing's operating income and the company's cash from operations. Notice how both metrics grew from nearly zero to multiple billions. Last year, Boeing's operating income was $6.56 billion and the company generated $8.18 billion from its operations. Again, this chart shows no sign of slowdown anytime soon.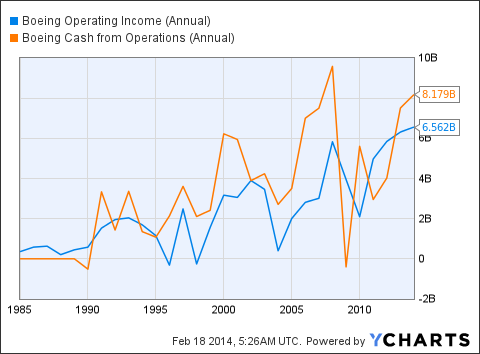 In the last recession, Boeing learned a lot of lessons. One of those lessons was about using its resources more efficiently. Currently, Boeing's operating costs are well under control. As a matter of fact, R&D costs now make up only 3.55% of the company's revenues (at one point it was as high as 10%) and SG&A costs make up only 4.57% of the company's revenues even though the figure was close to 8% at some point. Of course, this improvement was helped by both revenue growth and operating expense cuts simultaneously.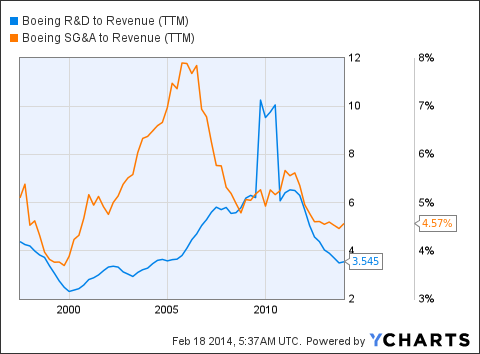 Boeing is returning a lot of money to shareholders in terms of dividends and buybacks. Even though the company's current yield is not as high as it once was, this is mostly caused by the share price appreciations rather than a dividend cut. In fact, the company has been pretty consistent about raising dividends and it will continue to do so as long as it is financially healthy. Currently, Boeing's retention ratio is 68%, which shows that there is plenty of room for the company to raise its dividends even if earnings stay flat for a while.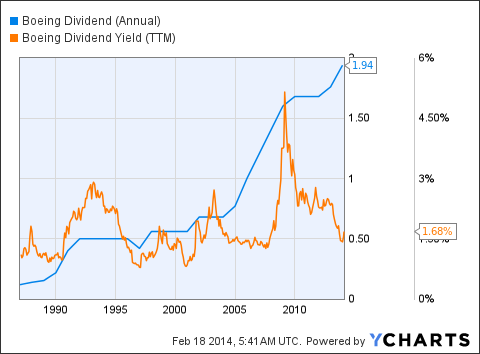 Let's take another look at Boeing's growth rate. If we look at the last 10 years, Boeing's revenues grew by only 65.13% during this period even though the company's gross profit rose by 79.70%, its operating income rose by 227.0% and the net income rose by 144.9%. What does this tell us? This tells us that the company's growth came in both revenue expansion and margin expansion, which is the healthiest type of growth a company can achieve.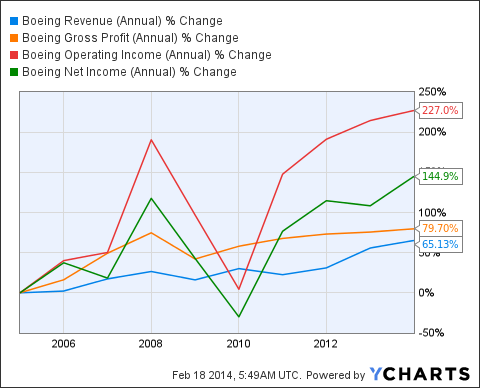 There is one point of worry though. Even though Boeing's share count is nowhere near where it was in mid-to-late 1990s, it has been on an increase since 2010. Boeing keeps buying shares back every year; however, the company also issues a lot of shares and stock options to its employees. In the future, as the company accelerates its buyback, the effects of dilution should be slowing down.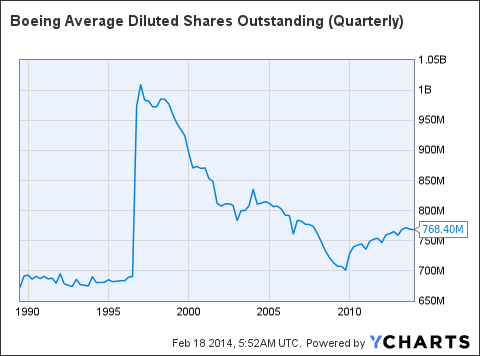 Finally, let's take a look at some fundamental valuation metrics for Boeing. The company currently enjoys a trailing price to earnings ratio of 21.84 but this figure falls to 18.40 excluding the company's cash. As for forward earnings, the company looks at a multiple of 15.82 before we exclude cash and closer to 13 after cash exclusion. Boeing's price to free cash flow ratio stays at 16.86, which is a healthy number for a company that continuously increases its revenues and earnings year after year with no sign of slowdown. Historically speaking, most valuation metrics look either comparable or better than the company's historical figures.

Above, I presented a bunch of metrics and numbers but I feel like I also need to tell the story. After all, without a story, numbers usually lose their meaningfulness. Those numbers only tell us what a company has done, but they don't necessarily tell us what a company is about to accomplish in the future.
Currently, Boeing enjoys a massive backlog of $441 billion, which proves that the company is and will be production constrained rather than demand constrained for the time being. In fact, the company's huge backlog pretty much guarantees future growth and this may be the only blue chip stock where near term growth is pretty much guaranteed unless the company messes things up big time.
Currently, Boeing is working on improving its margins by negotiating new contracts with its suppliers, increasing the speed of unit production, reducing manufacturing errors considerably and growing its revenues while at it. While the future looks bright for Boeing's commercial business, the company's defense business will continue to struggle with growth in the near future, because of the ongoing uncertainties in the government budgets. Luckily, the success of Boeing's commercial business will offset any troubles that may exist in the company's defense business. Boeing will continue to work on increasing its production capacity in order to reduce the backlog in the coming years.
All in all, Boeing presents a great opportunity for investors as the company is going through a very successful period and growth isn't likely to slow down anytime soon.
Disclosure: I am long BA. I wrote this article myself, and it expresses my own opinions. I am not receiving compensation for it (other than from Seeking Alpha). I have no business relationship with any company whose stock is mentioned in this article.