Vanguard Natural Resources (NYSE:VNR) is increasing its natural gas reserves to improve long-term financial performance. The company plans to acquire matured properties and thus ensure long-term stable production of natural gas. While other major oil- and gas-producing companies such as Pioneer Natural Resources (NYSE:PXD) and Devon Energy (NYSE:DVN) are shifting towards oil production due to low natural gas prices, Vanguard continues increasing its natural gas matured assets.
Vanguard reported its total proved reserve base of around 1.9 trillion cubic feet of natural gas equivalent (tcfe), which includes 67% gas and 33% liquids. With growing gas reserves, Vanguard has already achieved an increased average production of 35,250 barrels of oil equivalent per day (boepd) during its third quarter, where total natural gas production accounted for around 12,398 million cubic feet (mmcf), an improvement of 50% year over year. As the company has continued acquiring more natural gas matured assets, I expect it will see higher natural gas production this year through its growing natural gas reserve.
Growth continues with acquisition
In a recent disclosure, Vanguard concluded the acquisition agreement with Anadarko Petroleum (NYSE:APC) for its Pinedale and Jonah field assets in southwestern Wyoming. With estimated reserve life of 20 years, this property has a total proven reserve of around 847 billion cubic feet equivalent (bcfe). The acquisition of these mature gas fields will provide a significant growth opportunity for the company. The current production rate from these fields has recorded 113.4 million cubic feet equivalent (mmcfe) per day, and it is expected that total production will increase by 55%. Vanguard successfully added around 14,000 net acres through this acquisition. Most of the total production was natural gas (80%) and NGL (16%), and only 4% was reported as oil production. Apart from the expected boost in natural gas production from the acquired fields, the company increased its total reserve base by 80%. With the current production rate of the company, this increased reserve base will help to sustain stable long-term natural gas production in coming quarters.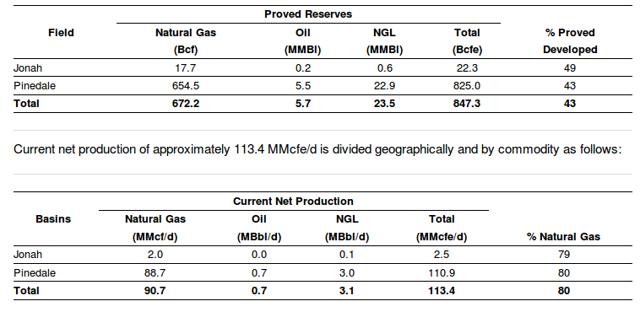 Click to enlarge
Source: Yahoo finance
This deal cost Vanguard $581 million, and the company expects to spend more capital on the growth projects of these acquired fields. Vanguard is planning to spend another $90 million of its total projected capital for 2014 on these assets, of which around $50 million will be directed toward growth and the remaining $40 million will be used for the maintenance. The growth expenditure is dedicated to drilling 192 wells this year with eight rig-drilling programs, in which each rig is anticipated to drill two wells per month. Hence, Vanguard's total producing-well inventory of around 2,000 will be increased by another 970 proven undeveloped drilling locations.
To complement its Arkoma basin Woodford shale production, Vanguard entered into a joint venture with Jones Energy (NYSE:JONE). According to this agreement, Jones Energy drilled five gross wells in the Woodford shale with Vanguard, all in different stages of completion and expected to come in production this year. I expect the recent acquisition and existing joint venture will ensure increasing production and long-term sustainability of the company, which in turn will help to improve its top line.
Rising price and demand of natural gas
Because of the extreme cold weather in the U.S., the demand of natural gas has increased, with half of U.S. households use natural gas for heating. Because of the increase in demand, net withdrawals of natural gas from underground storage facilities were reported at around 287 bcf last month, higher than the December 2013 withdrawals of around 285 bcf.
As a result, it is doubtful lower available natural gas inventory in the U.S. will meet the increase demand in coming quarters. Although the price for natural gas continues to be low, the increasing demand and consumption in different sectors is expected to increase the price near term. Thus, the increased use of the natural gas will provide a natural-gas-producing company like Vanguard an opportunity to realize higher prices as there is a gap between supply and demand.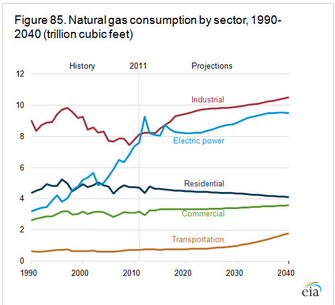 Source: EIA
As Vanguard is focusing more on matured natural gas assets, this increasing demand of natural gas could lead to higher margins. With the recent Pinedale and Jonah field acquisition, I am optimistic about its total production volume of natural gas in coming quarters. Moreover, the company has hedged approximately 85% of total natural gas production at a weighted average price of $4.61 per million metric British thermal unit (mmbtu) through the first half of 2017. Vanguard realized a natural gas price of around $3.48 per mcf during its third quarter last year, which was lower than the current hedged price. As shown in the chart below natural gas prices in the U.S. are expected to grow. Vanguard hedged most of its natural gas production with a comparatively higher average hedged price, so it will see solid quarters ahead.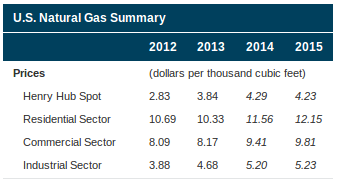 Source: EIA
Conclusion
As demand of natural gas is expected to increase this year, Vanguard with its mature and long-life natural gas reserve is expected to strengthen its top line. With its continuous acquisition activity, the company will increase its total production to meet the increase cash distribution to unit holders. I recommend investors consider this stock in their portfolio.
Disclosure: I have no positions in any stocks mentioned, and no plans to initiate any positions within the next 72 hours. I wrote this article myself, and it expresses my own opinions. I am not receiving compensation for it (other than from Seeking Alpha). I have no business relationship with any company whose stock is mentioned in this article.