Herbalife (NYSE:HLF) released outstanding fourth quarter and full-year performance figures. As a result, shares of the nutritional company managed to reclaim the $70 mark in after-hours trading. Herbalife's Q4 results were strong to say the least and represent just another consecutive quarter of record performance:
Herbalife reported a diluted EPS of $1.15 for the fourth quarter 2013 which compares to $1.00 in last year's quarter (up 15%).
For the full-year 2013 Herbalife boosted its diluted EPS to $4.91 -- almost a dollar more per share compared to the $3.94 earned in 2012 (an increase of 25%).
Adjusted diluted EPS came in at $1.28 -- 28% higher than last year's $1.00.
Adjusted diluted EPS for the full-year stood at $5.37 vs. $3.94 in 2012 (a jump of 36%).
Worldwide net sales increased 20% to $1.3 billion compared to $1.1 billion booked in Q4 2012.
Sales in all geographic reasons expect Asia/Pacific boomed with the largest y-o-y revenue growth in China: Net sales were up 121% y-o-y to $148.4 million.
Herbalife's third largest market in terms of fourth quarter revenues, North America, produced net sales of $210.3 million -- a y-o-y increase of 7%.
South and Central America revenues increased to $290.3 million from $203.3 million in the fourth quarter of 2012 (a plus of 43% y-o-y).
Herbalife's operating income rose 14% to $181.9 million compared to $159.8 million in Q4 2012.
Herbalife shares are up almost 5.5% in yesterday's regular trading- and after-hours trading session as a result of another consecutive earnings beat (according to the WSJ and FactSet, Herbalife presented the 20th consecutive quarter of EPS beats): Analysts expected earnings per share of $1.25 for the fourth quarter.
Strong volume growth in all regions
The only geographic region that performed weakly in the fourth quarter 2013 was Asia Pacific. Fourth quarter revenues declined to $279.6 million from $295.2 million in the fourth quarter of 2012 (down 5%).
Herbalife's volume point growth, however, is just as impressive as the rest of its financial results. Fourth quarter worldwide volume growth stood at 13% (see below) while the Chinese market posted a whopping y-o-y volume growth of 103% compared to Q4 2012. Negative volume growth for Asia/Pacific in the fourth quarter (minus 4%) did not have a material impact on quarterly results: Total volume growth is up 2% for Asia/Pacific on a full-year basis.
Herbalife shows no sign of slowing down. The nutritional supplement company posts healthy growth rates in volumes/revenues across the majority of markets it conducts business in.
(Source: Achilles Research, Company Financials)

Click to enlargeIncreased guidance suggests further gains are ahead
Strong quarterly performance has led Herbalife to increase its EPS guidance. Herbalife now expects an adjusted diluted EPS for the first quarter of 2014 of $1.25-1.29 compared to $1.24-1.28 previously suggested. For the full-year 2014 Herbalife expects an adjusted EPS on a diluted basis of $5.85-6.05.
Share performance
I think that the recent consolidation that drove Herbalife's share price to $60 in January was way overdone. I have previously argued that Herbalife is likely to create new momentum for itself with respect to its fourth quarter earnings release. Herbalife's business results were solid on a variety of metrics and the market certainly acknowledges Herbalife's results. Herbalife's run in 2013 certainly suggests that the market sees regulatory intervention as a low-probability event (as do I).
(Source: Yahoo Finance)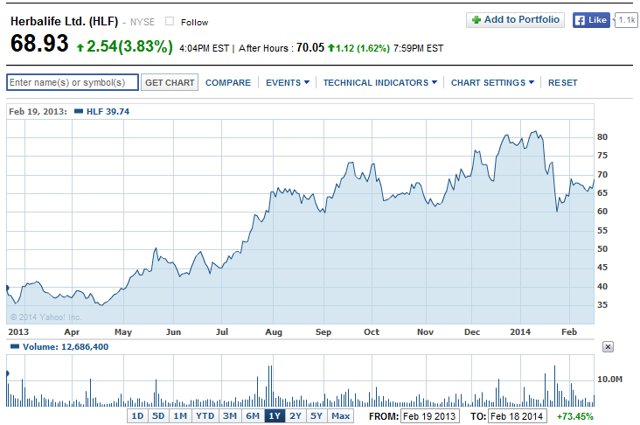 Click to enlargeClosing thoughts
The Bear thesis still focuses on a regulatory shutdown of the company while Herbalife continues to produce record results on all continents. China in particular delivered the surprise in fourth quarter earnings that I was looking for. Share repurchases and a regular dividend of $0.30 per share add to the appeal of Herbalife.
Herbalife has been around since the 1980s working directly under the nose of regulators in both the United States and Europe. Europe's consumer protection laws, which are also aiming at protecting consumers from multi-level marketing firms, are extremely strict and Europe's regulators have a reputation for taking quite an aggressive stance when it comes to preventing consumer exploitation. None of the regulators found it necessary to intervene in all these years and limit Herbalife in its operations which makes me reaffirm my stance that regulatory intervention in the case of Herbalife is a very low-probability event. Long-term BUY.
Disclosure: I am long HLF. I wrote this article myself, and it expresses my own opinions. I am not receiving compensation for it (other than from Seeking Alpha). I have no business relationship with any company whose stock is mentioned in this article.