Nuance Communications' (NASDAQ:NUAN) shareholders have been in for a rough ride in 2013. Multiple setbacks including profit misses and analyst downgrades have driven shares of Nuance Communications down to the $15 range. At the end of April 2013 Nuance Communications was trading at $23.38. Its stock oscillated from $13.00-23.38 over the last 52-weeks and mostly consolidated in an increasing stock market. On November 25, 2013 Nuance Communications issued a profit warning with respect to full-year earnings as the switch to a subscription-based business model is impacting short-term revenues and earnings. Shares of Nuance Communications quoted at $15.99 on November 25, 2013 but dropped sharply lower to $13.00 the next day: A decline in market capitalization of approximately 19% in just a matter two days.
As a contrarian investor Nuance Communications was another textbook example of emotional investors throwing away their shares and panicking about near-term revenue contraction. Truth be told, I missed the collapse of Nuance Communications at the end of November 2013. Not surprisingly, shares quickly recovered most of their losses as investors successively got over their panic hiccough. I have previously recommended Nuance Communications (here) because the company is a leader in speech recognition and imaging applications and could be bought at the same price it was trading at in 2008 or 2009.
Since my last article about Nuance Communications was published on December 24, 2013, the stock price hardly moved. While the share price shortly rose above the $16 mark, Nuance Communications can still be bought at what I consider to be a bargain price of $15.
(Source: Yahoo Finance)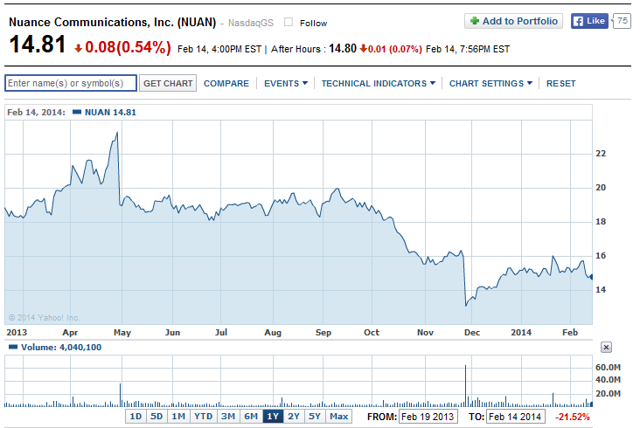 Click to enlarge
First quarter results
On February 10, 2014 Nuance Communications released first quarter results which I were not totally disappointing:
Q1 2014 GAAP revenues were reported at $470.0 million vs. $462.3 million in the year ago quarter (an increase of 2%).
Q1 2014 non-GAAP revenues of $490.1 million compared to $492.4 million in Q1 2013.
Nuance Communications reported strong booking growth of 26% to $637.3 million vs. last year's $504.9 million.
First quarter non-GAAP net income of $76.6 million ($0.24 per diluted share) vs. non-GAAP net income of $113.0 million ($0.35 per diluted share) in Q1 2013.
Nuance Communications repurchased approximately 11 million common shares worth $204 million as of December 31, 2013.
Nuance Communications' Chief Financial Officer Tom Beaudoin commented first quarter results:
We are pleased with our first quarter performance. We delivered strong bookings and exceeded targets for revenue and earnings. Increased deferred revenue and growth in on demand revenue demonstrate continued progress in transitioning our model to recurring revenues. We believe these results, combined with progress toward new solutions and deep customer engagements, are a strong indication that the business is well-positioned for renewed growth and profitability.
Misconceptions
Nuance Communications is a provider of voice and language solutions for enterprises and consumers and has pursued a series of acquisitions to complement its service offering in Healthcare (for instance, the acquisition of Transcend), Mobile & Consumer, Enterprise and Imaging. Top-tier companies such as Nokia (NYSE:NOK), Samsung (OTC:SSNLF), Volvo (OTCPK:VOLVY), DHL, IKEA, Telefonica (NYSE:TEF) and others are Nuance's customers and indicate that Nuance's product technology has a high degree of maturity. I currently see two reasons why Nuance Communications trades at just $15 per share and has suspended its recovery rally.
First, Nuance's acquisition strategy has led to negative free cash flows over the years that still make it difficult to forecast a normalized level of capital expenditures. As such, there is still considerable uncertainty with respect to Nuance's recurring cash flow profile and underlying profitability. However, Nuance Communications is a consolidating force in the industry with a desire to penetrate niche markets, and cash flows should markedly increase in the coming years as a result of those transactions.
Secondly, after the company's share price plunged on two occasions in 2013 (see chart above) because of earnings misses, negative expectations are now largely priced into the stock. Ultimately, this benefits Nuance Communications as it will be easier to outperform pessimistic earnings estimates. A potential revenue- and EPS outperformance could could be a powerful catalyst for Nuance's stock.
Conclusion
Nuance Communications still trades relatively cheaply at just twelve times forward earnings which seems low compared to the high valuations usually seen for industry-leading tech companies. I think the company would be well advised to digest its past acquisitions for the moment and concentrate on developing a recurring earnings stream to show investors that the company now indeed can grow organically. Low earnings expectations ultimately will work in favor of Nuance and I would expect that it is now easier for the company to outperform pessimistic analyst expectations. After all, Nuance Communications provides the speech recognition engine for Siri, a digital personal assistant used in Apple's (NASDAQ:AAPL) iPhone and iPad products which speaks volumes about Nuance's technology leadership in its software field. Carl Icahn, renowned activist hedge fund investor, reportedly increased its stake in Nuance Communications which only adds to the appeal of a long position in the innovative software maker.
Moreover, Nuance Communications' negative free cash flows and low share price could make the company itself a takeover target. Its leadership position in speech recognition and imaging implications also makes the company highly attractive for strategic buyers aiming to get their hands on industry-leading technology. As potential buyers I could imagine Apple, Microsoft (NASDAQ:MSFT), tech-crazy Google (NASDAQ:GOOG) or IBM (NYSE:IBM). Even without a takeover, Nuance Communications has a high standalone value: It has a strong market position in its field and a lot of rebound potential given the over-the-top consolidation in 2013. I hold a price target of $20 on shares of Nuance Communications reflecting about 35% upside potential even without a takeover bid. Contrarian, speculative BUY.
Disclosure: I am long AAPL. I wrote this article myself, and it expresses my own opinions. I am not receiving compensation for it (other than from Seeking Alpha). I have no business relationship with any company whose stock is mentioned in this article.