Renewable tailored oils and bioproducts company, Solazyme (SZYM), appears poised for imminent growth following its recent announcement in late January. With the initial startup of its first large-scale facility in Iowa, Solazyme has begun to meaningfully commercialize its sugars-to-oils platform through the production of its tailored oils. Among the first of these products to be distributed are oils addressing the markets of home & personal care, lubricants, and metalworking. These products are likely represented by the Oleic and Lauric platforms found in the chart below.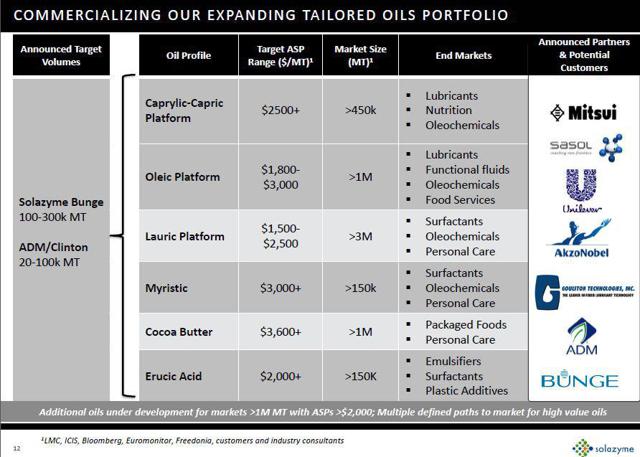 Click to enlarge
One unique advantage of Solazyme's technology is the ability to reach across a wide range of value in a diverse set of markets. While investors may inevitably identify with gasoline prices at the thought of producing oil, Solazyme's markets are likely to be far more specialized for many years to come. With gasoline selling at the pump for approximately $1200/MT - $1300/MT, the value of Solazyme's tailored oils are expected to fetch average selling prices in the range of $2000/MT and higher. With limited manufacturing capacity and a high degree of production flexibility, Solazyme's technology remains best suited to address these higher-margin markets prior to venturing into bulk fuels.
Despite the company's long-term potential in all of these markets, numerous criticisms have often been cited against Solazyme in light of its differentiated technology. Among these concerns is the company's use of indirect photosynthesis (and the use of sugars as a result), the problems with contamination across the industry, and the company's seemingly lack of focus as it addresses multiple markets simultaneously. Nevertheless, progress continues be made across all of these fronts.
Feedstock Costs
When it comes to feedstock use, Solazyme's consumption of sugars typically stands as the largest share of the company's total production cost. However, one ongoing trend that has been developing over the past two years is the significant fall in feedstock prices. As the company's large scale facilities found in Brazil and the United States come online, Solazyme's costs are going to be most heavily influenced by the prices of sugar cane and corn. Nevertheless, both of these prices have stagnated to a large degree. In each instance, the price has come down approximately 40% off of the recent high.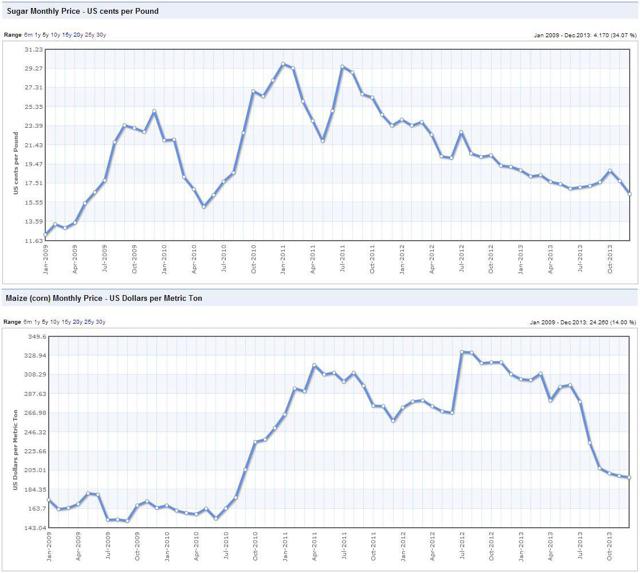 Click to enlarge
Apart from the feedstock costs themselves, investors should begin to consider the impact of the company's byproducts and secondary product lines. While the company specializes in oil production, it also generates a vast amount of biomass. Considering that each algae cell typically generates more than 80% oil, that leaves the remainder to be used as another product. Such biomass can be re-utilized to help offset the cost of feedstock itself.
While in some cases the biomass may be recycled into nutrients for the process or burned as a energy source, more profitable avenues are already being explored by the company. With some additional clarity, this thought is expanded in an interview found here with Luis Eduardo Ravaglia, a commercial director for Solazyme Bunge (NYSE:BG)Renewable Products. Translated below, we see the company already has possible plans for the biomass at the facility based in Brazil:
Our technology platform converts sugars into oils by means of microalgae in fermentation processes. At the end of the oil extraction process remains the byproduct, which is the cell wall of microalgae, rich in polysaccharides. Among its many applications, we focus here on those destined to Soap industry. Preliminary studies have shown that the byproduct, when used as a raw material in the manufacture of soap can act as an absorbent and retention by increasing the amount of water in the bar. This application, thus, may represent a significant reduction in the cost of raw materials used in the manufacture of soaps and soaps. In different particle sizes, may still have the function of exfoliating in soaps. Moreover, being a polysaccharide, the byproduct can also be used in the production of plastic packaging and paper with sustainable features that add value to the final product.

- Luis Eduardo Ravaglia
By uplifting the value of what would otherwise be a waste material, Solazyme continues to seek sustainable solutions even within its own production process. The value derived here can directly help offset the feedstock costs otherwise endured. Further information about Solazyme's exploration of biomass for its use in plastics, paper, and absorbents can be found in my article written here.
Contamination Concerns
Often associated with a niche group of advanced biofuel producers and other synthetic biology companies, Solazyme has often been affected by the scaling woes of its "peers." The technology scale-up concerns that have affected Amyris (AMRS), Gevo (GEVO), and KiOR (KIOR) have often been wrongly associated with Solazyme's platform. Yet while KiOR doesn't even utilize a fermentation process, Amyris and Gevo do. However, it also remains an oversimplification to believe that the yeast used by Amyris or Gevo adequately compares to the algae used by Solazyme. The contamination issues that were to blame for the scaling failures of these two companies do not appear to be a problem for Solazyme's process.
On my last visit to Solazyme's headquarters in January, I managed to speak with Solazyme's CTO, Peter Licari. When I asked him about the concern over contamination, he assured me that the platform has proven itself to be quite stable and consistent. He stated that contaminant growth typically remains at a very minimal level due to the low-pH level and lack of nitrogen used throughout most of the process. Even if a run had to be stopped for whatever reason, it might still be able to produce about 70% or so of the oil otherwise expected.
Such reliability found in the algae's robustness remains a large part of why Solazyme has had such success scaling up its technology in multiple facilities. Further speaking on the idea of profile consistency, Licari proceeded with an example. He stated that if the process were interrupted with a six-hour power outage, similar profile results would still be shown once the process was reinitialized and given an additional six hours to run. Such flexibility remains a testament to the algae's consistency and the company's control over the organism.
Regardless, it's important to remember that contamination in fermentation can occur as frequently as scrubbing out the tank after every run. For Solazyme, the search for a robust algae species capable of utilizing multiple feedstocks and enduring harsh environmental conditions was the product of an extensive screening process early in the company's development. While investors may continue to rest uneasy at the prospect of contamination, Solazyme's management doesn't appear to find any reason to feel the same in light of the scaled levels already achieved.
Lack of Market Focus
For most companies, it remains unwise to venture beyond a single market as the company begins its commercialization phase. Yet for Solazyme, the company thrives in addressing multiple markets. The ability to react to market demand is a large part of the company's value proposition. Nevertheless, there is a concern that the company could spread its attention too thin.
However, Solazyme explores its target markets through like-minded partnerships. This allows for the company to focus most intently on the science behind oil profile creation. While Solazyme develops the oils, the partners carry the market know-how, sales network, and distribution channels needed to succeed in a particular market. Often these partners can even become both the upstream suppliers as well as the off-take clients for the oils being produced.
Indeed, prior to the adoption of the nutritionals business, the one area in which Solazyme has extended its market focus has succeeded in becoming its strongest division to date. Solazyme's cosmetic brand, Algenist, has proven that the parent company can execute when it comes to building a successful brand. More so, it was done while competing in a low-volume and highly-competitive personal care market.
The ongoing success of Algenist was most recently displayed by the company's expansion into China. On December 11, 2013 more than 40 major fashion and beauty magazines attended a conference in which the company announced the entry of Algenist into China via its partner, Sephora. This prompted numerous articles, some of which can be found here, here, and here.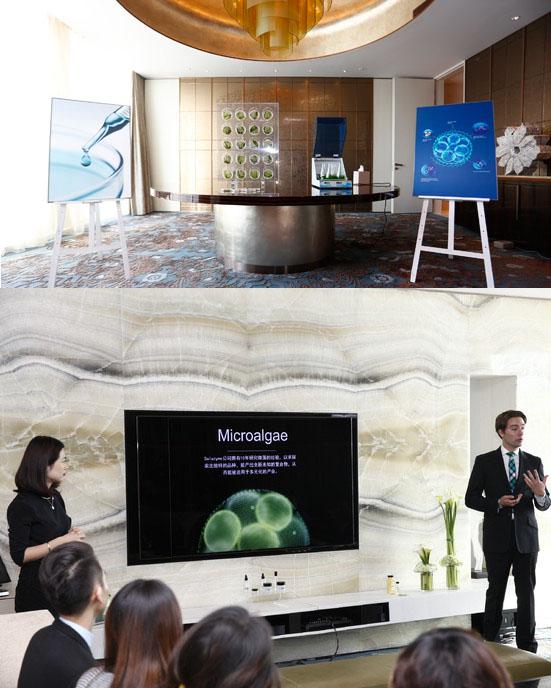 Solazyme also launched a second cosmetic brand recently, attempting to build upon its experience while addressing another market demographic. The launch of EverDeep builds upon a direct marketing campaign which bypasses the need for a partner and its brand to pave the way. While inherently more risky, it also shows the company's confidence in its marketing abilities.
Actress Jennifer Beals recently went on a media tour to promote the brand. This included several radio shows and appearances. The effects on social media appear to suggest the cosmetic brand has begun to gain momentum. With the launch of a second brand in cosmetics, we see that Solazyme remains squarely focused on a limited number of areas. For now, that expertise is highly focused on oil design and marketing cosmetics. The remainder continues to be done through the experience of partner companies.
A Look At The Company Now
Solazyme now trades with a market capitalization of $754 million at the last price of $11.07 as of February 17. The company's revenue has only marginally grown over the past four years. From 2010 to 2012, the company reported annual revenues of $37.97 million, $38.97 million, and $44.11 million respectively. For the nine months ending in September 2013, the company only reported $28.48 million.
However, this dynamic appears ready to change as the company's first major production unit comes online in Iowa. The 20,000 MT of capacity there increases the current production capability by a factor of 10. Expected soon, the start of Solazyme's facility in Brazil will bring online another 100,000 MT of capacity through the 50-50 joint venture with company partner, Bunge. What makes this rather large increase in production capability relevant to shareholders is the effect it can have on revenue growth.
Why this could matter is partly due to a trend that has been negatively working against the company's share price. This is found in the stock's growing short interest. As of the settlement date of January 31, Solazyme had 10.07 million shares short. In light of the company's tight public share float, this trend has only served to artificially suppress Solazyme's share price. As more investors come to witness the revenue growth underway, it remains possible that this large short position may play a part in sending the stock higher as shorts are coerced to cover their positions.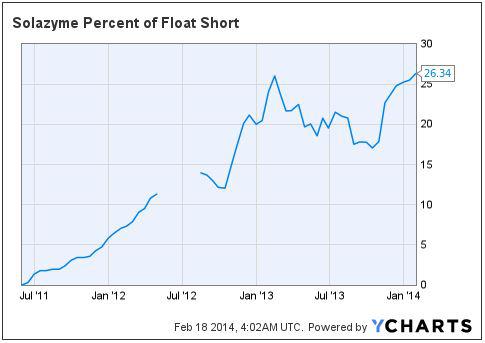 Final Thoughts
Since its initial public offering in 2011, investors in Solazyme have been anticipating the opening of the company's first large scale production facilities. The first of these has now commenced commercial operations. The second is soon to follow suit. While the company's performance metrics will be determined in due time as these two facilities ramp up their production, the one undeniable fact is that a significant growth in revenue is now imminent.
Multiple performance factors and market conditions have continued to aid the company as it initiates its first production runs. Solazyme's feedstock costs are coming down. Solazyme's technology concerns are quickly fading. Solazyme's products are gaining market acceptance. The barriers for growth are slowly being cleared out of the way. Investors should consider Solazyme as a speculative long-term buy in light of its market potential and near-term catalysts.
Disclosure: I am long BG, SZYM. I wrote this article myself, and it expresses my own opinions. I am not receiving compensation for it (other than from Seeking Alpha). I have no business relationship with any company whose stock is mentioned in this article.