Principal Financial Group Inc. (PFG) reported first quarter earnings of $255.6 million or 79 cents per share, beating the Zacks Consensus Estimate of 68 cents. The company had earned $164.0 million or 63 cents in the year-ago quarter.

The beat was driven by the strong performance of its U.S. Asset Accumulation segment. The company recorded growth in book value and assets under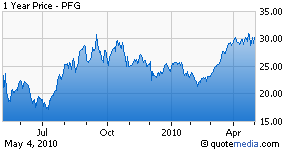 management (AUM) in the quarter, reflecting improved credit and equity market conditions. Expense control initiatives also supported the bottom line.

Including the realized capital losses, Principal reported a net income of $190.8 million, or 59 cents per share in the quarter, compared with a net income of $112.8 million or 43 cents per share a year ago. Net realized capital losses increased to $57.0 million from $50.9 million reported in the prior-year period.

Though Principal is experiencing positive trends, small and medium businesses continue to proceed with caution. Though job losses have moderated, stable signs of employment growth in the small business segment still remain elusive. However, the improvement in the stock market has provided some relief.

For the reported quarter, Principal reported a decline in premiums to $878.9 million from $949.9 million in the prior-year quarter. Operating revenues were $2.3 billion, up 3.2% year over year. However, the company continued to benefit from its cost containment initiatives. Operating expenses were down 1.8% year over year to $675.9 million.

Improved results at the company's three asset management and accumulation segments resulted in an increase in AUM, which was up 3.1% sequentially and 24.0% year over year to $293.4 billion.

Principal also reported growth in book value per share. As of Mar 31, 2010, book value came in at $25.07 per share, up from $23.05 as of Dec 31, 2009 and $8.03 as of Mar 31, 2010. Operating book value was $26.87 as of Mar 31, 2010, up from $26.31 as of Dec 31, 2009 and $26.65 as of Mar 31, 2009.