Vornado Realty Trust (NYSE:VNO), a leading real estate investment trust (REIT), reported first quarter 2010 FFO (funds from operations) of $353.8 million or $1.87 per share, versus $268.6 million or $1.65 per share in the year-earlier quarter.

Funds from operations, a widely used metric to gauge the performance of REITs, is obtained after adding depreciation and amortization and other non-cash expenses to net income. After adjusting items for comparability, FFO during the quarter was $1.86 per share, compared to $1.75 in the prior-year quarter.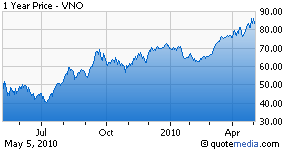 Same-store occupancy in the company's New York City and Washington, DC office portfolio were 95.3% and 94.4%, respectively, at quarter end. Same-store EBITDA (earnings before interest, tax, depreciation and amortization) on GAAP basis increased 1.2% and increased 6.4% during the quarter in the New York City and DC office portfolios, respectively, compared to the year-earlier quarter.

The company's retail portfolio is also doing well: same-store occupancy was 91.2% at quarter end, while same-store EBITDA (GAAP) increased 3.8% vs. the year-ago quarter. In the Merchandise Mart segment, same-store occupancy was 87.5% (office) and 89.1% (showroom), while same-store EBITDA (GAAP) decreased 6.3% year-over-year.

During the quarter, rents decreased 8.2% (cash basis) and decreased 8.0% (GAAP) compared to the previous rents in New York City office segment. In Washington DC, rents increased 10.8% (cash) and increased 16.3% (GAAP) versus expiring rents. Retail rents increased 12.3% (cash) and increased 13.0% (GAAP) over in-place rents.

During the quarter, Vornado offered $500 million aggregate principal amount of 4.25% senior unsecured notes due April 1, 2015. The debt offering is expected to raise net proceeds of approximately $496 million, which would be primarily used for general corporate purposes. Vornado had priced the notes at 99.83% of the face amount to yield 4.29%.

Vornado has a healthy balance sheet with very manageable near-term debt maturities and plenty of cash. At quarter end, the company had $788.9 million of cash and cash equivalents and total outstanding consolidated debt of $11.1 billion. In addition, Vornado had $500.2 million available under its revolving credit facilities.

Vornado is the largest publicly traded office REIT in the New York region. The core properties of the company are still performing at a high level and it is maintaining strong occupancies in its New York City office and retail portfolios. We believe this puts the company well ahead of many competitors who have assets in less desirable markets, still struggling with high vacancies and little pricing power.