Holders of the SPDR S&P 500 (NYSEARCA:SPY) and other market ETFs may see red this week, as several factors pose threat to recent gains.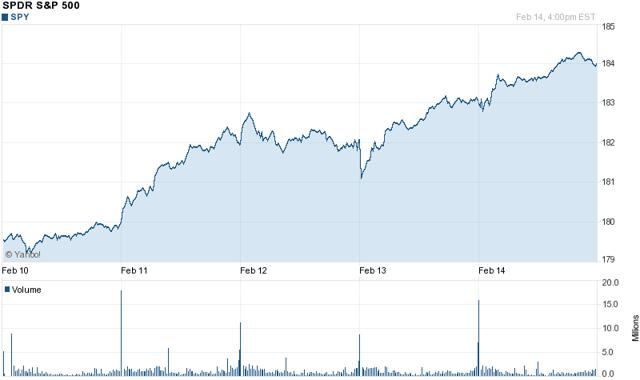 Last Week's SPY Chart at Yahoo Finance
As you can see, last week offered hope for holders of the market ETF, as it gained ground toward breakeven for the year. However, Tuesday, the SPY hardly moved.
| | | | |
| --- | --- | --- | --- |
| Market ETF | 2/18/14 | Year-to-Date | Last 12 Months |
| SPDR S&P 500 | +0.1% | -0.2% | +21.1% |
| SPDR Dow (NYSEARCA:DIA) | -0.1% | -2.5% | +15.7% |
| PowerShares QQQ (NASDAQ:QQQ) | +0.5% | +2.6% | +33.2% |
The SPDR Dow Jones Industrial Average is already in the hole this week, after being weighed down by Coca-Cola's (NYSE:KO) 3.8% drop on its soft EPS result Tuesday. While the SPY eked out a gain for the day, it faces several hurdles yet to come this week.
A slew of housing data is due, and the first bit of news to reach the wire sent housing stocks diving. Major mortgage lender Bank of America (NYSE:BAC) was off 1.3%, while homebuilder PulteGroup (NYSE:PHM) was down 1.15%. As we are all aware of by now, this year's extraordinary weather has impacted the economy profoundly, likely playing a role in the poor job creation recorded over the last two months. Readers of this column are aware of your author's opinion that the weather is impacting real estate as well.
On Tuesday, homebuilders weighed in, as the Housing Market Index (HMI), measuring the builders' perspective, was reported fallen by 10 points in February to a mark of 46; that is short of the 50 breakeven point between optimism and pessimism. The same "significant weather conditions" cited within the HMI are expected to impact Housing Starts due for report on Wednesday and the annual pace of existing home sales to be reported on Friday. Economists' expectations are set well below the last reported result for each.
| | | |
| --- | --- | --- |
|   | Prior Result | Expected |
| Housing Starts (Jan.) | 999K | 950K |
| Existing Home Sales (Jan.) | 4.87 M | 4.65 M |
*Based on Bloomberg's survey
Leading Economic Indicators will be reported on Thursday, but economists expect this data point to be improved by 0.2% in January, better than the 0.1% increase seen for December. Still, weighing heaviest on the market and against the SPY this week is the FOMC meeting minutes release Wednesday, which I fear could show some testing of Janet Yellen's control of a group that includes some big egos. I worry about the willingness of many in the Fed to discuss inflation unnecessarily at this critical juncture. Ironically, we will receive two inflation data points this week in the Consumer Price Index and Producer Price Index releases. So, fuel could be added to the fire, as the media would make note of it.
Let's not overlook the very important earnings report of Wal-Mart (NYSE:WMT), which is scheduled for this Thursday. Wal-Mart and even Amazon.com (NASDAQ:AMZN) have already noted weather impact to consumer spending this winter, and so the report of the nation's top brick & mortar store is both important and troublesome this week. Wal-Mart should have benefited some from Target's (NYSE:TGT) data breach, but at the close of January, the iconic retailer warned it would miss its own guidance.
In conclusion, the week lays out a mine field of potential problems for the SPY and other market ETFs, and so I suggest traders consider hedging bets through the period.
Disclosure: I have no positions in any stocks mentioned, and no plans to initiate any positions within the next 72 hours. I wrote this article myself, and it expresses my own opinions. I am not receiving compensation for it (other than from Seeking Alpha). I have no business relationship with any company whose stock is mentioned in this article.