The following graph (click to enlarge) shows the eight richest countries by value of their natural resource reserves according to research by Citigroup. South Africa tops the list with its non-energy natural resource reserves valued at $2.5 Trillion. The developed countries in this ranking are the U.S., Canada and Australia.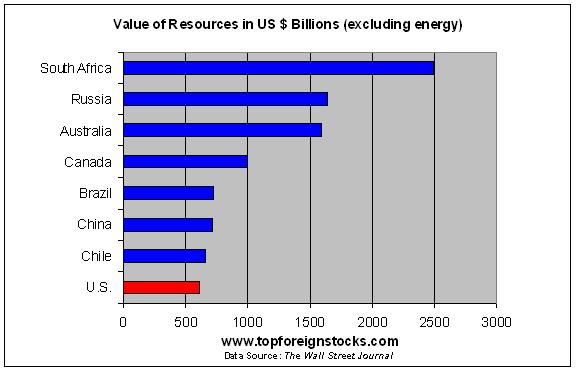 Some of these markets have become expensive after the huge run up since the March lows of 2009. For example, the South African ALSI Index is up 55% since the lows reached last year. Accordingly the P/E ratio has jumped from 9x earnings at the start of 2009 to over 17x times earnings now. This is well above the long-term average of 11.5 times earnings.
The country-specific ETFs for the above countries are:
iShares MSCI South Africa Index Fund (NYSEARCA:EZA)
iShares MSCI Russia Capped Investable Market Index Fund (RTS)
iShares MSCI Australia Index Fund (NYSEARCA:EWA)
iShares MSCI Canada Index Fund (NYSEARCA:EWC)
iShares MSCI Brazil Index Fund (EZA)
iShares FTSE/Xinhua China 25 Index Fund (NYSEARCA:FXI)
iShares MSCI Chile Investable Market Index Fund (NYSEARCA:ECH)
iShares S&P 500 Index Fund (NYSEARCA:IVV)
Note: I have used the S&P 500 as the proxy for the boarder US market.