I'm honestly surprised a CNN Fortune writer had the guts to shoot some shots at expert tech contributor, Ashraf Eassa, for Seeking Alpha/Motley Fool. Now I have a lot of respect for the guy, and I'd honestly say that he's one of the few people I wouldn't mind kicking back on my front porch to pop some champagne with.
That being the case, Fortune believes that Ashraf's most recent article offered awful advice. The whole premise behind Ashraf's case was to short Google (NASDAQ:GOOG) and buy Apple (NASDAQ:AAPL). At the present moment I partially agree with Ashraf's stance. I think that instead of shorting Google, it makes more sense to say that the risk-to-reward favors Apple instead.
Is Google too expensive on the basis of EV/FCF?
According to Ashraf Eassa:
To put this in perspective, Apple trades at 7.7x EV/FCF while Google trades at 30.3x EV/FCF. Now, Google and Apple aren't exactly operating in the same businesses, and frankly, Google's business is "safer" than Apple's, but this valuation gap is pretty ridiculous and indicative of one thing: the market expects Google's free cash flow to grow "to da moon" and Apple's to, at some point, crater as a result of competitive pressures of secular headwinds.
Ashraf does have some pretty solid point about Google. It's expensive relative to Apple, but it's still extremely well positioned for the future, and if digital ad sales continue at their current pace of growth, Google should be able to grow into its admittedly high valuation.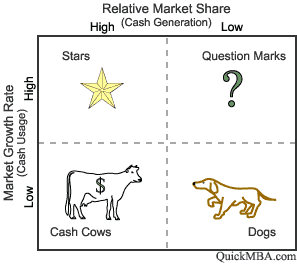 Source: Boston Consulting Group
Search advertising generates high rates of growth, and Google has high market share in that market. Google's banner advertising generates low rates of growth currently, but Google has high market share in that market as well. It owns a star business and a cash cow. Operating a website has low fixed/marginal costs, so all of Google's business categories have extremely high profit margins. Since Google has higher margins than Apple, each incremental increase in sales adds more shareholder equity to Google than Apple.
So I mentioned two of Google's most prolific businesses. Let's move onto the third and upcoming star business. The Google Application store is on its way to becoming perhaps one of the most valuable financial intermediaries in the world. As every transaction for a virtual product bought through Google's store will pay Google a healthy royalty. Remember, Visa (NYSE:V) makes a killing and trades at ridiculous earnings valuations for operating a similar business model, so I wouldn't be so quick to make hasty conclusions about Google's current market capitalization.
Google has a high amount of market share with Android, search ads, and banner ads at the present moment. It captures profit from just about every device category, meanwhile digital ad-spend is expected to trend even higher.
There's no way you can bet against advertising and transaction based business models. We've seen the two add so much shareholder value historically it's like betting against a rocket that's designed to travel to the moon. If something is designed a certain way, it will perform a certain way.
The web is changing
In a past article I mentioned that the World Wide Web is becoming obsolete. This is because applications are easier to program and design and can be pushed to market sooner. In the future there could be more applications than the number of actual websites (parent domains, exclude sub domains). This is because applications that are downloaded from the web can have vastly more variety than the information centric web pages. Sure you can have applications that run from a web page, look at YouTube.com. However, I find that YouTube's mobile apps are just as effective as the World Wide Web equivalent.
Applications running through an application are just as efficient when compared to accessing the same app through the web. The trend is becoming increasingly obvious as information centric websites like the New York Times (NYSE:NYT), Yahoo! (NASDAQ:YHOO) Finance, and AOL (NYSE:AOL) are transitioning more of their focus to the application web. I refer to applications as the application web because they originate from the application store rather than from the World Wide Web. Furthermore, because they're easier to monetize, it's likely that Google will at some point earn more money from being an intermediary that collects revenue on royalties than from search based ads.
Search ads still sustain high growth rates, and Google is absolutely dominant in that specific market. Therefore, when operating on future assumptions Ashraf's right, it's priced like it's going to grow to the moon. However, there's a caveat, it is priced like it is because it's most likely going to.
Conclusion
I spoke a lot about Google throughout the course of this article and almost ignored all the qualitative factors about Apple in its entirety. However, I'm sure that many of you already know how I feel about Apple. But, before I get carried away with another long elaborate explanation on why Apple is an awesome value investment, I'd much rather direct you to a link that summarizes my outward price forecast on the company.
Apple has a better risk to reward when compared to Google. But then again, Apple has an awesome risk to reward when compared to just about any other investment on the stock market currently. Therefore, a Google versus Apple debate is sort of redundant.
Disclosure: I have no positions in any stocks mentioned, and no plans to initiate any positions within the next 72 hours. I wrote this article myself, and it expresses my own opinions. I am not receiving compensation for it (other than from Seeking Alpha). I have no business relationship with any company whose stock is mentioned in this article.