Situation Analysis: Recently I published an article describing the bull case for Chegg (NYSE:CHGG) - this is a follow-up to that article. The company recently declined 22% following a beat on earnings but lower margin guidance leading to a Bank of America downgrade to neutral. Following an analysis of the earnings and some research, I am still a buyer of the stock but have lowered my price target to $9. There is a fundamental misunderstanding of the earnings potential of Chegg given it is shifting its revenue primarily to non-print, higher margin offerings. I believe the market is overlooking the high gross margin non-print component of Chegg, which with a back of the envelope calculation is shown to be in the 60% range. As a result Chegg presents an even more appealing opportunity following the sell-off.
Current Price (2/18/14): $6.45
12 Month Price Target: $9 (39% return)
Bear Case:
Non-Print Business growth and adoption is lower than expected. Zinch and Chegg Study have limited operating history and their adoption is subject to extensive execution risk.
Print business is likely to face significant margin pressure as a result of its competition with Amazon. With billions in cash, Amazon has the ability to offer a lower priced textbook offering.
Utilizing the low end of Amazon's historical range of price to sales of 1 on Chegg's projected 2016 sales ($430 million) and estimated outstanding shares of 88 million, yields a price target of $5. 23% downside from current levels.
Consensus View: Analysts are bullish on the stock, the lowest price target is $8, reflecting 33% upside from the current price and a median price target of $10. I am in line with the analysts, but am more conservative in when I believe the company will achieve profitability and how quickly the company can increase their revenue. I believe like the analysts the market is missing the opportunity Chegg has before it, as it transitions to a SaaS company in the next few years.
Catalysts:
· Further insider purchases
· Increasing monetization of internship offering(students are spending 11 minutes per visit and looking at 5 openings per visit)
· New product launches
· Increased institutional ownership
· Increased monetization of digital offerings
Amazon Print Pricing Comparison:
To To simulate the student experience, I recently went browsing for 2 textbooks in different disciplines on Amazon and Chegg. I found the prices to be similar but enjoyed the Chegg interface and the additional study offerings Chegg had from its student graph. One comparison is shown below.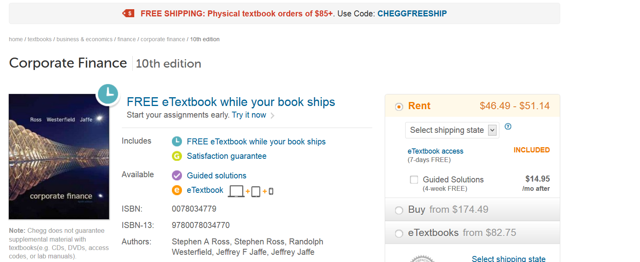 Non Print Margins and % of Revenue:
Doing a quick back of the envelope calculation, margins for non-print appear to be in the 60-70% percent range. This is a huge growth driver in the stock as the company shifts away from print textbooks. In my model I place non-print margins conservatively at 65%. This is what the market is missing on this stock, management has reiterated this is a company moving away from textbook rentals.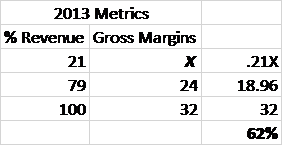 Valuation:
Utilizing a P/E ratio of 40, a premium of Chegg's internet peer group, but warranted given its strong non-print top line growth on 2016 earnings, a price target of $10 is calculated. Given my need for a margin of safety, I would look to exit the stock once it achieves a $9 price. For comparison NFLX has a P/E of 236 and LNKD a P/E of 834, so there is alot of upside to my price target as Chegg becomes a full SaaS story.
Financial Projections:
Notable Assumptions:
· Outstanding shares projected to 88 million in 2016, this contrasts to sell-side reports which project the shares at the current 81 million outstanding. I feel this is a conservative assumption given the large registration of options and rsu's and the possibility of further acquisitions utilizing equity.
· Model net revenue coming in at lower end of guidance and street for fiscal 2014, conservative given change in revenue mix(any beat is opt I am not paying for)
· I do not model profitability until 2016, like most high growth internet ventures, especially one transitioning its business model, profitability can take longer than expected. The sell-side is modelling profitability by 2015.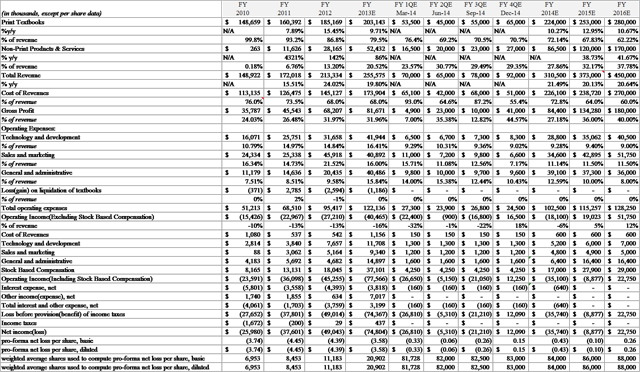 Disclosure: I have no positions in any stocks mentioned, but may initiate a long position in CHGG over the next 72 hours. I wrote this article myself, and it expresses my own opinions. I am not receiving compensation for it (other than from Seeking Alpha). I have no business relationship with any company whose stock is mentioned in this article.