Introduction
In this article I'll have a closer look at Yamana Gold's (NYSE:AUY) financial results for 2013 and the situation of its balance sheet at the end of the year. I will also provide my outlook for 2014 and this will result in my conclusion at the end of this article where I'll also look back on my trading strategies in the past articles on Yamana Gold.
All images in this article were taken from the press release (see link in the first subtitle).
My view on the financial results
In 2013, the company produced almost 1.2 million gold-equivalent ounces, consisting of 1.03 million ounces of 'real' gold and 8.4 million ounces of silver. The gold-equivalent production is a very slight (almost unnoticeable) decrease from last year which is caused by the silver output which is approximately 600,000 ounces less than last year.
The total revenue of Yamana Gold dropped by 21% in 2013. On top of that the cost of sales increased by almost 10% which obviously caused a lot of pressure on the mine operating earnings, which shrunk by almost 52% to just shy of $541M. Fortunately the company was able to slash its general and administrative cost by $10M and its exploration expenses by $28M which had a positive influence on the non-mining expenses. However, Yamana Gold also recorded a $682M impairment charge which pushed the company into dark-red territory with a net loss of $474.4M which is a huge compared to the $442M profit in 2012.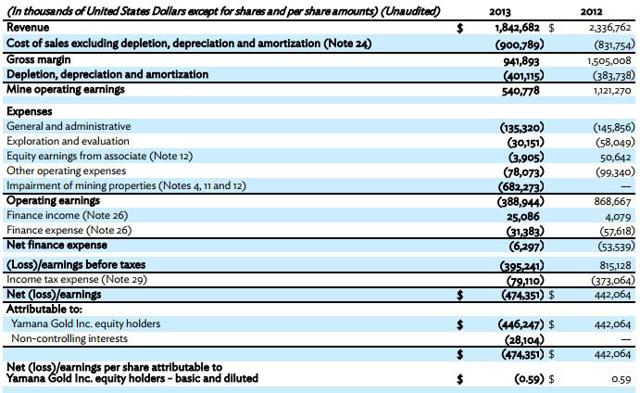 As impairment charges are non-cash charges, let's have a look at the cash flow statements which will give a better indication of the quality of the underlying business. Yamana Gold reported an operating cash flow before working capital changes of $708M, but this was insufficient to cover the capital expenditures which totaled $1.05B in 2013. This doesn't mean investors should be running to the exits, as the projects on which the capex was spent will directly contribute to the results of 2014 as the production will increase by approximately 200,000 gold-equivalent ounces.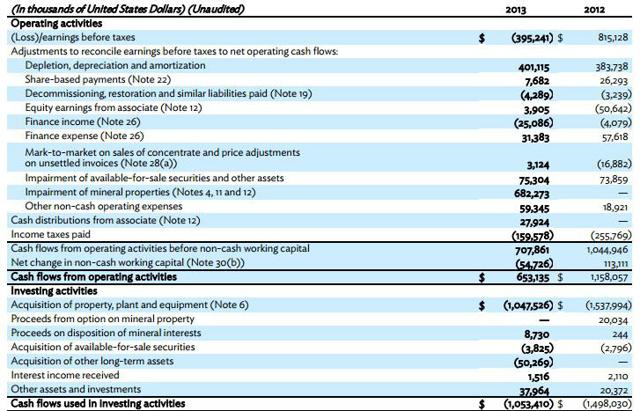 My view on the balance sheet
Moving over to the balance sheet, Yamana Gold had a working capital position of $81.1M and a current ratio of 1.13. Even though I'm not worried yet about the current ratio (a ratio higher than 1 indicates the company has sufficient current assets to cover its current liabilities), it will be something Yamana Gold will have to watch very closely this year.
The book value per share as of at the end of 2013 was $9.47, which means Yamana is currently trading at a premium of approximately 10% to its book value. This isn't too bad, considering recorded an impairment charge of almost $683M which had an effect on the book value of approximately $0.90/share.
The outlook for 2014
As said, Yamana Gold expects to increase its output by approximately 16% to 1.4 million gold-equivalent ounces this year. This will mainly be attributable to reaching the phase of commercial production at the Pilar and C1 Santa Luz mines. Those two mines produced approximately 28,000 ounces of gold in 2013 and should be on track to produce 180,000 ounces in 2014 and probably in excess of 200,000 ounces in 2015. As such, I'm quite confident in Yamana's 2014, as I expect the capital expenditures to drop and the operating cash flow to increase.
On the negative side, Yamana has also decided to cut its dividend by 42% to just $0.0375/quarter of $0.15 per year for an annual yield of 1.4%. As the company was free cash flow negative in 2013, I think slashing the dividend is a normal precaution.
Conclusion
2014 will be an important year for Yamana Gold as I'm expecting the company to turn free cash flow positive again after the bulk of spending at the Pilar and C1 Santa Luz mines will drop and the output at both mines is expected to almost five fold. On top of that, the increasing gold price of the first few weeks of this year should be beneficial to Yamana's operating margin.
In my previous article on Yamana Gold I recommended to write a P9 January 2014 for an option premium of $0.45. As Yamana was trading higher than $9/share, the options expired worthless and you would have pocketed a 5% gain in just 3 months. At this point I'd be more careful and I'd be looking at writing some P8 July 2014 for an option premium of $0.25. This would result in an annualized yield of close to 7.5%.
Disclosure: I have no positions in any stocks mentioned, and no plans to initiate any positions within the next 72 hours. I wrote this article myself, and it expresses my own opinions. I am not receiving compensation for it (other than from Seeking Alpha). I have no business relationship with any company whose stock is mentioned in this article.