Most institutional investors have recently filed their Form 13-F's with the SEC that lists their fund's holdings. In this article we will take a quick look at interesting additions, removals, new positions, and closed positions from Sprott Asset Management
Sprott Asset Management is an investment fund started by Eric Sprott, and has a team that includes Rick Rule and John Embry - who are all investment managers that specialize in precious metals and resource base investing. So for hard asset investors, Sprott's holdings may be particularly interesting.
But before we discuss interesting changes in Sprott's holdings let us briefly introduce investors to what a Form 13-F is and its investment benefits.
Introduction to the Form-13F
Form 13F's are forms that are required by the US Securities and Exchange Commission for all institutional investment managers that exercise investment decisions over assets totaling more than $100 million dollars. These forms must be filed no later than 45 calendar days after the end of each quarter and require the listing of equities, certain equity options and warrants, closed-end investment companies and some convertible debt securities. You can find more details at the SEC website.
These filings are useful for investors because they give insight into the actions of the large investment management funds that manage billions of dollars worth of assets - the true "whales" of the investment world. Since they are large management firms, they have the capital to employ research teams and do much more due diligence than most individual investors can do. So by following their holdings an investor can get some good ideas on what to buy or sell, after all it is not always necessary for investors to "reinvent the wheel." These forms are a wonderful way for them to piggy back on some of the research done by large firms - though due diligence still must be done because hedge funds do often make mistakes and investors should still understand why they own their investments.
Investors should also note that 13-F's are always a bit dated and are a "moment-in-time" report, which means these positions may be quite different today versus what they were at the end of the previous quarter. Additionally, for large positions, a fund may have already bought their desired shares and thus investors buying those same positions today may be buying a little late in the game.
After knowing the things to watch out for, Form 13-F's can still provide investors with some excellent information on positions to own and what they should consider selling.
Top Holdings, New Positions, and Closed Positions on 12/31/13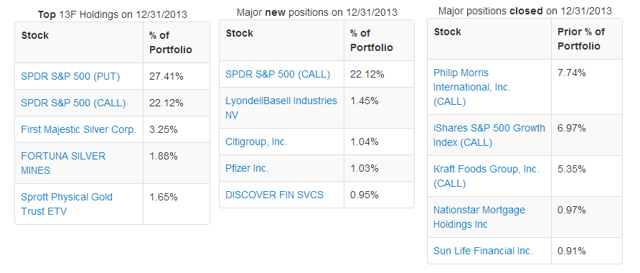 Source: Whale Wisdom
Four Interesting Moves by Sprott Asset Management
Before we check out some of the newest moves by Sprott Asset Management, we wanted to review some of companies we pointed out in last quarter's article.

We won't go into the details of our thoughts at the time since readers can go to the aforementioned article, but we will note that almost all of them are up significantly, with Almaden Minerals (NYSEMKT:AAU) up almost 60% since the article was published. First Majestic (NYSE:AG) and Silver Wheaton (NYSE:SLW) are up by about 20%, and Platinum Groups Metals (NYSEMKT:PLG) is down by 5% - which is very interesting because it was the only company out of the four that was up when we wrote the article.
Here are four positions that we are interested in from this quarter's filing.


Goldcorp (NYSE:GG) - Goldcorp is a new holding (as of 12/31) for Sprott Asset Management, and for those unfamiliar with the gold industry, it is the second largest gold miner by market capitalization and the fastest growing major. We've analyzed the company's production and fourth quarter cost figures in an earlier article, but Goldcorp has consistently shown itself to be one of the lowest cost majors in the industry, and its balance sheet is relatively healthy compared to most of the other majors.
What interests us in this position is that it was the largest new mining position opened by the fund - which is always something we pay close attention to. Goldcorp has run up a bit since the end of the quarter (like most of the other miners), but it still ranks high in our view compared to the other majors so we cannot say we are surprised that it seems to be one of Sprott's largest new positions in the quarter.
Precision Drilling Trust (NYSE:PDS) - Precision Drilling Trust is one of Canada's largest oilfield services companies and provides drilling, well servicing, and other support for its energy industry customers. What's interesting about this position is that Sprott Asset Management made a tremendous increase in the quarter as it increased its share ownership from 40,000 shares at the end of the third quarter to 1,919,000 shares at the end of the fourth quarter - a huge five-fold increase in ownership. While we aren't as familiar with this company as the miners, it is definitely a show of confidence by Sprott in increasing the position by such a large amount and may be of further interest for investors looking for energy-related companies.
Core Laboratories (NYSE:CLB) - Core Laboratories is another energy related investment, and the company specializes in reservoir management and production enhancement to the oil and gas industry. This is a new position for the Sprott portfolio, but it is relatively small and we would be more interested if the position is increased further in the future, similar to what we saw with Precision Drilling Trust.
Denison Mines (NYSEMKT:DNN) - Denison Mines is a Canadian uranium exploration and development company that owns a number of uranium deposits, including the high-grade uranium Wheeler project in the Eastern Athabasca Basin in Canada. Despite the drop in price over the last few years, uranium has been a favorite commodity of many Sprott strategists (including Rick Rule) and so we're not surprised to see positions in uranium explorers and developers. What is interesting about the Denison Mines position is that it's another position that saw a large increase as Sprott Asset Management more than doubled its stake in the company - something worth noting and investors interested in uranium exposure should take a look at Denison Mines.
Disclosure: I am long GG. I wrote this article myself, and it expresses my own opinions. I am not receiving compensation for it (other than from Seeking Alpha). I have no business relationship with any company whose stock is mentioned in this article.