Shares of Hercules Offshore, Inc. (NASDAQ:HERO) were trading around $6 at the start of 2014. However, a market decline and a post-earnings pullback have taken this stock down to what appears to be bargain levels of less than $5. This appears to be a significant buying opportunity for a number of reasons. As Brent Atwood correctly points out in a recent article, there were many positives in the financial results. However, some investors seemed disappointed that the company did not secure more contracts during the quarter, which is why the stock sold off (along with the markets). However, these short-term concerns appear overblown and have created an ideal entry point for value and long-term investors.
Hercules Offshore is one of the world's largest providers of offshore contract drilling and lifeboat services. Its fleet of 38 jackup rigs and 24 lifeboats provide oil and gas companies with drilling, platform inspection and maintenance services. The size and capabilities of its fleet makes it an industry leader. Potential downside risks appear limited at this time, since the global economy is recovering. The potential downside risks also seem limited because the stock trades at very undervalued levels and it is showing signs of having bottomed out. Let's take a closer look at a number of reasons why this stock appears poised for a significant rebound:
1) Capitulation and Stabilization: As many investors know, the stock market was recently experiencing a multi-day sell-off in early February over concerns about emerging markets, Fed tapering and a new Fed chief. On February 5 (around the end of the recent market pullback), Hercules Offshore shares were pushed down to about $4.50 and experienced very high volume of about 7.6 million shares on that day and nearly 11 million shares on the following day. These two days appear to have formed a "capitulation"-type bottom for the stock based on both the heavy volume and the share price. In recent days, the stock appears to have formed a bottom and the volume also has been "normalizing". This indicates the stock is stabilizing, which is often a sign the shares could be ready to take the next step and rebound from an overdone sell-off.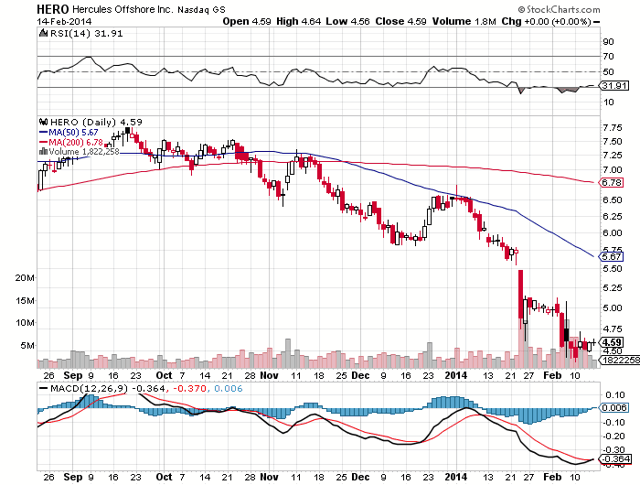 (Source: StockCharts)
2) These shares are oversold and appear due for a rebound: Take a look at the chart above and it is easy to see how oversold this stock is, with a relative strength index of just about 31. Oversold stocks often experience a sharp rebound. With the chart showing that this stock is forming a base around the $4.60 level, it seems poised to recover some of the recent losses soon. I believe a trend reversal rally could take this stock back over $5 in the next few days. Shorts who helped to push this stock lower as the markets were in fear mode, could also contribute to a coming rebound. The downside risks seem limited at these levels for longs because the company is seeing revenue growth and it has a solid balance sheet with nearly $200 million in cash. This is one reason why Hercules Offshore does not appear to be a good stock to short in the long term. Shortsqueeze.com shows that about 10.7 million shares, or about 7% of the float is short. That is enough to help create a short-covering rally once the stock reverses to the upside.
3) New opportunities could boost results in the future: Mexico recently announced a new bill that will reform the oil and gas industry in that country. For the first time in several decades, private companies will be allowed to explore for oil and gas in Mexico after this bill is signed by the President (who has said he will sign it as soon as possible). A recent Bizjournals.com article details the very positive impact this reform could have for companies like Hercules Offshore; it states:
"Once signed, the bill will end the 75-year monopoly the state-owned oil company, Petróleos Mexicanos, or Pemex as it's better known, has held on the country.

The energy reform could bring millions of dollars to Houston energy companies looking for exploration and production opportunities closer to home."
4) The valuation is now too cheap to ignore: This stock appears to be trading at bargain levels when you consider that book value is about $5.16 per share. Earnings estimates of 64 cents per share for 2014 and 78 cents per share for 2015 imply the stock is too cheap, with a price to earnings ratio of just about 7 times. A more reasonable PE ratio of at least 10 would support a share price of about $6.40 in 2014, and that would still be undervalued compared to many other stocks. For example, Nabors Industries Ltd. (NYSE:NBR) is primarily a land-based drilling company but it also does some offshore drilling. It is expected to earn $1.08 per share in 2014, and it trades for just over $18 per share. That puts the price-to-earnings ratio at 18, which is roughly double the PE ratio for Hercules Offshore. This shows yet again how undervalued Hercules Offshore stock is now and how much upside it appears to have.
5) Analyst price targets suggest significant upside: Analysts price targets also suggest that this stock is very undervalued. In late 2013, analysts at Deutsche Bank made bullish comments and reinstated coverage on Hercules Offshore, setting a $10 price target. On January 23, 2014, analysts at Wunderlich reiterated a buy rating and set a price target at $11 per share. On February 11, 2014, analysts at Cowen reiterated an outperform rating and set a $7 price target. At either $11, $10 or $7, these price targets suggest significant upside from current levels, which is one more reason to buy while it is still trading so cheap.
6) Insiders also appear bullish on this stock: On February 10, 2014, a director named Thomas R. Bates Jr. purchased an additional 25,000 shares in a transaction worth over $113,000. He now owns about 220,000 shares, and other insiders also have significant stakes in this company. For example, Steven A. Webster (a director) owns over 1.3 million shares, and John T. Rynd (an officer) owns nearly 900,000 shares. Mr. Webster also purchased 100,000 shares in November at $6.58 per share in a transaction valued at $658,000. When insiders already own significant stakes and even add more on pullbacks, this can be a bullish sign. It also shows that management has aligned itself with shareholder interests.
In summary, the short-term weakness in this stock is a significant buying opportunity because there are too many longer-term positives, as detailed above. With the shares showing signs of having hit rock-bottom levels, I believe this oversold stock is primed to take the next step and rebound. This could lead to a significant rally back over $5 per share in the short term and much higher in the long run. With the 200-day moving average at about $6.78 and the 50-day moving average at around $5.65 per share, I expect it to rebound to about $5.50 per share in the short term. This would give investors gains of about 20% in the near term and potentially much more in the long term, based on the analyst price targets of $7, $10 and $11 per share.
Here are some key points for Hercules Offshore:
Current share price: $4.70
The 52-week range is $4.38 to $7.96
Earnings estimates for 2014: 64 cents per share
Earnings estimates for 2015: 78 cents per share
Annual dividend: n/a
Additional Disclosure: Data is sourced from Yahoo Finance. No guarantees or representations are made. Hawkinvest is not a registered investment advisor and does not provide specific investment advice. The information is for informational purposes only. You should always consult a financial advisor.
Disclosure: I am long HERO. I wrote this article myself, and it expresses my own opinions. I am not receiving compensation for it (other than from Seeking Alpha). I have no business relationship with any company whose stock is mentioned in this article.