Financial Select SPDR ETF (NYSEARCA:XLF) and all its levered offshoots have become one of the favored "go to" playthings for institutional hot money, not to mention the small fry retail guy.
This was one of the three sectors leading the charge off the February 2010 lows (industrials, consumer discretionary, financial) as institutions went to the "playbook." [Mar 7, 2010: CBSMarketwatch - Riding the Rally, How to Money in the Bull Market's 2nd Year] While the other two sectors are still in relatively good shape, XLF was hit by the Goldman Sachs (NYSE:GS) fallout and six sessions ago came back to touch its 50-day moving average, before bouncing during last Wednesday's and Thursday's rebounds.
Now it is back to its 50-day moving average and hanging in by a fingernail. This is going to be a key level for what has become one of the most important ETFs in the market. Keep an eye on it; this is essentially the "American Oligarch" ETF. (Click to enlarge)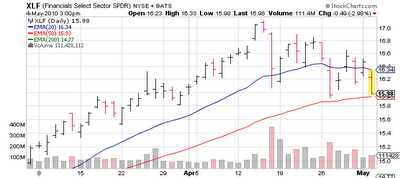 Components and weightings as of 5/3/10.
Disclosure: No position