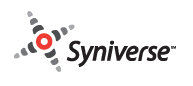 Successful investors are always keenly aware of the current trend. It's important to understand what kind of environment one is working with. Whether looking at broad economic trends, the action of domestic or international stock markets, or the trading tone of the individual sector; it is important to look at a stock's behavior in context with the environment.
So in today's market with managers taking risk off the table and equities under distribution, it's encouraging to see Syniverse Holdings Inc. (SVR) making a new recovery high.
Shareholders are celebrating after the wireless voice and data company announced non-GAAP earnings of $0.45 per share for the first quarter. Income was up over 30% from last year and revenue trends were higher as well. The company booked revenue of $149 million (a 36.8% increase) helped in part by the company's acquisition of messaging assets last year.
Syniverse has three primary business lines:
Roaming Services – accounted for 45% of the first quarter revenue. SVR has seen increased volumes across several different solutions offered within the division
Messaging Services – accounted for 32% of first quarter revenue. The recent acquisition contributed 41.8 million of new revenue
Network Services – accounted for 23% of first quarter revenue. This service is experiencing moderate declines as the company focuses on growing the other areas of its business.
Investors appear to be most excited about the 2010 guidance issued with the first quarter report. Management expects full year revenue to come in between $605 and $625 million compared to just $483 million in 2009. Cash Net Income is expected to be between $124 million and $131 million. With the current share count at 69.4 million shares, that leads to a range of $1.79 to $1.89 per share.
Analysts are currently expecting 2010 earnings at $1.83 but we may see that number adjusted over the next few days as analysts update their reports. Even assuming this conservative number is accurate, the stock is currently trading for less than 12 times forward earnings – a welcome discount in an environment that has experienced arguably too much speculation.
One reason investors might be placing a discount on Syniverse is the somewhat leveraged balance sheet. The company is sitting on about $600 million in long-term liabilities, while the majority of assets on the balance sheet are goodwill and other intangible assets. Still, with $95 million in cash, and $180 million in net working capital, the company should have plenty of liquidity.
Competition may be fierce in the telecom industry, but with the low stock price to earnings, Syinverse could turn out to be an attractive acquisition target. Syniverse operates in 160 different countries, so its geographic footprint would be attractive to a larger wireless service company. The company's technology is in high demand and could presumably be integrated into a larger firm's platform.
Regardless of the long-term destiny for the company, Syniverse is likely to continue to outperform the market as the company is growing earnings and investors are anxious to participate in the strength. I would recommend buying today's breakout and placing a stop below $19. Over the next several quarters, SVR could impress analysts and the stock could benefit from both increases in estimated profits as well as price multiple expansion.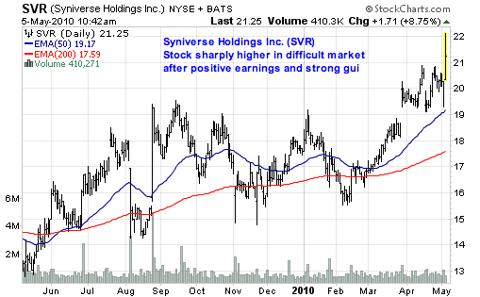 Full Disclosure: Author does not have a position in SVR