Ariad Pharmaceuticals (NASDAQ:ARIA) is a biotechnology company that has seen tremendous share price volatility over the past year. Since reaching its 52-week high in early September 2013, shares of Ariad Pharmaceuticals had begun a sharp descent after the FDA had asked the company to withdraw Iclusig, its primary drug, from the market in late October. However, since the announcement, shares have nearly quadrupled from their lows reaching a share price of $8.65 as of market close February 14th. Part of this rally could be explained by rumors of a potential buy-out from healthcare giants Eli Lilly (NYSE:LLY) and Celgene (NASDAQ:CELG), as well as the push for two board seats by Sarissa Capital.
Company Overview:
Founded in 1991, Ariad Pharmaceuticals is an oncology company that focuses on the discovery, development, and distribution of medicines for cancer patients. The company is working on generating new medicines for the treatment of many different forms of lung cancer, chronic and acute leukemia, and other hard-to-treat cancers. Ariad uses computational and structural methodologies to develop small-molecule drugs that can surpass resistance to previous cancer medications. The company is currently headquartered in Cambridge, Massachusetts.
Removal of Iclusig:
On October 31st 2013, the FDA had notified the public of its request to Ariad Pharmaceutical to remove its primary drug, Iclusig, from the marketplace. The drug had been removed due to the discovery that the drug led to severe blood clots and narrowing of blood vessels. This removal was combined with a continued follow-up study throughout which the FDA would continue to monitor and evaluate the safety of the drug.
Since this FDA announcement, Iclusig has returned to U.S. pharmacies, albeit with a longer warning label detailing the risks involved with utilizing the drug. The EMA has also continued sale of the drug with a revised label. Despite its potentially life-threatening side-effects, the drug is currently being utilized as a last resort of sorts for patients suffering from leukemia.
Recent Hedge Fund Activity:
In a recent 13F Filings, Alex Denner's hedge fund, Sarissa Capital, revealed holding approximately 12 million shares of Ariad Pharmaceutical's common stock. This position totals a roughly 6.2% ownership stake in the biotech company.
Alex Denner had previously served as the managing director for various Carl Icahn affiliated entities, as a portfolio manager at Viking Global Investors, and as a portfolio manager for the healthcare and biotechnology mutual fund at Morgan Stanley. He also possesses a strong background in biotechnology from his professional experiences at ImClone Systems Corporation, Enzon Pharmaceuticals (OTCQX:ENZN), Vivus, (NASDAQ:VVUS), Amylin Pharmaceuticals, Biogen Idec Inc. (NASDAQ:BIIB), Mast Therapeutics (NYSEMKT:MSTX), and HyperMed Inc.
Product Pipeline:
Ariad Pharmaceuticals pipeline currently centers around Iclusig (Ponatinib) and AP26113. Of these two developed compounds, only one has been approved for sale by the FDA.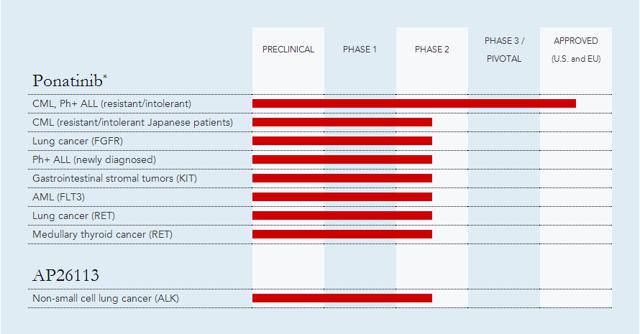 Source: Ariad Corporate Website
Conclusion:
Although price volatility for shares of Ariad Pharmaceuticals allow for great short-term profits for traders and speculators, I would recommend longer-term value-oriented investors to steer clear of this company.
Disclosure: I have no positions in any stocks mentioned, and no plans to initiate any positions within the next 72 hours. I wrote this article myself, and it expresses my own opinions. I am not receiving compensation for it (other than from Seeking Alpha). I have no business relationship with any company whose stock is mentioned in this article.