It seems that the retail analysts are getting bored these days. That is the only reasoning we can think of for some of the recent research reports we have read or seen summarized in the financial media lately. This morning we saw the report calling for Wal-Mart (NYSE:WMT) to go on the hunt for acquisitions, something that the company really has not a lot of in its history...especially in the United States. Although investors can expect to hear a lot of chatter about this over the next few trading sessions, as well as some future mentions as the idea has now been injected into the Wal-Mart narrative, we seriously doubt that anything materializes out of this.
Chart of the Day:
Analysts and investors alike have been frustrated with the fact that shares in Wal-Mart have stalled out since their highs around 2000. The stock has moved down and up, but for the most part is unchanged. Having 14 years of underperformance will make people throw out crazy ideas to turn a business around, and that is precisely what happened today.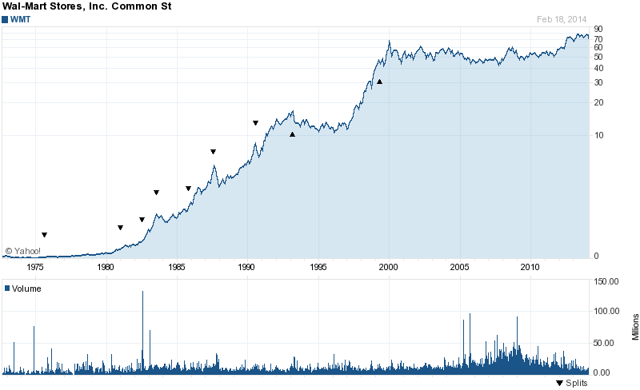 Source: Yahoo Finance
We have economic news today and it is as follows:
MBA Mortgage Index (7:00 a.m. EST): Est: N/A Act: -4.1%
Housing Starts (8:30 a.m. EST): Est: 963k Act: 888k
Building Permits (8:30 a.m. EST): Est: 980k Act: 937k
PPI (8:30 a.m. EST): Est: 0.2% Act: 0.2%
Core PPI (8:30 a.m. EST): Est: 0.1% Act: 0.2%
FOMC Minutes (2:00 p.m. EST): Est: N/A
Asian markets finished mixed today:
All Ordinaries -- up 0.29%
Shanghai Composite -- up 1.11%
Nikkei 225 -- down 0.52%
NZSE 50 -- up 0.39%
Seoul Composite -- down 0.20%
In Europe, markets are trading mixed this morning:
CAC 40 -- up 0.09%
DAX -- down 0.09%
FTSE 100 -- down 0.28%
OSE -- up 0.22%
Wal-Mart Shopping For Acquisitions?
Many are talking about the report out of Credit Suisse this morning that says Wal-Mart Stores should look to an acquisition of Family Dollar (NYSE:FDO) in order to regain market share among its key customers and fill the gap that the company has created in its store offerings as it has built ever larger stores over the years. We think that this would be a terrible idea and is simply another overreaction by Wall Street to fix what should be a relatively easy issue for the company to solve. Yes, same store sales have been an ongoing issue but other competitors such as Target (NYSE:TGT) and Sears Holdings (NASDAQ:SHLD) have also seen these same issues to varying degrees.
When looking at Wal-Mart's track record as it relates to acquisitions, the best description one can give is that it has been mixed. It is not exactly one of the core competencies of Wal-Mart, nor is it part of the culture at the company. The company has always focused on doing what their competitors do, but better and then to innovate to expand their lead.
The crown jewel for Wal-Mart has been their logistics/transportation business. It is the backbone of their company and what makes everything run. Rather than buying a name such as Family Dollar to boost the company's exposure to smaller stores, we would argue that Wal-Mart and its shareholders would be better served by continuing to build out their smaller stores and offering more of what consumers are currently demanding. This would enable the giant retailer to get closer to their consumer and open up new markets that were previously too small to serve.
It is easy to see from this chart why investors want Wal-Mart to utilize smaller stores, but there is no need to buy one of the dollar store operators when there is no secret sauce. Simply build it and they will come, which Wal-Mart will do.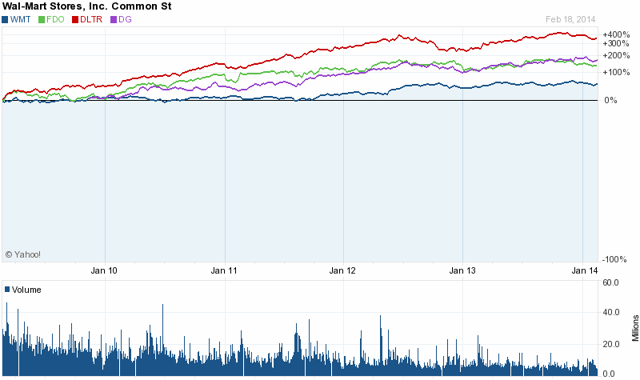 Source: Yahoo Finance
Our thinking is that Wal-Mart is going to stick to their guns and continue to grow organically while looking at using their distribution system and stores to better serve their online presence as competition with Amazon (NASDAQ:AMZN) continues to heat up. We know a lot of people within the middle class and above, the consumers that both Target and Wal-Mart have been struggling with lately, that have moved on to the Amazon Prime program as it saves them time, is highly automated and keeps them out of the traffic jams and lines found at the large box retailers.
As important as prices still are, in many cases the concept has been commoditized. Now to differentiate one's offerings it is about ease of use and service, two areas that Wal-Mart dramatically lags in versus other retailers. Buying another retailer does not solve these issues, especially as Wal-Mart would simply integrated the acquired company into the "Wal-Mart Way'"
We would not be buyers of Family Dollar on this research report, in fact we would not be buyers of any of the dollar stores on this report alone. Our belief is that the overall economy is improving and one wants to own a basket of retail names, not just those in areas which have worked over the last few years or those focused on the same segment of the business.
Disclosure: I have no positions in any stocks mentioned, and no plans to initiate any positions within the next 72 hours. I wrote this article myself, and it expresses my own opinions. I am not receiving compensation for it (other than from Seeking Alpha). I have no business relationship with any company whose stock is mentioned in this article.