It wasn't so much that I was a Microsoft (NASDAQ:MSFT) hater as I was an Apple (NASDAQ:AAPL) enthusiast.
Microsoft was the enemy simply because my allegiance had been pledged to its historical rival. For years, I have been playing Xbox, using Microsoft Office, and working on Windows based systems at my job. But, none of that sank in.
Microsoft was still the enemy for me.
Microsoft for me was like automaker Ford (NYSE:F) in the year 2007. I was convinced that every product they could continue to make is going to be below par and that the company is eventually going to die a very slow death.
For Microsoft, this death would come at the hands of Apple. For Ford, this death would come at the hands of the "Apple's" of the auto industry: companies like Volkswagen (OTCPK:VLKAF), Audi (OTCPK:AUDVF), BMW, and Volvo (OTC:VOLAF). But, in the last seven years something changed. Ford didn't go away, neither did Microsoft, and the contrarian in me started to try and take a closer look into the products that these companies are creating now. Who knows, maybe I just like rooting for the underdog, and - believe it or not, with the way Apple has been gaining market share - I view Microsoft as the underdog right now.
My phone over the years has changed from a Sidekick to a BlackBerry, then to an early Windows phone and now to an iPhone. My next phone could be a Windows phone from Nokia, and I'm almost sure my next tablet is going to be a Surface 2.
Additionally, we saw for the first time Apple take a page from PC based and Android based phones when it created iOS 7. The whole design behind the GUI for iOS 7 looked like something you could have already gotten on a competitors phone. While maybe not a major declaration of validation for the competitors, it was definitely something that perked my eyes up at the time.
In the realm of both tablets and personal computers, I have drifted from Apple back to Windows. It started when I was using Windows 7 for work. Aesthetically, it's not as artsy as the Mac OS, but Windows has come a long way in the past couple of years.
So, I've come a full 180 - I've gone from being a Microsoft hater to a full blown Microsoft bull. Not just on the company either; it's stock, as well.
Windows 8, although unceremonious when released, has now made its way across Microsoft's platform to create an ecosystem effect. It's on the phones, tablets, computers, and Xbox - even MSFT's new commercials are starting to allude to "one operating system for everything in your life." Through ecosystem, MSFT can compete with Apple and Google - and eventually find some success.

Excellent, now when Windows 9 comes out, don't screw it up and you'll be set to take over plenty of ripe households that already have at least one Microsoft product in them.
Microsoft is moving in the right direction here - I've had a chance to use both the Surface 2 and one of the Nokia Windows phones - both of which have impressed me far more than I was expecting.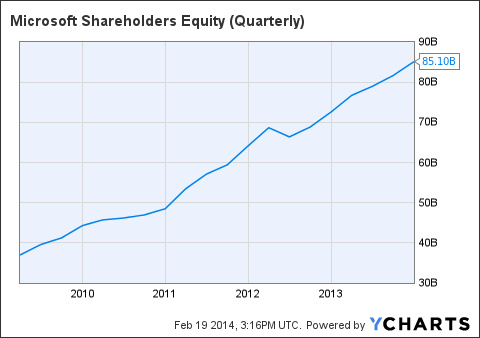 MSFT Shareholders Equity (Quarterly) data by YCharts
MSFT's fundamentals are rock solid. Revenue has risen nonstop the last six year, and $80 billion cash on hand. It's debt to equity ratio, cash to equity ratio and every other Finance 101 metric you want to point out all make the company look like a buy. With plenty of cash to do its business with and recently trimming over $4 billion in non-core assets, MSFT is running leaner and meaner each day.
Additionally, MSFT continues to pay a ever-growing dividend that is currently yielding a healthy 3%.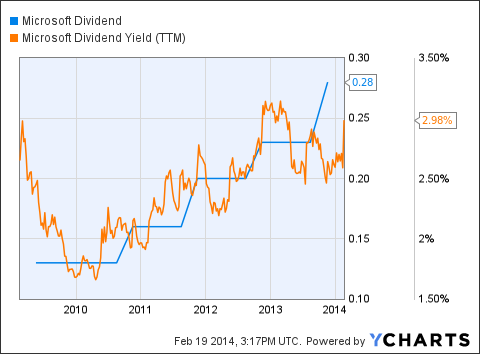 I think Satya Nadella is going to be the answer for Microsoft. Microsoft is trading near its 52-week highs after reporting impressive earnings last quarter, with a trailing 12 month P/E of 14 and a dividend that yields 3%. With fresh blood moving into the CEO position and the company's fundamentals better than they've ever been, I'm bullish on Satya Nadella and Microsoft stock moving through 2014 and into 2015.
Best of luck to all MSFT investors.
Disclosure: I have no positions in any stocks mentioned, and no plans to initiate any positions within the next 72 hours. I wrote this article myself, and it expresses my own opinions. I am not receiving compensation for it (other than from Seeking Alpha). I have no business relationship with any company whose stock is mentioned in this article.