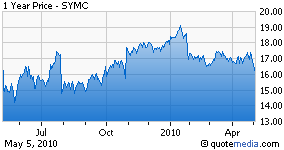 Symantec Corp. (SYMC) is expected to report Q4 earnings after the market close on Wednesday, May 5, with a conference call scheduled for 5 pm ET.
Guidance
The consensus estimate is 37c for EPS and $1.52B for revenue, according to First Call. Management provided Q4 guidance on its last earnings call of EPS 36c-37c on revenue of $1.51B-$1.53B. March quarter results in the security sector have been mixed and a weak quarter from McAfee (MFE) has likely created some concern about the outlook for Symantec.
Analyst Views
Stifel believes McAfee's issue seemed to be more company-related execution issues as opposed to being a negative read through for the sector. Similar to McAfee, foreign currency headwinds have been greater than expected. Symantec's efforts to remind analysts about its "rules of thumb" with respect to foreign currency movements are being effective at lowering the bar for Q4 and FY11 ahead of the results. Overall, Stifel is looking for an in-line quarter from Symantec. The firms is modeling Q4 revenue $1.519B and EPS 38c.On the security and compliance front, this business has been improving over the past couple of quarters and Stifel will be looking for signs of continued progress. Symantec's storage and server management business continues to be a weak spot for the company. The pressure points have been customers buying less forward capacity, tougher spending conditions in the SMB market, and weakness with its storage foundation products driven by weak server shipments particularly related to Sun server shipments.
On the positive side, the company continues to point to solid performance with its NetBackup solutions, including its PureDisk dedupe offering. Stifel is forecasting storage and server management revenue of $573M, down 2.2% year-over-year. On the consumer side, results have been respectable over the past couple quarters, which looks to continue in the March quarter. Stifel believes Symantec is experiencing some benefits from its more aggressive stance with respect to distribution partnerships. The firm is forecasting consumer revenue of $471M, up 6.4% y/y. Stifel maintains a Hold rating on Symantec shares. The firm continue to believe the company is making the right moves by focusing on fewer key areas in order to better execute and drive improved growth. However, Stifel continues to think there is more work to do in this regard.