Although we write a lot of earnings previews, one 2014 New Year's Resolution from a Seeking Alpha perspective was to write more "post-earnings" commentary, and we want to do that when we think the story is being misunderstood.
Whole Foods (NASDAQ:WFM) reported earnings last Wednesday night, February 12, 2014, with the stock trading down on heavy volume on Thursday and then rallying a bit on Friday, 2/14.
If there is way to sum up the Whole Foods story today, I would say WFM is all about short-term pain and longer-term gain.
WFM missed on Q1 '14 comps, it lowered its full-year 2014 comps and EPS guidance, and analysts (naturally) lowered their 2015 and 2014 revenue estimates following the quarter.
Furthermore, the fiscal 2nd and 3rd quarters will be noisy as well, given where Easter falls this year. Last year, Easter weekend fell in Q2, but in 2014, it will be in Q3.
In my opinion, the quarter wasn't as bad as the drop in the stock price portended, as gross margin actually expanded year-over-year and the comp number at 5.7%+ was a little better than thought.
The question remains how much of this slowdown is weather-related and how much is the sudden increase in natural/organic competition, particularly here in the Lincoln Park area of Chicago. (WFM saw some cannibalization in Boston in the October quarter.)
While we've had a 1%-1.5% position in the stock for some time, the fact is we are relishing this pullback in the shares and we hope it goes lower.
Technically, the stock's two support levels are $49-$50, and then there should be one last Maginot line of support at $46. We've been picking away at more shares since $57 or the drop last November, and are hoping to get some more in here soon.
The fact is, when you are dealing with truly stellar brands like WFM or Starbucks (NASDAQ:SBUX), the stocks may never get "absolutely" cheap, and what happens is, investors have to buy them during longer-term pullbacks. The best you can hope for is that - like periods such as this one with WFM, or like SBUX from April, 2012 through May, 2013, the stocks enter lower-risk buy areas, and investors have to stay disciplined and wait for their price points.
The single-most important metric for WFM, that has changed in the last two months, was WFM's statement in December, 2013 that management was increasing their store count goal to a total of 1,200 stores nationwide, from the previous 1,000 store count, which was increased in early 2011, from a goal of 300 stores.
In Chicago, the 1970s through the year 2000 were dominated by two primary brands: Dominick's and Jewel. These grocery chains have been a higher-cost, more traditional grocery distributor for years, but in the last 10 years, have seen their market shares slowly eroded by Whole Foods, Trader Joe's and a number of new entrants to the natural/organic space. It is just my opinion, but the specialty/natural/organic space seems to be taking over grocery retail in general, with healthier offerings and better margins.
Here was our earnings preview for WFM, where we thought intrinsic value was $75 for WFM, which isn't that far above the November '13 high of $65.
Although it will take some time, we think WFM eventually trades to $75-$100 per share.
Retailers are thought to be fairly valued at 1(x) 4-quarter trailing revenues: with expected store growth at 300% from current levels (1,200/360) and eventual revenues expected to be close to $50 billion annually, with a market cap of $20 bl currently, WFM could be at least a double here in terms of its stock price.
The stock might require another 6 months to complete its basing process and prepare for the next leg higher.
We'd be buying selectively at $49-$50 and then again at $46.
Be patient. The specialty/natural food space is growing rapidly, and the weaker hands will be shaken out. WFM continues to be the premium national brand in a rapidly-growing space.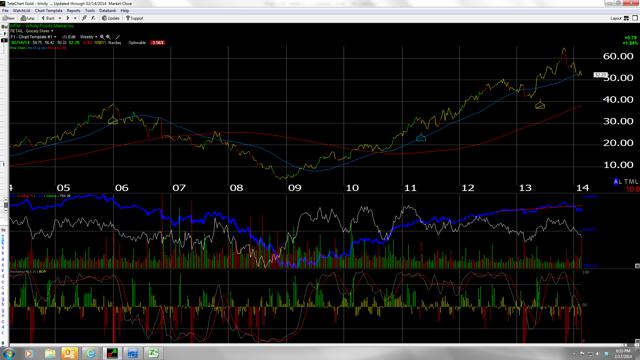 (Source: TeleChart)
Disclosure: I am long WFM, SBUX. I wrote this article myself, and it expresses my own opinions. I am not receiving compensation for it (other than from Seeking Alpha). I have no business relationship with any company whose stock is mentioned in this article.