Avis Budget Group (NASDAQ:CAR) may have to expand its name even more. Its purchase of ZipCar was completed just under a year ago, though it could come into use at just the right time. With competition increasing from Hertz's (NYSE:HTZ) recent (conclusion to their) purchase of Dollar Thrifty, a roadblock has to be met.
Both companies had a terrific run in 2013, though eventually one of the companies will have to take the driver's seat.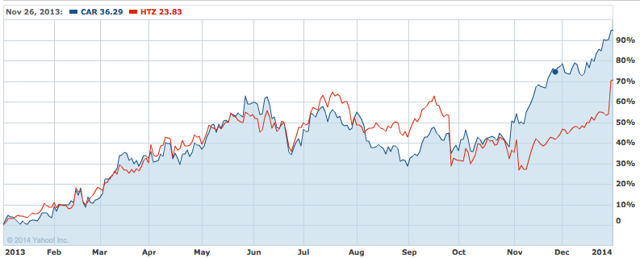 In this article, I plan on comparing the companies in several categories, beginning with a technical evaluation.
| | | |
| --- | --- | --- |
| | CAR | HTZ |
| Market Cap | $4.15B | $11.54B |
| P/S | .53 | 1.09 |
| P/E (trailing) | N/A | 37.25 |
| P/E (forward) | 14.25 | 12.42 |
| P/B | 5.16 | 4.12 |
| Insider Ownership | 108% | 97% |
*From Nasdaq.com and Yahoo! Finance
From a technical standpoint, I believe that Hertz has an advantage. Not only are they more profitable, but they have a larger market cap and more resources to devote to future growth and marketing.
From a fundamental standpoint, shares of Hertz beat out Avis Budget in nearly every category, except Price to Sales. Not only that, but shares of Avis have a short interest of 14.3%, way above Hertz's 3.2% of float.
Both Hertz and Avis Budget are known for their rental car services. I have created a quick comparison between their main businesses (both based on Q3 numbers):
| | | |
| --- | --- | --- |
| | CAR | HTZ |
| Revenue (Rental) | $1.734B | $2.534B |
| Non-Rental* | $109M | $401.8M |
| Car Rental EBITDA | $352M | $521.2M |
| Net Margins (all revenue) | 5% | 11% |
*Based on Equipment Rentals for Hertz, and Truck Rental for Avis
Hertz doubles Avis Budget in terms of net income and net margins, as well as approximately 50% more revenue in the quarter. However, when we take into account that Hertz is valued more than two times more than Avis, it presents a completely new perspective.
Net Income would be neck and neck, and Avis would win out on EBITDA and revenue if it were scaled to the same size as Hertz. Knowing this information, it is incredibly difficult to decide between the companies. Both have their respective advantages, but there is another area in which they are competing.
Growth Opportunities
Avis Budget has many growing businesses, including ZipCar, Payless Car Rentals, Brazil Licensee (investment into their business), and Truck Rentals. At the same time, Hertz is still benefiting from the Dollar Thrifty acquisition, as well as growth in nearly every single segment.
While I believe that both stocks are good investments before earnings, I believe that "Avis Budget Zipcar Payless" offers more opportunity. I believe that they are currently operating the services which will continue to grow and generate the incredible revenue we are witnessing. With time, ZipCar will be self supporting, and margins in the core business will improve.
I believe that with a market cap of less than $5B, you are getting a car rental agency worth upwards of $8B, based on future EPS and margin growth, as well as a P/S of 1 (compared to the industry average of 1.74)
With earnings of both companies being released soon, I believe that it is an important time to look at the sector. The upcoming reports will give us progress on growth, as well as the industry as a whole.
I believe that now is the perfect time to get into Avis, before it steps into second gear and rides on its increased margins and revenue.
Disclosure: I have no positions in any stocks mentioned, but may initiate a long position in CAR over the next 72 hours. I wrote this article myself, and it expresses my own opinions. I am not receiving compensation for it (other than from Seeking Alpha). I have no business relationship with any company whose stock is mentioned in this article.