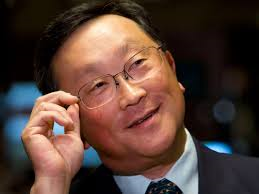 Dear John,
I am a long time BlackBerry (NASDAQ:BBRY) user and currently use a Z30. It is unquestionably the best phone I have ever used and I am very pleased with it. I owned shares during the Hein's era and made a bit of money trading the stock. I sold out my position just ahead of the failed "For Sale" debacle and swore off BlackBerry stock, until recently. I have now taken a long position on the stock based solely on the decisive actions you have taken since becoming CEO of BlackBerry. As both a BlackBerry user and shareholder I am writing to you today in the hopes of synthesizing a few points for you from both camps.
Leadership:
You know as well as anyone that the role of CEO is a tough one, especially when a company is in such dire straits as BlackBerry. The decisive actions you have taken to date such as clearing out the old guard and bringing a fresh management team with a proven track record in mobile to off loading a large chunk of the hardware business through the deal with Foxconn (OTC:FXCOF) have been well received. The open letter message you sent to Enterprise customers was a nice personal touch as well. What I think I like most about the leadership style you have brought in your short time as CEO though is the fact that you have some "moxie". For too long BlackBerry was battered around by the media and others and we finally have a CEO who isn't afraid to push back. The response you gave to the T-Mobile (PCS) debacle was a breath of fresh air. The interview you gave for the March edition of Forbes was also a good move. Forbes has been notorious for bashing BlackBerry in the media and going on the offensive with these types of media outlets is welcomed and a long time coming. We like the leadership style, keep it up.
Hardware:
The deal with Foxconn was needed and most people get it. From an enterprise user standpoint I'd just like to comment that the BlackBerry experience is by far the best. My Z30 is the device I use for consuming 90% of my media and messaging. It replaces a tablet and its ease of use and features make even my PC seem cumbersome. I know you have stated that BlackBerry will continue to offer high end devices aimed at enterprise and I want you to know that it is welcomed. BlackBerry should focus on making the premier high end device. Offerings in both a touch and keyboard models that are loaded with all of the latest technical specs. The best screen resolution, the best camera specs, the best CPU and GPU processing power available and priced accordingly. You can restore the luster of the BlackBerry brand by making it the go to device for the successful. By making BlackBerry devices a symbol of success it creates a brand that is something to aspire to. When that happens a large percentage of "prosumer" consumer based customers will follow as will all the "Tech/Spec" buyers who simply must have the best in hardware. You said it yourself when you compared Blackberry to Porsche and shareholders agree.
Software and Security:
It has been mind numbingly hard to see the fact that security issues have dominated the headlines for over a year and BlackBerry has really not done much to capitalize on that. As shareholders we hope that touting BlackBerry security will be a priority for you. Personally following up with high profile enterprise customers who are testing BES 10 like Morgan Stanley (NYSE:MS) and Boeing (NYSE:BA) should be a priority. I believe the hardest blow BlackBerry took was the Gartner Research report which recommended to enterprise customers that they should abandon or at least implement an alternative solution to BES within 6 months. Gartner carries much influence in CIO circles and turning them into BES10 believers would be a huge step on the road to recovery. The climate is ripe for BlackBerry to exploit its strengths in security and bringing that security to all devices in the mobile space.
John, the experience, leadership, attitude and proven track record you bring to the table are second to none. BlackBerry users are counting on you to continue to grow the user experience and shareholders are counting on you to unlock the hidden value we all know is there in the stock.
The chart below shows that you are making the right moves and we look forward to continued growth as you implement the turnaround story of the decade.
Cheers!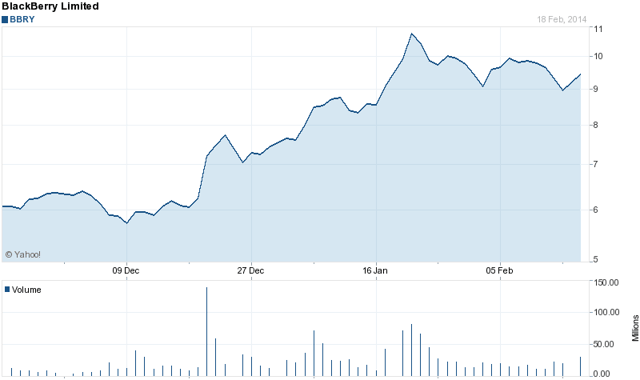 Disclosure: I am long BBRY. I wrote this article myself, and it expresses my own opinions. I am not receiving compensation for it (other than from Seeking Alpha). I have no business relationship with any company whose stock is mentioned in this article.