By David Russell
Oil refiners including Valero Energy (NYSE:VLO) and Tesoro (NYSE:TSO) helped lead the market's rebound today as traders continue to buy into the beaten-down sector.
VLO climbed 1.32 percent to $20.74 in afternoon trading and TSO climbed 0.46 percent to $13.19. Both fought their way back from 4 percent declines early in the session.
The activity follows call buying in TSO on Monday and bullish options trading in VLO throughout April.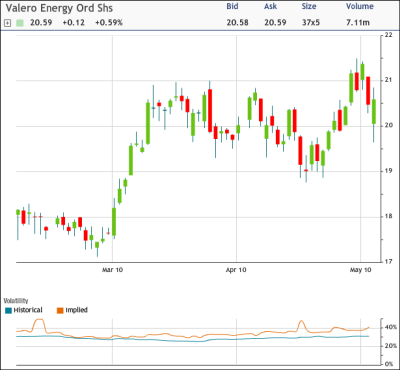 As I wrote last week, the refining sector has been regaining its footing this year after an abysmal 2009. Not only have the charts showed signs of bottoming, but also the fundamentals are improving after these companies cut productive capacity and as the economy recovers. For instance, the data showed strong factory orders and home sales yesterday, even though it was ignored amid the broad selloff.
Today, the Institute for Supply Management said its non-manufacturing index remained at 55.4 percent in April. While the number was below economist forecasts, any reading above 50 still indicates the economy is expanding.
Similar strength has occurred in the gold-mining sector since I wrote about it on April 28. While it can be argued that gold stocks are merely following gold prices higher, something more important may be underway: In the first quarter, the Market Vectors Gold Miners ETF (NYSEARCA:GDX) fell 4 percent while physical gold edged higher by about 2 percent. Since then, GDX has done twice as well. It appears the share prices are still relatively undervalued relative to bullion and may continue to gain favor.
I am flagging these calls not to boast about being right, but because all of us should recognize when we nail it and can't hit the side of a barn. Traders are wrong all the time -- especially me. The most important thing is sticking with the trades where your judgment works, and staying away from areas where you can't get it right.
Disclosure: Author long VLO and GDX