One of the key precepts of successful investing is to find undervalued opportunities. The reason for undervaluation can be a fundamental mispricing or a flawed estimation of future prospects. Krispy Kreme Doughnuts (NYSE:KKD) is undervalued for this latter reason.
Krispy Kreme has fallen precipitously since its' high of nearly $50 a share in 2003. The stock finally bottomed out in 2008 at around $1 a share and has been steadily rebounding since then. Krispy Kreme's true potential of growth and cost savings is not being priced into the market.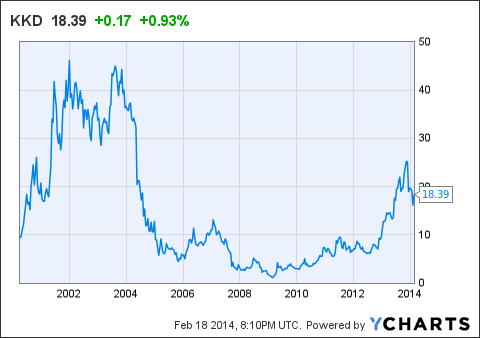 Here are 5 reasons KKD is poised to outperform the market:
1. Store Growth:
Currently KKD has 748 total locations of which 651 are franchise owned and 97 are company operated. 509 of these stores are international and management outlined a plan to reach 900 stores internationally alone by January of 2017. The goal is to nearly double international stores in 3 years. Asia represents a major focus for international growth, and they recently signed license agreements for 60 new stores over the next five years in South Korea. Although this goal is quite lofty, they currently have been adding to their cash holdings which signifies they are expecting to reinvest considerably in their business. Working capital has increased tremendously from $55 million in 2012 to over $88 million in 2013.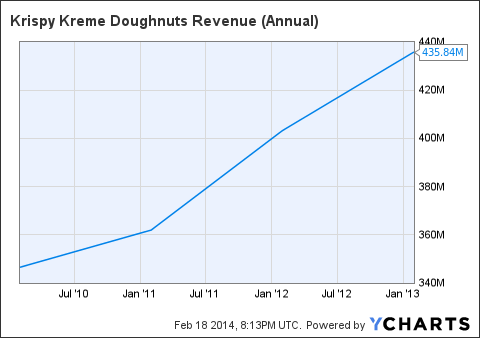 2. Diversifying Product Offerings:
Krispy Kreme maintains a strong brand awareness and customer base. One way they accomplish this is through their "Doughnut Theatre" which allows consumers to see doughnuts being made fresh. A new iteration to further brand awareness is the addition of "Glazed Now" signs that are currently being implemented throughout franchises. This will allow consumers to use an app to find locations that have the sign illuminated. Brand awareness and customer loyalty will increase with this new addition. Krispy Kreme will be able to leverage their brand into new product offerings such as K-Cups. Last week they signed a deal to begin selling Krispy Kreme Doughnut K-Cups through Green Mountain Coffee. Starbucks (NASDAQ:SBUX) sold $232 million worth of pods last year so this could represent a considerable revenue stream. Furthermore, they have plans to increase their beverage offerings through frozen chillers, espressos, teas, and chocolate drinks. Since doughnuts represent 88% of revenues, diversifying their offerings is a prudent move. They already have the infrastructure in place as well as the supply chains so the move should not be too difficult to implement.
3. Buyback Program:
Last year Krispy Kreme authorized a robust $50 million dollar share buyback program. So far they have only repurchased $20 million dollars' worth so there is considerable room for more repurchasing. The balance sheet boasts a sizable cash position of $66 million compared to $44 million last year so this suggests that they have the opportunity to repurchase shares. The fact that they do not pay a dividend, but instead have a stock buyback program signals that they believe their shares are undervalued. Although the program represents only a reduction of 4.2% of the shares outstanding, this can support earnings per share growth.
4. Tax loss Carry forwards:
In the early 2000's Krispy Kreme suffered greatly and posted significant losses. Since recovering, they have not used all of their tax loss carry forwards and still possess $183 million in federal tax loss carry forwards to mitigate future income taxes. In estimating future revenues, it is easy for analysts to forget to factor in this windfall.
5. Deleveraging & Increased Efficiencies:
Long term debt has been falling since 2010 going from $43 million to just $23 million today. A corollary of this trend is that interest expenses have fallen markedly dropping from a staggering $10.6 million in 2010 to just $1.6 million today. It is clear that they are enjoying cost savings from their deleveraging efforts. From a margins perspective, Krispy Kreme is becoming more efficient. Total cost of sales as a percentage of revenue declined by 2% from 72.7% in 2012 to 70.7% in 2013. Additional margin savings can be expected through the decrease of gas prices. Krispy Kreme relies on delivery trucks to deliver doughnuts to its satellite stores and with easing gas prices margins should further improve. The passage of the Key Stone Pipeline plan should reduce gas prices for the North America stores in the next few years. Krispy Kreme is coupling financing savings with margin increases to truly create net income growth.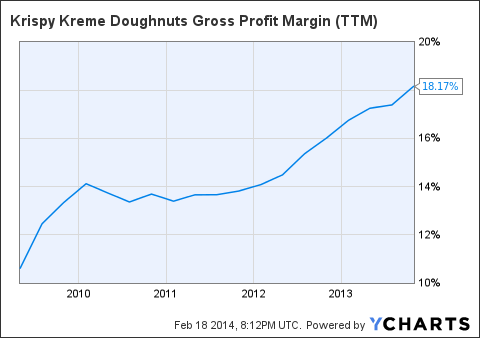 TTM) Chart">
Conclusion:
The true value of Krispy Kreme Doughnuts is not being priced into the market. Krispy Kreme will be able to galvanize growth by leveraging its strong brand and increasing product offerings. Costs will be mitigated by a combination of deleveraging, margin improvements and tax loss carry forwards. Finally shareholder value will be created through a buyback program which will likely be increased this year. Krispy Kreme has the potential to prodigiously outpace market expectations in the next few years. Prudent investors with a long-term horizon should purchase Krispy Kreme at these undervalued levels.
Disclosure: I am long KKD. I wrote this article myself, and it expresses my own opinions. I am not receiving compensation for it (other than from Seeking Alpha). I have no business relationship with any company whose stock is mentioned in this article.